Simple Vintage Inspired Christmas Home Tour
Sharing a simple vintage-inspired Christmas Home Tour filled with easy holiday decor to celebrate the Christmas season!
simple vintage inspired Christmas decor
We wanted to simplify the holiday decor in our living space this holiday season. I used some of my favorite things including vintage pieces and thrift store upcycled projects.
Let's take a look at the living room first! After entering our front door, you will enter our large, open-concept living area. Our living room, dining room, and kitchen are all visible as soon as you enter our home. It's important to keep it all cohesive.
Our family room is just that, a true family room. In fact, the whole area including the kitchen and the dining space could be considered the family room. Since the area is wide open, we are all together as a family doing family things! Well, at least when all of our grown kids and spouses, and grandbabies are here!
The first thing you will notice when you come in is our Christmas tree. We have had a real tree for years but a few years ago we decided to use a faux tree. You can see our tree from last year in the blog post, "New Faux Christmas Tree."
It's filled with more Christmas season decorating ideas that I am sure you will enjoy!
The following post may contain affiliate links. That means if you click and then buy something, I will make a small commission at no additional cost to you! Thank you for supporting my blog. full disclosure here.
Let's get back to our tree. It's really the focal point of all of our holiday decor.
simply decorated Christmas tree
We were able to work with King of Christmas this year and they gifted us with a gorgeous King Noble Fir with lights. I'm loving this sparse-looking tree! Its imperfect shape is just my style!
Our trees are usually filled with handmade ornaments that I have made over the years but this year I wanted a simple look.
I made pinecone ornaments, used a little bit of spray paint on a thrift store wooden bead garland, and purchased some tiny clip-on birds for our tree. We also added some hand-turned wood ornaments hubby whipped up in his workshop.
fireplace mantle Christmas decor
The next thing that you will probably notice is our huge stone fireplace and mantle. When the Christmas tree is not up for the holidays, this stone fireplace and mantle really steal the show in our own home!
We have had this fireplace for a couple of years. Oh goodness, where does the time go?? We've actually had this fireplace for about seven years. But maybe I am remembering that incorrectly too! If my family is reading this, feel free to correct me in the comments below the post!
Anyway, we had a local Amish man install the stone fireplace and hubby installed the reclaimed wood beam. It's the perfect spot to cozy up during the cold months of winter. 
One of my favorite things to do is sit in this room with a fire going, an old movie on the tv, and a cup of hot chocolate in my hand.
The mantle is always fun to decorate but it is a challenge. I don't want to put anything that could catch fire or melt of course so I keep the decor simple.
vintage ironstone
I started off by placing one of my favorite vintage finds to collect: ironstone pitchers. I grab them every time I see them at auctions, yard sales, thrift stores, and estate sales. For some of these, I have only paid $2!
Several of the ironstone pitchers were a similar size so I place them on the mantle with a bit of symmetry. The smallest pitchers are in the middle. The two larger pitchers have faux greenery including lamb's ear, cypress, boxwood, pine, and berries. Most of these I already had on hand and some I purchased at Hobby Lobby this year.
I really wanted to place a small tree on either side of the mantle but I didn't want to spend a lot of money. So I grabbed two very large ironstone pitchers, filled them with water, and put fresh greenery in the pitchers.
I've kept the pitchers full of water and the greenery is holding up well! The greenery came from our yard so it was faa-ree!
You'll also notice to give the pitchers height, I placed the pitchers on large ironstone platters and then placed the arrangements on top of a vintage organ stool that I reupholstered this last year. There is a matching set on the other side of the fireplace.
natural elements and white lights
Natural elements like freshly dried magnolia leaves and painted pine cones look amazing intertwined with faux pine and cypress branches. The greenery between the white ironstone pitchers looks perfect!
The string of tiny white lights doesn't take away from watching TV. Don't you love a TV that can also display art? We purchased three or four art pieces from Etsy for our Samsung Smart Tv, The Frame, that we purchased last year as our Christmas gift to each other.
The coffee table in our living room is actually a vintage toolbox. Hubby stripped off the old oil-stained paint and refinished it in this gorgeous dark color. He also added casters. All it needed was a simple floral arrangement in another ironstone dish!
YouTube Christmas Home Tour
Be sure to watch the YouTube tour of our home so that you can see the simple coffee table decor and the pillows I stitched quickly!
Click the image below to watch!
Christmas dining area
Let's head over to the dining area. It's one of my favorite spots in our whole home. Memories of family dinners, puzzle nights, and game nights with our children bring a smile to my face! Times are different now but the memories are still there 🙂
The dining table has two 24" leaves so it opens to a large size. Currently, the leaves are not in so we have breathing room in this space!
The arrangement on the dining table is really simple. I grabbed a large ironstone soup tureen, set it on an antique silver platter, and made this beautiful arrangement. It is made up of the same faux greenery I used on the mantle and over in the kitchen. (we'll get to the kitchen in just a bit!)
And yes, above the dining table is a real candle chandelier! This is the first year I have used battery-powered candles in it. And I don't regret it one bit! This is the first time I haven't had to worry about dripping wax onto dinner plates during a meal!
The buffet tablescape is one of my favorite spots in the dining area. Here is a quick image to see but be sure to hop over to the full blog post for more vintage Christmas decorations to use on a buffet tablescape.
You will love the color palette that the ironstone dishes, silver, and brass pieces give to this tablescape! You will also love the creative idea I show using vintage Christmas ornaments on a wall!
Our dining area does not have a traditional china cabinet. Instead, we use a handbuilt hunter's cabinet for our extra dishes. Hubby was given this unique cabinet several years ago. It has shelves with only about 8" between them. The hunters would each have a shelf for their hunting jackets, gloves, and whatever else they use to stay warm while hunting!
This cabinet is a great way to store our vintage dishes including the Platztgraff Yorktown pattern dishes we have had since the first years of our marriage. We also store other vintage white dishes.
On the outside of the hunter's cabinet, I like to hang the vintage children's dresses I have collected over the years. The one on the bottom right is the Christening gown my father and aunt were Christened in. That one is pretty special and holds a bit of nostalgia for me!
The last little area in the dining area is this sweet little corner with a vintage book Christmas tree of sorts. The idea was inspired by so many Pinterest images but it was especially inspired by my friend Aliya from Open Doors Open Hearts blog.
vintage book Christmas tree
The books were easy enough to stack and then I carried the string of white lights all the way up to the vintage brass floor lamp. It brightens this dark corner perfectly, don't you think?
The antique sideboard is ready for festive desserts and coffee when the time comes. More of the white ironstone pitchers, beautiful glassware from my hubby's family, and wine glasses that can be sued to serve yummy Christmas goodies. Those wine glasses were thrifted and look perfect in this thrift store upcycled tray I made in the fall.
kitchen Christmas decor made simple
The Christmas decorating in the kitchen is so simple. A smaller version of the dining table centerpiece sits on the kitchen island where we have most of our meals. The ironstone dish is sitting on top of a wood slice riser I made for under $10. They would make great gifts too!
The kitchen cabinets have gilded pine cones and boxwood ornaments hanging on some of the cabinet doors. They swing a bit when the door is opened but very quickly get settled back to their rightful place.
handmade Nativity scene
Last but not least, is our Nativity set. Hubby spends a good amount of time building gorgeous things in her workshop. He built this manger from reclaimed barn wood. He built it to scale with our collection of Hestia Nativity pieces that we have collected over the years. It's a rustic look that we both enjoy.
The figurines will be perfect for our grandchildren to play with one day too! They are resin and will hold up well to playing!
Merry Christmas to you!
I hope you enjoyed our Christmas Home Tour! Hubby and I would like to send you wishes for a very Merry Christmas!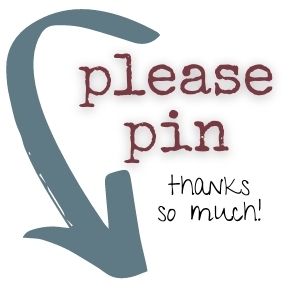 be sure to pin any of the images in this post for future inspiration!

Thanks for joining our journey!
Thanks so much for joining us for this post! Join our journey so you don't miss any of the fun projects, tutorials, and inspiration that we share with you each week! You can follow us on Instagram, Facebook, and YouTube. We share even more inspiration on Pinterest!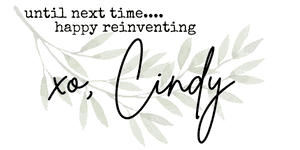 Visit my Amazon Storefront!
Click the button below and head over to our online shop on Amazon!