Old Wooden Tool Box Makeover
We started this old wooden tool box project a few weeks ago and now we are ready to show you the final transformation!
As an Amazon Affiliate (and other companies including Dixie Belle Paint Company), we earn a small commission on products sold through affiliate links. Your purchases through those links help to support this blog at no additional cost to you. In purchasing the supplies we use and recommend via our links, you help to support the free tutorials we offer you and our other readers. Thank you so much! Read my full disclosure here.
This is what the old wooden tool box looked like when we brought it home from an auction.
your opinion matters!
You love giving your thoughts and opinions about projects, right? So we asked for your opinions over in Instagram stories about some of the details like:
should we paint the wood box or leave it natural
what kind of legs should we add, hairpin legs or casters
what color should the wood toolbox be painted
We even did a Facebook Live with you so you could watch the wood toolbox get painted!
I was thrilled with the interest y'all had in the details of this box!
My followers really got into the whole process! It was quite a lively discussion over on the socials!
We have completed many wood toolbox projects over the years and it was fun to have you help out with the decisions!
my shopping links:

prep steps
Let's talk about some of the steps that it took to prep this piece for paint.
A good vacuuming with the shop vac was in order. Then a good scrubbing with a solution of hot water and Simple Green.
The day was a sunny and gorgeous so after the scrubbing, I set the wood toolbox outside in the sun to dry.
When the wood toolbox was completely dry, I applied two coats of Zinsser Clear Shellac to seal in any oils or stains that might bleed through.
The next step was to change the look of the industrial-style casters I found online. The casters were reasonably priced but had a shiny and new silver-ish metal that I am not a fan of.
Let's fix that!
easy caster makeover
Rustoleum Metallic Paint and Primer in Flat Soft Iron to the rescue!
I love these hammered finishes that Rustoleum offers. They come in a ton of colors.
Taping is necessary so that I don't get paint on the wheels. The paint could cause the wheels to not turn as easily as I wanted.
Using small sections of green Frog Tape, I taped all the way around on both sides of the casters.
This step takes some time but it is so worth it for a professional look.
After applying the tape to both sides, I also added tape to the flat part of the wheel that will touch the floor.
Thoroughness is super important when it comes to taping!
If you spray paint, you know how important gloves are as well. I have had times when I thought, "I don't need gloves for this quick spraying project!"
And believe me, I always regret it!
Hindsight, I should have taken off my watch! Agh!
Pull the tape off when the spray paint has completely dried and wa-la, vintage style casters!
my shopping links:

attach the casters
I attached a caster to each of the corners of the wood toolbox AFTER I had painted the decorative color on the toolbox. I didn't want to risk messing up the pretty spray paint on the casters!
You will notice I also used small washers because the screw heads were a bit small for the pre-drilled holes in the casters.
old wooden tool box color reveal!
Woohoo, y'all chose a gorgeous color!
The choice of color had been narrowed down to two in a social media poll.
The two top picks out of 25 colors to choose from were Miss Mustard Seed Milk Paint in Artissimo and Kitchen Scale.
You can watch the painting in my Facebook Live replay 🙂
don't you love the color?
So what do you think of your choice??
I absolutely LOVE it!!
The piece is sealed using two coats of General Finishes High Performance in Flat. I love this stuff! Super durable, easy cleanup, and low on sheen!
contrasting details
I added an antique glass doorknob and plate for the top handle.
My collection of mismatched and lost hardware is ever-changing.
The contrast between the pretty glass door knob and the utilitarian wood toolbox is right up my alley!
The hardest part of adding a doorknob to a piece like this is finding the right size bolt that will fit a square-shaped hole in the doorknob.
I will have to do a post on that problem and solution soon!
For now, let's just enjoy how pretty it all looks together!
my shopping links:

storage galore!
Look at all that room inside! Can you think of some things to store in this wood toolbox?? Here are some of my ideas:
board games
extra blanket or pillows in a guest room
art supplies, coloring books, crayons, paints…..
seasonal clothing
The interior of this wood toolbox has built-in little cubbies that could hold small things.
See the inside of the lid of the box?
We left the slats of wood that would have held hand saws in place.
And check out that little piece of leather on the right side!
And that long strip of leather on the back of the interior! Those loops would have held screwdrivers, small hammers, and other hand tools!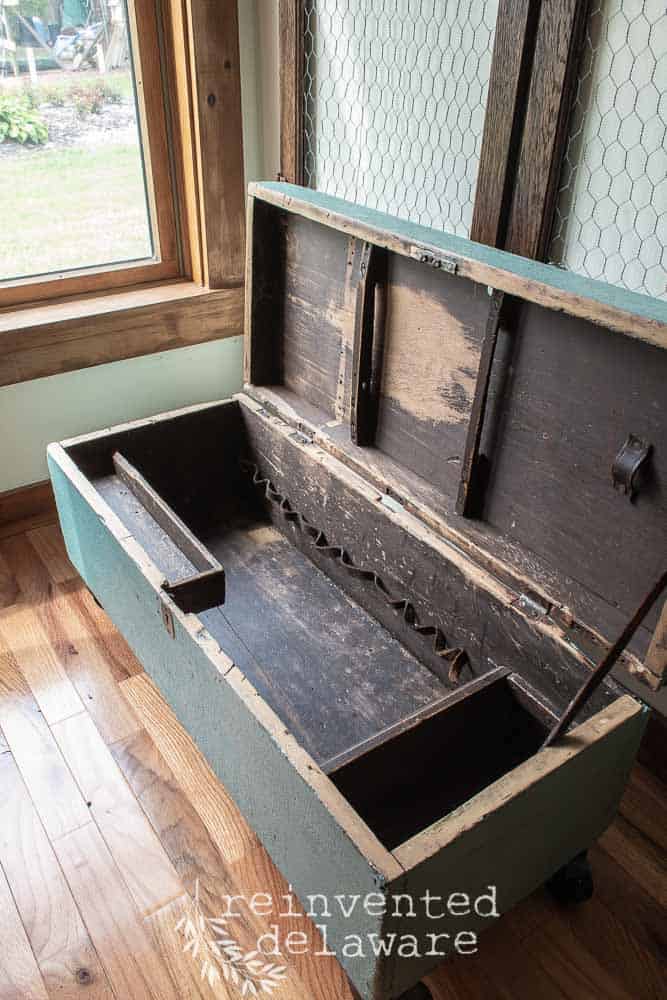 See what I mean about the little cubbies inside this wood toolbox??
Aren't those the cutest cubbies??
old wooden tool box details
The 'hinge' is a piece of leather too!
Don't you just love the ingenuity of days gone by??
People just used whatever they had on hand! In fact, that small loop on the back looks like a piece of a belt doesn't it??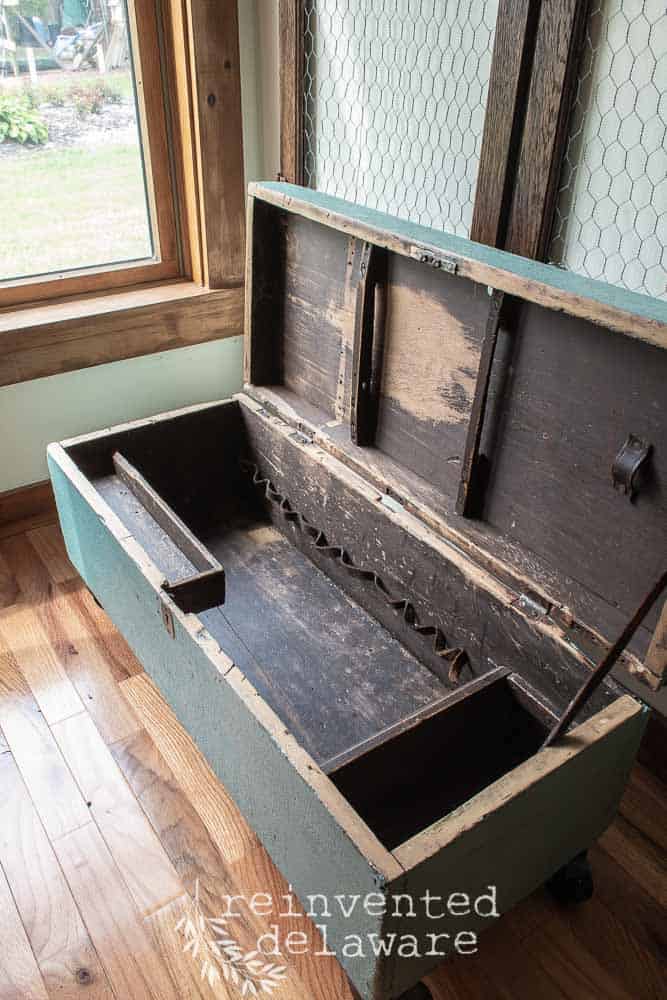 worth the time
Remember all of the time we took in taping the casters? It was well worth it, don't you think?
yay for your opinions!
This was such a fun project to do with my followers! Thanks to each of you for offering your input!
If you want to join in the decision-making process, follow along over on the socials. We love Instagram and Facebook.
And of course, Pinterest is a great place to save all the inspirational ideas! Join us over there too! Feel free to pin and share any of the images! We really appreciate it!
my shopping links:

thanks for stopping by!
Thanks for stopping by today! I hope you have enjoyed this tutorial.
And I hope you come across an old wooden tool box that you can transform for your home! Let me know if you do — I would love to hear about your project!
Just for fun, let me know in the comments where you would use this wood toolbox in your home!
more inspiration:
join our journey
Join our email so you don't miss any of the project fun! Sign up below and I'll send you this fun freebie!