Tuesday Turn About #147 Spring Plans
Happy Easter Week! I hope you and yours were able to gather and celebrate this amazing week that tells the story of sacrifice, forgiveness, renewed hope, and redemption!
Thanks for joining our link party each week! This community of supportive bloggers is such a blessing to Lynne, Julie, and me! Thanks from the bottom of our hearts 🙂
Tuesday Turn About #147 Spring Plans
This post may contain affiliate links, at no additional cost to you. For more information, see my complete disclosure HERE.
Weekly Photography Tip
We started to chat about composition last week and we will continue this conversation over the next couple of weeks.
Today, let's chat about composition and how leading lines play a huge part in our images. Leading lines are used to draw the eye towards a particular point of interest in the scene. Leading lines can also be used to frame a subject. They can also be used to simply create interest in a scene.
Here are some examples of leading lines as far as home decor and interiors are concerned:
stairs, banisters, and stair handrails
wood trim casings, hardwood floors, windows, door frames, cased openings
couches, coffee tables, kitchen islands & cabinetry, exposed ceiling beams
fencing, rooflines, pergolas, exterior architecture
I'm only scratching the surface with the examples. And frankly, it's an area I am still working on myself! Go back over the list I just gave you and imagine in your mind's eye the straight lines in each example. Look in your own home for these leading lines!
Use these leading lines in your photography to frame the subject or direct the viewer's eye to a particular subject. Move around the room and get different perspectives of these leading lines.
Here is an example: let's say your subject is an adorable cloche sitting on top of a stack of vintage books on your coffee table. In your camera's viewfinder, place the long edge of the coffee table as a leading line that takes the eye toward the cloche. Also, use the stack of books with its horizontal leading lines to slightly frame the cloche.
Here is one more example to get your imagination going: use leading lines to frame the scene. If you have a cased opening between two rooms, use the cased opening trim to frame one of the rooms. It's really a beautiful look!
The examples of leading lines are endless! I encourage you to look for straight lines in your scene that you could use to guide the viewer's eye to the subject and throughout the entire scene. Open your eyes in your own home and look for leading lines!
Now, let the party begin!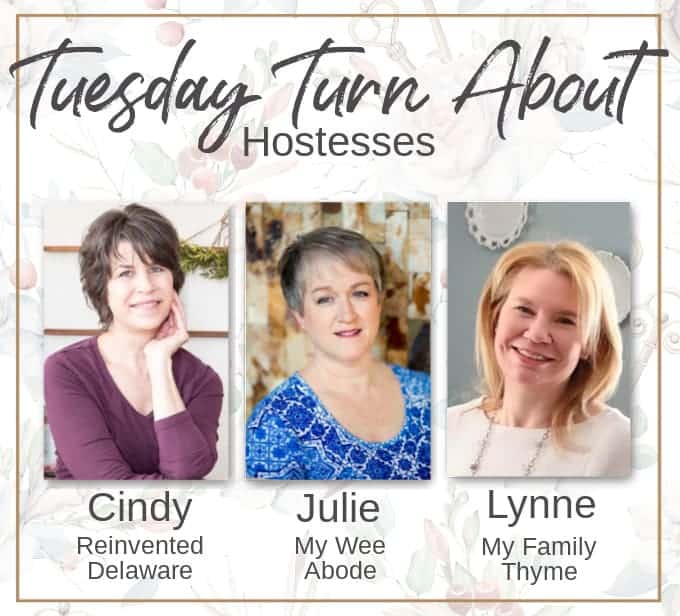 Join us on the socials!
Though not a requirement, we would love for you to join us on other platforms. Feel free to subscribe to our email lists, our Facebook pages, our Instagram accounts, and our Pinterest boards!
Let's create community!
Cindy at Reinvented Delaware
Julie at My Wee Abode
Lynne at My Family Thyme
Be sure to hop on over to Julie's blog at My Wee Abode and Lynne's blog at My Family Thyme to check out SIX additional features from Tuesday Turnabout! If you haven't been featured on Reinvented Delaware this week, you just might be featured on one of the other hosts' blog!
Easy Spring Home Decor
Kristin from White Arrows Home has a gorgeous home filled with vintage finds with a plaid theme for her Northwoods Wisconsin home and she finds lovely ways to display all sorts of home decor using those pieces.
Here she uses this amazing vintage jug to hold spring tulips. You will love the other Spring Home Decor ideas she has!
How to Build a Raised Garden Bed
Kippi from Kippi at Home never ceases to amaze me! She has some of the best tutorials for projects around the home.
This Raised Garden Bed tutorial really caught my eye. I've been wanting to build some of these for our home and Kippi has the best instructions! Thanks, Kippi!
Earth Day Seed Bombs
Speaking of planting, Nicolle from Our Tiny Nest shares a fun project for kids and adults. Any guesses what these little 'bombs' are? You can tell from the title of the post, Earth Day Seed Bombs, but you need to read the post to see how easy they are to make!
Grab a youngin' and get crafting with this easy tutorial!
---
Let's start sharing! Because this is a party, we encourage all who link up to visit several other bloggers who have linked as well – comments and pins are a great way to spread the love!
Before you get started, take a look at our guidelines:
This party is for home decor and home-related posts only (recipes, organizing, DIY, crafts, etc.). Link up to 3 related posts. Please do not link up informational posts that do not relate to the topic.
If you would please not link up shops, advertising, round-ups, other link parties, or any posts promoting sales, we would appreciate it.
DO NOT PIN FROM IMAGES ON THIS PAGE (it just won't work right on Pinterest). However, please visit the original post/source and pin from there. That works perfectly!
Please make sure that your images are in a jpeg or png format. If we can't save your image, we may not be able to feature you. So sad!
By linking to the party, you give us permission to share your projects on our blogs and social media. We will always give proper credit with a no-pin image.
We're looking forward to all of your fun posts this week! Give us your best!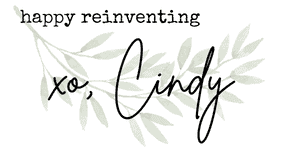 Whoa nelly – before you link up, did you read my photography tip for this week? Scroll back up and read it – You'll thank me later!