Tuesday Turn About #146 Room Refresh
The Intro paragraph includes a welcome and a mention of the amazing link-ups from the previous week.
Tuesday Turn About #146 Room Refresh
This post may contain affiliate links, at no additional cost to you. For more information, see my complete disclosure HERE.
Weekly Photography Tip
How is the practicing with your camera going? I hope that you are picking up your camera and shooting for your blog in manual mode! If you need a review, you can start with this post.
Today's photography tip is about composition. Last week we talked about the rule of thirds. This week let's take a quick look at perspective.
Perspective is how we see the scene. We can see the scene up close, from far away, from above, at eye level, and at ground level just to name a few.
Perspective can also be interpreted by turning our cameras into portrait (vertical) or landscape (horizontal) orientation. Most bloggers need to stick to the portrait view of the scene for the sake of Pinterest and limit the use of landscape orientation.
If your tripod has the option to turn from portrait to landscape, then use it! The tripod I use makes this soooo easy!
Here are some suggestions for different perspectives or angles:
far away to capture the whole scene
kneel to capture a completely different look
stand on a ladder to capture an aerial view
get close to the specific details of the room
use a flat lay perspective to create interest
move around the room and repeat!
The main thing about perspective is to try to change your position and the subject of your scene. Move around the room and try to see things differently. Practice creating a different look for each shot you take!
You will get better and better the more you practice!
Now, let the party begin!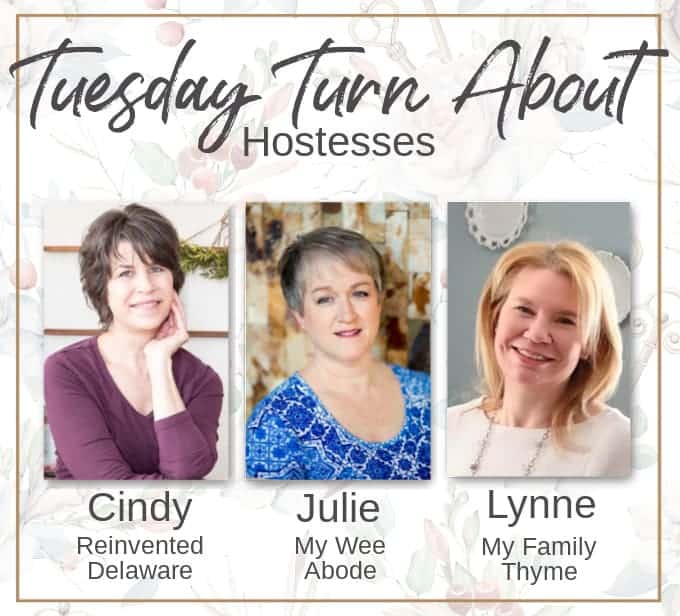 Join us on the socials!
Though not a requirement, we would love for you to join us on other platforms. Feel free to subscribe to our email lists, our Facebook pages, our Instagram accounts, and our Pinterest boards!
Let's create community!
Cindy at Reinvented Delaware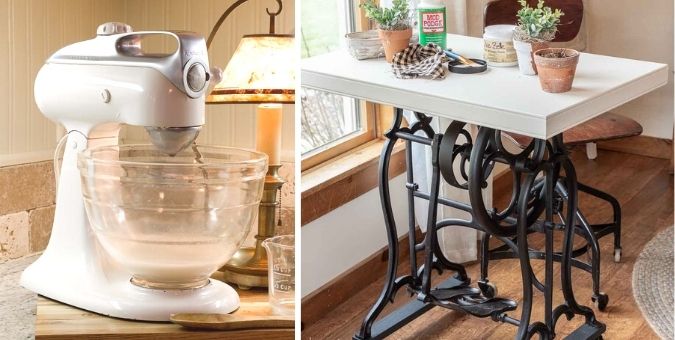 Julie at My Wee Abode
Lynne at My Family Thyme
Be sure to hop on over to Julie's blog at My Wee Abode and Lynne's blog at My Family Thyme to check out SIX additional features from Tuesday Turnabout! If you haven't been featured on Reinvented Delaware this week, you just might be featured on one of the other hosts' blog!
We enjoy having a TV in our homes but how one earth to we make it look good? Janet from JRL Interiors can help you solve this problem! She has several room arrangement ideas that you will love!
Jamie from Anderson and Grant can help you find your own design personality. She shares her step-by-step process to help you determine the style for your home that fits you and your style!
Donna from Modern on Monticello shares her plan for her project for the One Room Challenge. She also shares her story about rescue dogs that she and her hubby take into their home! So sweet! Be sure to follow her to see how it all turns out!
---
Let's start sharing! Because this is a party, we encourage all who link up to visit several other bloggers who have linked as well – comments and pins are a great way to spread the love!
Before you get started, take a look at our guidelines:
This party is for home decor and home-related posts only (recipes, organizing, DIY, crafts, etc.). Link up to 3 related posts. Please do not link up informational posts that do not relate to the topic.
If you would please not link up shops, advertising, round-ups, other link parties, or any posts promoting sales, we would appreciate it.
DO NOT PIN FROM IMAGES ON THIS PAGE (it just won't work right on Pinterest). However, please visit the original post/source and pin from there. That works perfectly!
Please make sure that your images are in a jpeg or png format. If we can't save your image, we may not be able to feature you. So sad!
By linking to the party, you give us permission to share your projects on our blogs and social media. We will always give proper credit with a no-pin image.
We're looking forward to all of your fun posts this week! Give us your best!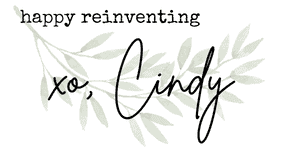 Whoa nelly – before you link up, did you read my photography tip for this week? Scroll back up and read it – You'll thank me later!