Friday Night Homemade Pizza
Friday nights are made for pizza in my book! Today I want to share with you a cheap and easy way to make a homemade pizza for your family!
Jump to Recipe
Maybe you are wondering…
"Cindy, I thought you reinvented vintage items into adorable farmhouse style home decor?? What's up with adding recipes to this blog?"
The 'old fashioned' way
I guess as time goes by, I enjoy slowing down and bit and enjoying the process of doing things the 'old fashioned' way. There is something about using what we have on hand instead of running out and buying new. Like pizza. The ingredients are so basic, alot of us might have these supplies in our pantry!
Let's start with supplies:
yeast
bread flour
salt
olive oil
cornmeal
tomato sauce
Italian seasoning
fresh mozzarella
parmesan cheese
toppings of your choice
My Kitchen Aid Story
The original recipe for the pizza dough came in the booklet that was included with my first Kitchen Aid Mixer. The mixer was a gift from my sweet hubby over 29 years ago and I have used it many times over the years.
Then about ten years ago while out thrifting and antique shopping in the PA area, we came across this 1930-1940's era Kitchen Aid Mixer with a glass bowl and mixing attachment. It also came with a meat grinder attachment. We asked the seller if we could plug it in. We were so surprised it worked! The seller told us that it had been his mother's who had recently passed away. She had used it on a regular basis to make bread for the family. He hated to part with it, but he needed to pare down some of her belongings.
Thirteen dollars later, it came home with us :). One of my daughters now has met first Kitchen Aid.
Back to the Homemade Pizza!
As for the recipe booklet, I have used this crusty pizza dough recipe the most over the years. In fact, I don't even close the book on this recipe – it stays open to this page!
You can see here as I add the salt and the olive oil, the mixing attachment moves like a charm! It's spinning nicely that it looks like a blur!
(The recipe card will include all of the ingredients and instructions.)
Even with it's age, this mixer handles the pizza dough like a charm!
Needs to be Kneaded
The dough still needs some kneading (hehe!). A sprinkle of flour on the counter and a kneading I will go! This step just helps to work in some additional flour. It is also an important step in helping to develop the gluten in the dough making it chewy and airy!
The dough needs to rest – place it back into the oiled mixing bowl turning once to cover the whole surface with oil. Cover the bowl and keep it in a warm place. And then have a little rest yourself! Tea helps 🙂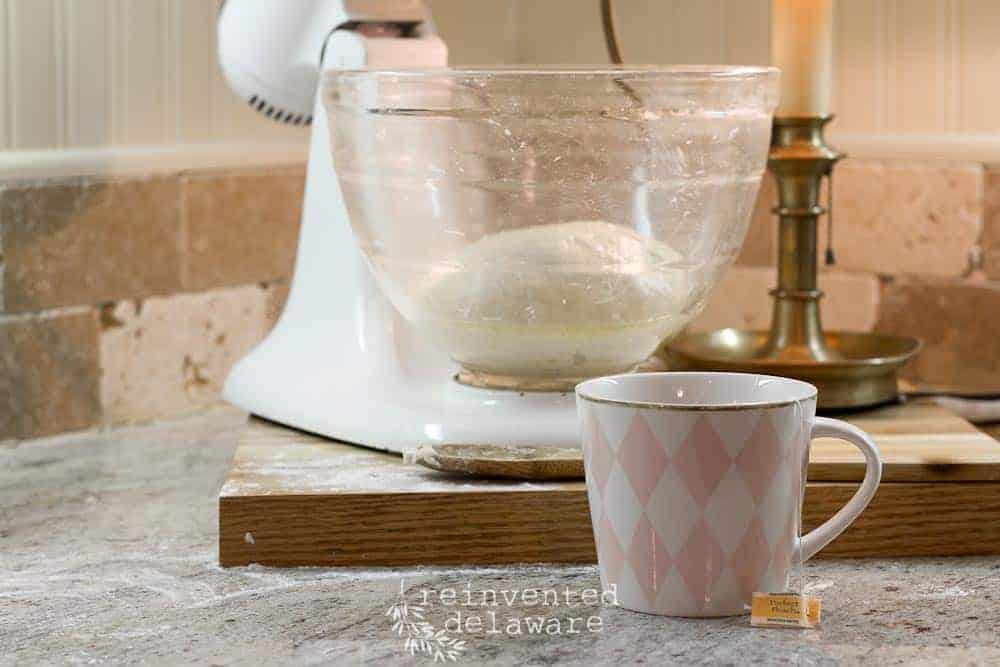 Isn't the dough pretty when the it is completely risen? And the light, yeast smell is so yummy!
Two for One
The dough gets punched down and divided into two sections. It's just the two of us so one section goes into a freezer bag and labeled – pizza dough is ready for the following Friday homemade pizza night!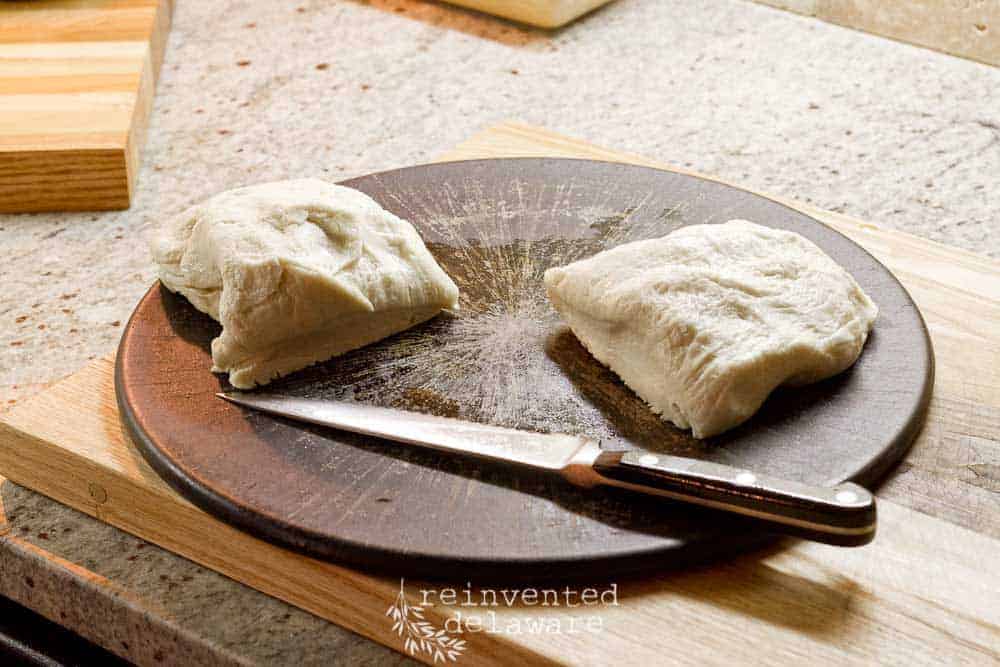 The second half of dough gets rolled out onto my 13″ Pampered Chef Pizza Stone. Sprinkle a bit of corn meal on the stone – that helps with the flavor and the crispiness of the crust. Roll out the dough just past the edge of the stone because it will shrink a bit.
Usually, I bake the pizza dough for about five minutes in the 450* oven before adding the toppings, but I forgot to do that step this time. Paying attention to photographing and cooking is a bit much for me – I am definitely not a food blogger!!
Top it Off!
While it bakes for those few minutes, I get the the sauce ready. A small eight ounce can of tomato sauce and Italian seasoning simmers in a small pan until it reduces a bit. The sauce needs to thicken and cooking it will get rid of some of the moisture in the sauce. If you don't do this, the crust can get soggy.
The other ingredients are prepped while the crust cooks and the sauce reduces. I cut the pepperoni in thin slices along with the mozzarella cheese and mushrooms (not pictured.)
Keep in mind, the toppings are your choice! Peppers, cooked sausage, veggies. Really anything you would enjoy!
See how nice and thick the sauce is? That's because most of the moisture is removed during it's reduction.

Fresh grated Parmesan cheese tops it all off! Cheese is definitely one of the best parts of homemade pizza!

Hubby is the pizza cutter in our home! He slices it in half, then in half again and then one more time making eight slices!
Sorry, but there are not pretty pics of a single slice with a little parsley on top! At this point, I just want to eat!
BTW, we serve it on the stone so it stays nice and hot.
So Glad You Stopped By!
Can you believe how easy it is to make a homemade pizza? And I didn't even mention the cost! I am sure you can imagine that it is much cheaper than going out for pizza.
Thanks for stopping by today for this recipe! I would love to know if you make it for your family! Be sure to pin this recipe for your next pizza night!
Follow along on our reinventing journey on Instagram, Facebook and Pinterest!
Print Recipe
Homemade Pizza
A quick and easy recipe for homemade pizza! Why buy if you can make it yourself!
Ingredients
1

pkg

Rapid Rise Yeast

1

cup

warm water

1/2

tsp

salt

2

tsp

olive oil

2 1/2-3 1/2

cups

bread flour

corn meal

8

oz

tomato sauce

1

tsp

Italian seasoning

5-6

oz

mozzarella cheese

2-3

oz

fresh grated parmesan cheese

1-3

oz

sliced pepperoni

1-3

oz

sliced mushrooms

various toppings
Instructions
**FROM THE KITCHEN AID RECIPE BOOKLET**

Dissolve yeast in warm water. Add salt and olive oil while the mixer is on. Then add 2 1/2 cups of flour slowly while continuing to mix. Mix thoroughly on slowest setting.

Remove formed dough to floured surface and knead by hand for 3-4 minutes to incorporate more flour. Return dough to oiled mixing bowl and turn once to coat all the surfaces. Cover with clean dish towel.

Let rise until at least doubled, approx. one hour.

Punch dough down and divide in half. Option to freeze half of the dough.

Roll dough out on 13″ pizza stone sprinkled with corn meal. Cut small slits in dough to prevent bubbling up. Bake at 450* for 5 minutes

**MY SAUCE AND TOPPINGS**

Add Italian seasoning to the tomato sauce then pour into a small pan. Cook on low until sauce is reduced and thickened.

Shred cheeses. Prep pepperoni, mushrooms and any other toppings by thinly slicing.

Spread the sauce, add the cheese and the toppings. Bake an additional 8-12 minutes until cheese is melted and bubbly.

Cut into 8 slices and enjoy!