Tuesday Turn About #151 New Uses for Old Things
Has spring finally sprung in your neck of the woods? So many people have been saying that it seemed to take forever but spring is finally here! That's true for Delaware too! Woohoo for spring!
And woohoo for posts about new uses for old things. You know that is one of my favorite kinds of posts!
Tuesday Turn About #151 New Uses for Old Things
This post may contain affiliate links, at no additional cost to you. For more information, see my complete disclosure HERE.
Weekly Photography Tip
After chatting about what kind of lens is the best for your photography needs last week, I figured this would be a good time to bring up self-portraits. Or in today's terms, selfies.
It's still weird for me to take images of myself. Ladies in my age group are not from the selfie era! But our readers, our followers, and our email subscribers want to connect with us and the best way to do that is to show your face to them!
Think about it – do you feel more connected to someone when you see their face? If you don't see their face, do you sense a disconnect?
Listen, it's not easy to get in front of the camera but we are bloggers and we can do the hard things!
Here are some tips that will help you! If you want to see some of this in action as I take self-portraits of myself, check out the highlight in my Instagram profile called "Selfie How-to" on my IG profile! Let me know if you have any questions!
position yourself in diffused side light
use a tripod
turn the camera to portrait mode (vertical) with the led screen facing you
place camera/lens just above your eye level
look at the lens when taking the shot NOT at yourself on the screen!
lean towards the camera slightly
look up poses on Pinterest for reference
use a camera remote on your phone (Canon has an app!) or use a 10-second timer
enable the touch shutter option on your camera (or the phone app) then tap your face on the screen for perfect focus
have a change of tops ready! Use your time wisely while everything is set up and get several outfit changes (at least your shirts!) and several poses
I encourage you to give this a try and don't be discouraged if the shots don't turn out perfectly this first session. You will get better and better at this the more you practice!
Let me know if you have any selfie questions in the comments below!
Now, let the party begin!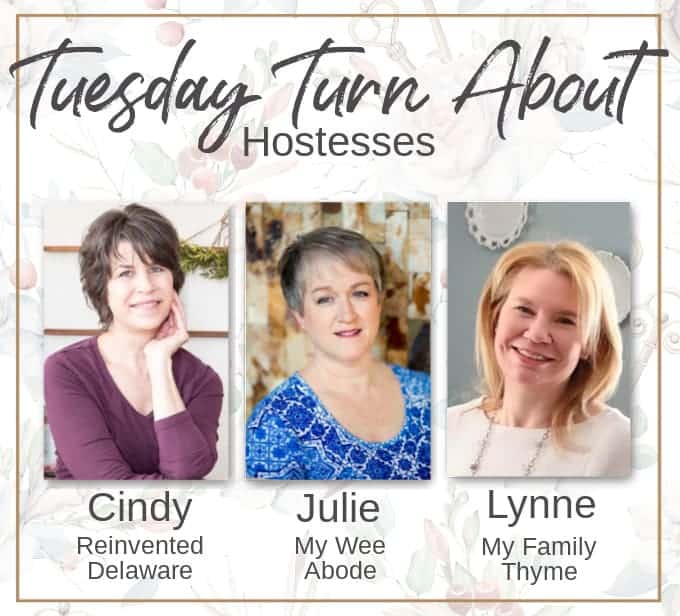 Join us on the socials!
Though not a requirement, we would love for you to join us on other platforms. Feel free to subscribe to our email lists, our Facebook pages, our Instagram accounts, and our Pinterest boards!
Let's create community!
Cindy at Reinvented Delaware
Julie at My Wee Abode
Lynne at My Family Thyme
Be sure to hop on over to Julie's blog at My Wee Abode and Lynne's blog at My Family Thyme to check out SIX additional features from Tuesday Turnabout! If you haven't been featured on Reinvented Delaware this week, you just might be featured on one of the other hosts' blog!
Upcycled Vintage for Your Spring Garden
My friend Sue over at Shop at Blu has some serious upcycling skills. Like this adorable planter!! If you have little boys (and probably some girls) in your life, they would love to help you with this upcycle! Thanks for the idea Sue!
15 Minute Fragrant Eucalyptus Shower
Cecilia from My Thrift Store Addiction came up with a way to turn your shower into a spa-like experience! The tutorial couldn't be easier – what a great idea Cecilia!
World Market Whitewash & Gold Wood Bottle Taper Candle Holders
Tina blogs at The Maple Stone Home where she shares fun upcycles like this one. It's a good thing she came across these one day while going through some drawers in her home! What a great upcycle Tina!
---
Let's start sharing! Because this is a party, we encourage all who link up to visit several other bloggers who have linked as well – comments and pins are a great way to spread the love!
Before you get started, take a look at our guidelines:
This party is for home decor and home-related posts only (recipes, organizing, DIY, crafts, etc.). Link up to 3 related posts. Please do not link up informational posts that do not relate to the topic.
If you would please not link up shops, advertising, round-ups, other link parties, or any posts promoting sales, we would appreciate it.
DO NOT PIN FROM IMAGES ON THIS PAGE (it just won't work right on Pinterest). However, please visit the original post/source and pin from there. That works perfectly!
Please make sure that your images are in a jpeg or png format. If we can't save your image, we may not be able to feature you. So sad!
By linking to the party, you give us permission to share your projects on our blogs and social media. We will always give proper credit with a no-pin image.
We're looking forward to all of your fun posts this week! Give us your best!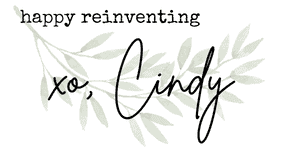 Whoa nelly – before you link up, did you read my photography tip for this week? Scroll back up and read it – You'll thank me later!