Tuesday Turn About #141 Let's Get Creative!
This week we have some creativity to share with you! I'm excited for you to see the features and for the photography tip I have for you today!
Tuesday Turn About #141 Let's Get Creative!
We have so many bloggers joining us here each week and I want to say something to each and every one of you:
Thank you for linking up.
Thank you for sharing your creativity with the world.
Thank you for commenting, pinning, and sharing each other's posts.
Thank you for being you. You're pretty special 🥰
This post may contain affiliate links, at no additional cost to you. For more information, see my complete disclosure HERE.
Weekly Photography Tip
We've been going over the exposure triangle the last few weeks. ISO, shutter speed, and the importance of tack sharp images to present to our readers (and potential brands and magazines!)
Today, let's chat about aperture (this is part one, next week will be part 2). Setting the aperture requires some thought and decision-making. This setting can be used to creatively make your subject stand out from the background and be prominent in the image. It's how we obtain the 'dreamy' blurriness we love in an image. It's also called bokeh.
The lower the number, the more bokeh (background blurriness) you will achieve. The higher the numbers, the more depth of field (sharp from the foreground of the scene to the background in the scene) you will achieve.
Here are the main points to consider when photographing for your blog. Of course, there are many ways to translate this for your particular subject, I'm using the scenario of photographing home decor.
Do you want the whole room in focus? Use high numbers like 18 & 22
Do you want to capture a detail in the room and blur the background? Use low numbers like 1.8 or 2.8
Do you want something in between those two? Use middle numbers like 7.1 or 10
Stay tuned for next week – I'll be covering part 2 of the aperture discussion! If you have any questions up to this point in our photography tips, please feel free to ask me! I'll help the best I can.
Now, let the party begin!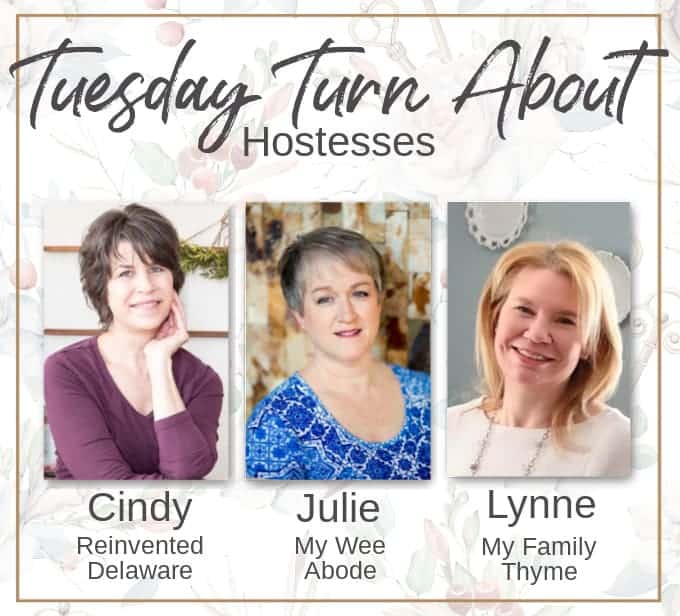 Join us on the socials!
Though not a requirement, we would love for you to join us on other platforms. Feel free to subscribe to our email lists, our Facebook pages, our Instagram accounts, and our Pinterest boards!
Let's create community!
Cindy at Reinvented Delaware
Julie at My Wee Abode
Lynne at My Family Thyme
Be sure to hop on over to Julie's blog at My Wee Abode and Lynne's blog at My Family Thyme to check out SIX additional features from Tuesday Turnabout! If you haven't been featured on Reinvented Delaware this week, you just might be featured on one of the other hosts' blog!
Ultimate Craft Room Makeover
Who out there needs a new craft and sewing room? You will love this post because Crissy from First Day of Home will show you her newly made-over craft and sewing room! You will be clearing out a room in your home before you know it after reading her post!
Create a Craft Area in a Rustic Basement
If you don't have a full room to devote to crafting and sewing, My Sweet Cottage has some great ideas for you! You won't believe just how clever this sewing and craft room is!
How to Make a Display Shelf from a Cupboard
Candice from She's Crafty Crafty is speaking my language with this creative home decor project! This is such an easy project that you will want for your home! I for one am headed out to my stash now to see if I have the supplies in my salvage pile!
---
Let's start sharing! Because this is a party, we encourage all who link up to visit several other bloggers who have linked as well – comments and pins are a great way to spread the love!
Before you get started, take a look at our guidelines:
This party is for home decor and home-related posts only (recipes, organizing, DIY, crafts, etc.). Link up to 3 related posts. Please do not link up informational posts that do not relate to the topic.
If you would please not link up shops, advertising, round-ups, other link parties, or any posts promoting sales, we would appreciate it.
DO NOT PIN FROM IMAGES ON THIS PAGE (it just won't work right on Pinterest). However, please visit the original post/source and pin from there. That works perfectly!
Please make sure that your images are in a jpeg or png format. If we can't save your image, we may not be able to feature you. So sad!
By linking to the party, you give us permission to share your projects on our blogs and social media. We will always give proper credit with a no-pin image.
We're looking forward to all of your fun posts this week! Give us your best!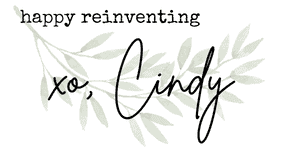 Whoa nelly – before you link up, did you read my photography tip for this week? Scroll back up and read it – You'll thank me later!