Tuesday Turn About #140 Pressing On
Tuesday Turn About #140 Pressing On
It's hard to write a post that is meant to celebrate the work of so many bloggers when our current world is in such turmoil. The unrest and tragic events happening on the other side of the world are heartbreaking. The devastation is hard to look at.
Closer to home and within our own blogging community, two precious ladies have passed away. The sadness is overwhelming for this community and for the families who are suffering.
And even closer to home, we are each suffering with so much. Family members passing away, caring for our aging parents, disruption within our families, dealing with Covid and the division it has brought, and so many other heartaches that we face each day as humans living on this side of heaven.
When 911 happened, I remember something President Bush said. He encouraged us to not let this bring us down otherwise the terrorists have won.
He encouraged us to continue living our lives, going to work, visiting family, going out to dinner with friends. Even though it felt so strange to do so, we did and it helped us to heal collectively.
So I encourage you today to do the same.
Go on with your day-to-day life even though it is hard.
Love your people with intention.
Say the words of encouragement to others instead of holding it in for another time.
Look for beauty in nature and relish it and the season it represents.
Pray for someone the moment you know they need it.
Don't put off saying you are sorry.
Weigh your words before you speak especially if you are angry.
Take stock of your many blessings.
Continue to write your posts to encourage, educate, entertain, inspire, and engage with your audience.
Let's honor the bloggers who worked so hard to bring amazing content to their followers and readers.
Here is a post from each of the bloggers who passed away recently. If you click and read no other post in this link party, I would ask you to click, read, comment, and pin from these two ladies as a way of honoring them and the work they accomplished. Let's do this as a memorial of sorts that bloggers understand.
Paula, Virginia Sweet Pea
I'm sharing Paula's most recent post because it is such an example to me personally showing how Paula with all that she faced in her cancer battle, still posted. She still shared what she could. She still participated in the Home and Decor Encore group she belonged to.
She pressed on.
Michelle, The Painted Hinge
As I scrolled through Michelle's blog to find a post to share, I saw all of the Farmhouse Link Party posts that she shared up until the time she had to step away from blogging for health reasons. I'm amazed that she selflessly continued on with the link party for as long as she did.
I decided to share her most recent tutorial as a way of showing the amazing and beautiful work she did.
Be sure to hop on over to Julie's blog at My Wee Abode and Lynne's blog at My Family Thyme to check out SIX additional features from Tuesday Turnabout! If you haven't been featured on Reinvented Delaware this week, you just might be featured on one of the other hosts' blog!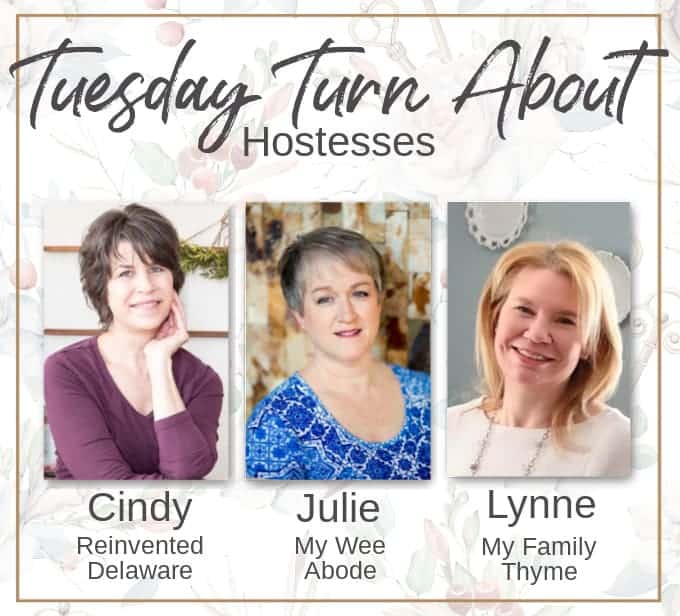 Join us on the socials!
Though not a requirement, we would love for you to join us on other platforms. Feel free to subscribe to our email lists, our Facebook pages, our Instagram accounts, and our Pinterest boards!
Let's create community!
---
Cindy at Reinvented Delaware
---
Julie at My Wee Abode
---
Lynne at My Family Thyme
---
Natural Home Remedies for Dry Skin
Is you skin dry during the winter? This year in particular my skin has been sooooo dry! Maybe it's just age to maybe it's just because it's winter. Who knows! Vicki from Fivespot Green Living shares some amazing tips to tackle the dry skin issue! I've already started with tip #2 and it's working!
Ziploc Bag Organization Ideas
Do your drawers need a bit of organizing? Mine sure do! I just painted our kitchen cabinets, now it's time to tackle organizing them. Our storage bag drawer is extra messy! Kim from Clipper City House found an amazing way to keep them neat and tidy! It's never to late to organize some drawers!
How to Upcycle a Children's Globe
The creativity that is in this world of blogging never ceases to amaze me! Look was Rachel from Tea and Forget Me Knots upcycled! She took this children's globe that was ordinary and made it a beautiful and unique work of art! Great job Rachel!
---
Let's start sharing! Because this is a party, we encourage all who link up to visit several other bloggers who have linked as well – comments and pins are a great way to spread the love!
Before you get started, take a look at our guidelines:
This party is for home decor and home-related posts only (recipes, organizing, DIY, crafts, etc.). Link up to 3 related posts. Please do not link up informational posts that do not relate to the topic.
If you would please not link up shops, advertising, round-ups, other link parties, or any posts promoting sales, we would appreciate it.
DO NOT PIN FROM IMAGES ON THIS PAGE (it just won't work right on Pinterest). However, please visit the original post/source and pin from there. That works perfectly!
Please make sure that your images are in a jpeg or png format. If we can't save your image, we may not be able to feature you. So sad!
By linking to the party, you give us permission to share your projects on our blogs and social media. We will always give proper credit with a no-pin image.
We're looking forward to all of your fun posts this week! Give us your best!
Next week, I'll be back to sharing photography tips with you 🙂
You are invited to the Inlinkz link party!