Tuesday Turn About #139 Old Faves and New Techniques
Tuesday Turn About #139 Old Faves and New Techniques
Each week, I pour over all of the entries in Tuesday Turn About link party and I am amazed at the talent and skills these bloggers have!
Each one is creative, knowledgeable, and willing to share their projects, makeovers, and recipes.
I am honored to be part of this community 😊
This post may contain affiliate links, at no additional cost to you. For more information, see my complete disclosure HERE.
Weekly Photography Tip
We've been talking about the importance of good photography for our blogs and I've gotten some good feedback about this weekly segment. I encourage you to ask any questions you may have about photography in the comments below!
Today let's continue to look at the exposure triangle. Last week we discussed ISO and this week let's go over shutter speed.
Shutter speed (how long the shutter is open) on a DSLR is measured in fractions like 1/60, 1/250, and 1/800. These numbers indicate time like 1/60th of a second and 1/800th of a second.
Both sound pretty fast don't they? But if you are hand-holding a camera to take your shot, you might not be able to hold the camera steady enough to create a clear, sharp image.
Numbers like 1/100 and 1/30 are slow shutter speeds and numbers like 1/250 and 1/800 are fast shutter speeds. This is important to know so that you can determine if you need a tripod to take the shot.
Next week we will be going over aperture! It's one of my favorite settings to decide when taking images. I'll see you here next week!
Be sure to hop on over to Julie's blog at My Wee Abode and Lynne's blog at My Family Thyme to check out SIX additional features from Tuesday Turnabout! If you haven't been featured on Reinvented Delaware this week, you just might be featured on one of the other hosts' blog!
Now, let the party begin!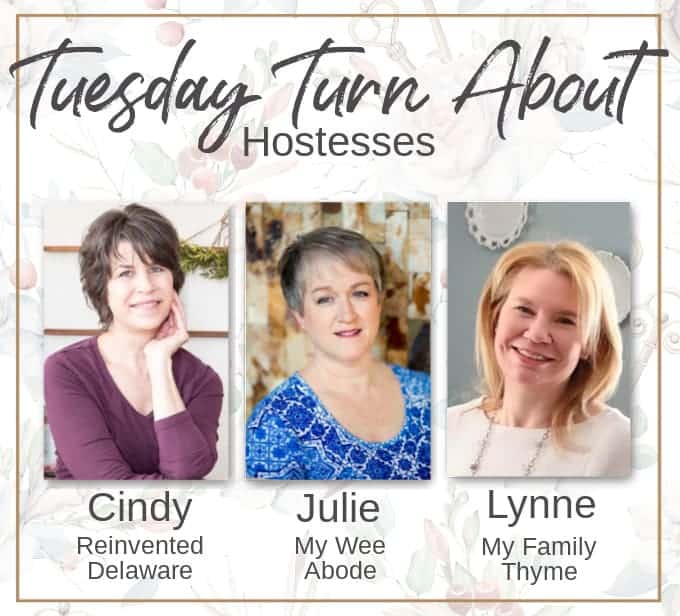 Join us on the socials!
Though not a requirement, we would love for you to join us on other platforms. Feel free to subscribe to our email lists, our Facebook pages, our Instagram accounts, and our Pinterest boards!
Let's create community!
---
Cindy at Reinvented Delaware
---
Julie at My Wee Abode
---
Lynne at My Family Thyme
---
Delicious Date Night Lasagna
Food is one of my favorite things and lasagna tops the list of favorite foods. Rachelle from My Hubbard Home shares her delicious-looking lasagna that you will want to pin and make for yourself and someone special!
Dresser Makeover Using Peel and Stick Wallpaper
You know I love a good furniture makeover and I'm excited about the one Mary Beth from The How To Home shares on her blog! She will show you how easy it is to makeover a dresser with this fun product!
Simple Herb Topiary
Have you seen these gorgeous topiaries on the high-end home decor sites? If you want to learn to make your own, CoCo from the Crowned Goat will show you step-by-step how to make several of these adorable topiaries for. your home!
---
Let's start sharing! Because this is a party, we encourage all who link up to visit several other bloggers who have linked as well – comments and pins are a great way to spread the love!
Before you get started, take a look at our guidelines:
This party is for home decor and home-related posts only (recipes, organizing, DIY, crafts, etc.). Link up to 3 related posts. Please do not link up informational posts that do not relate to the topic.
If you would please not link up shops, advertising, round-ups, other link parties, or any posts promoting sales, we would appreciate it.
DO NOT PIN FROM IMAGES ON THIS PAGE (it just won't work right on Pinterest). However, please visit the original post/source and pin from there. That works perfectly!
Please make sure that your images are in a jpeg or png format. If we can't save your image, we may not be able to feature you. So sad!
By linking to the party, you give us permission to share your projects on our blogs and social media. We will always give proper credit with a no-pin image.
We're looking forward to all of your fun posts this week! Give us your best!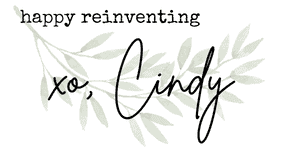 Whoa nelly – before you link up, did you read my photography tip for this week? Scroll back up and read it – You'll thank me later!