Tuesday Turn About #144 Spring Centerpieces
We are all thinking spring, aren't we? It's showing in the posts y'all linked up last week! Temps in Delaware have been in the 20s and later this week will be in the 70s!
Woohoo, come on spring!!
Tuesday Turn About #144 Spring Centerpieces
Check out last week's party for more inspiration!
This post may contain affiliate links, at no additional cost to you. For more information, see my complete disclosure HERE.
Weekly Photography Tip
We've covered a lot so far, haven't we? Shooting in manual mode is the most important skill you can learn to improve your images. Your readers will appreciate the beautiful images you share on your blog.
Images tell stories. In the case of a blogger, you are telling stories about homemaking, decorating, gardening, DIYs, and recipes. The images you use to convey those stories are so important in order to convey your message to your readers!
Two things that I spot right away are the brightness and the sharpness of an image. As a photographer (I used to shoot weddings, families, and newborns as a business) I have trained my eye to pay attention to the details in an image. If the image is dark, you can't see the details. And if the image is blurry (not the kind of soft bokeh we mentioned earlier) the details in the image are lost.
So this week, as a wrap-up for shooting in manual mode, I thought I would give a quick review of the steps to take when shooting in manual mode:
set your ISO as low as possible – 100-400
choose your aperture setting as we have discussed to create the look you want
choose your subject and put your focus point on the subject
set your shutter speed so that it lines up on the center mark
press the shutter button and capture the shot!
If you have any questions about photography, please feel free to reach out through the comments or send me an email using the contact form at the top of my blog! I would love to help in any way I can!
You can find the previous tips on shooting in manual mode by visiting the Tuesday Turn About link party tab at the top of my blog. Look for post #'s 137 – 143!
Next week we will be looking at composition! Thanks for hanging with me through these photography tips – I hope you find them helpful!
Now, let the party begin!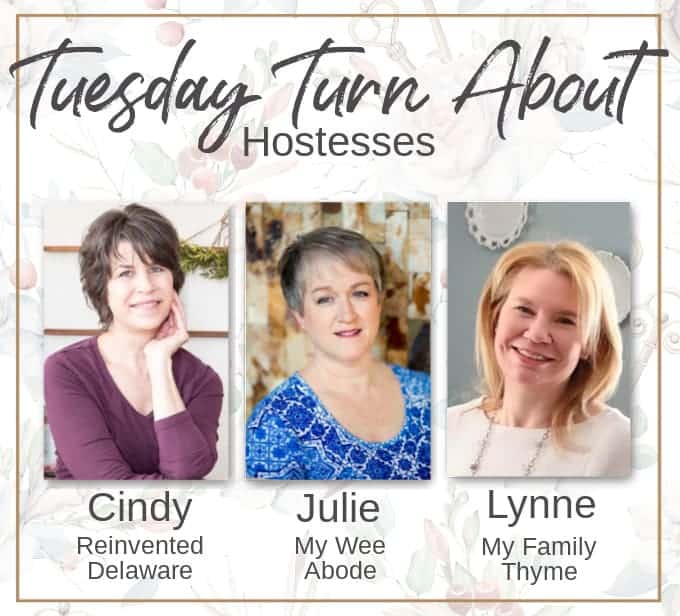 Join us on the socials!
Though not a requirement, we would love for you to join us on other platforms. Feel free to subscribe to our email lists, our Facebook pages, our Instagram accounts, and our Pinterest boards!
Let's create community!
Cindy at Reinvented Delaware
Julie at My Wee Abode
Lynne at My Family Thyme
Be sure to hop on over to Julie's blog at My Wee Abode and Lynne's blog at My Family Thyme to check out SIX additional features from Tuesday Turnabout! If you haven't been featured on Reinvented Delaware this week, you just might be featured on one of the other hosts' blog!
Whimsical Easter Centerpiece
Easter is April 17 this year and my friend Linda from Bushel and a Pickle shared her adorable Easter centerpiece! It looks like a scene out of a Beatrix Potter book, don't you think?
Sping Table Setting with Herbs and Bunnies
Lynn from Thrifting Wonderland shares her spring table setting using herbs and bunnies. Don't you love how she folded this napkin into a rose? So adorable!
Early Spring Rustic Dough Bowl Centerpiece
Check Pinterest for dough bowl decorating ideas and you will be amazed at how many ideas are out there! Kim blogs at From Farmhouse to Florida and she shares an easy spring idea with her dough bowl!
---
Let's start sharing! Because this is a party, we encourage all who link up to visit several other bloggers who have linked as well – comments and pins are a great way to spread the love!
Before you get started, take a look at our guidelines:
This party is for home decor and home-related posts only (recipes, organizing, DIY, crafts, etc.). Link up to 3 related posts. Please do not link up informational posts that do not relate to the topic.
If you would please not link up shops, advertising, round-ups, other link parties, or any posts promoting sales, we would appreciate it.
DO NOT PIN FROM IMAGES ON THIS PAGE (it just won't work right on Pinterest). However, please visit the original post/source and pin from there. That works perfectly!
Please make sure that your images are in a jpeg or png format. If we can't save your image, we may not be able to feature you. So sad!
By linking to the party, you give us permission to share your projects on our blogs and social media. We will always give proper credit with a no-pin image.
We're looking forward to all of your fun posts this week! Give us your best!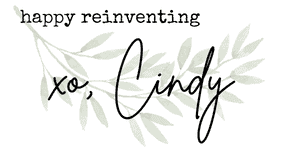 Whoa nelly – before you link up, did you read my photography tip for this week? Scroll back up and read it – You'll thank me later!