Tuesday Turn About #136 | New Beginnings
Tuesday Turn About #136 is open and I couldn't be more excited!
Recently, I was asked to join an amazing Blog Link Party. Let me explain what that is for those here who haven't heard of a link party.
A link party is a weekly post in that bloggers can share their posts, projects, tutorials, recipes, and such. Each blogger can link to their blog posts here in this link party (you will see it at the bottom of this post) and in that way, share their posts with others.
Basically, it's bloggers supporting one another by visiting each other's sites. The blogging community is a supportive community that reads, comments, and shares others' posts. It's a great way to meet other bloggers and a great way to grow your blog.
To say that I was honored to join the Tuesday Turn About Link Party as a host is an understatement! I just about came out of my seat with excitement at this opportunity. I'm so excited for you to get to know both of the lovely ladies who I am joining in this adventure!
I'm so excited for this new beginning for my blog. My desire is to teach, inspire and encourage women to reinvent and repurpose all sorts of home decor and furniture through the tutorials we have here!
And that desire hasn't changed. Hosting this link party will help those who need our tutorials and inspiration find our blog.
If you are new here, welcome. From the bottom of my blog-lovin' heart, I am so grateful that you choose to link up!
If you have been following along on our reinventing journey, rest assured we will still be sharing projects with you! Plus, you will get to see what other bloggers are up to! It's a win-win! 😊
Now let's get to it!
Before we look at the features for this week, let's get some helpful tips!
This post may contain affiliate links, at no additional cost to you. For more information, see my complete disclosure HERE.
Weekly Household Tip
If you love a salad as I do, then you will love this tip! On grocery day, I prep all of my salad fixings by cutting the romaine, dicing the red onion, chopping the cucumbers, etc. Each of the chopped veggies goes in a small container with a lid. The chopped romaine goes directly into the clean crisper drawer along with the veggie containers.
When it's time for a salad (I have a salad almost every day for lunch) all I need to do is pull out the crisper drawer and grab my salad bowl This makes lunch so quick and I especially appreciate that on days I am in my workshop. 😊
Be sure to hop on over to Julie's blog at My Wee Abode and Lynne's blog at My Family Thyme to check out SIX additional features from Tuesday Turnabout! If you haven't been featured on Reinvented Delaware this week, you just might be featured on one of the other hosts' blog!
Now, let the party begin!
Meet your hostesses for the Tuesday Turn About Link Party! Julie and Lynne are amazing women and have lovely blogs with so much to share! I am sure you will enjoy getting to know them just like I am!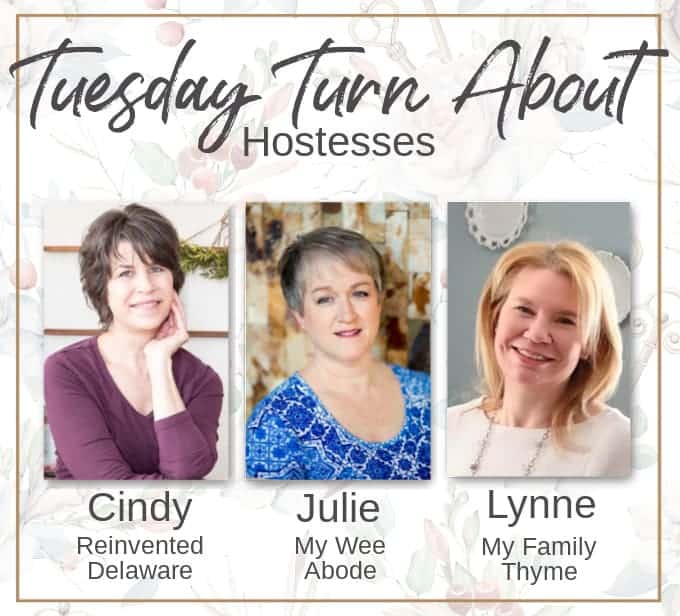 Join us on the socials!
Though not a requirement, we would love for you to join us on other platforms. Feel free to subscribe to our email lists, our Facebook pages, our Instagram accounts, and our Pinterest boards!
Let's create community!
---
Cindy at Reinvented Delaware
---
Julie at My Wee Abode
---
Lynne at My Family Thyme
---
4 Tips for Thrifting Vintage Home Decor
Rachel from The Antique Journey shares some great tips for your next thrifting adventure! I especially like tip #2. It's all about going in the opposite direction! You don't want to miss this tip!
Strawberry Hot Chocolate for Valentine's Day
Do you remember the days of Nestle's Strawberry Mix for milk? You could mix it up and enjoy it cold or hot. The bad part was all of those preservatives and sugar! Shauna from Satori Design for Living shares an all-natural and healthy version of this delicious drink just in time for Valentine's Day!
Navy Floral Vintage Record Cabinet
Isn't this vintage record cabinet a work of art? Lee Ann from Creative Moments will take you step-by-step through the process to create this look. You don't want to miss the before shots of this vintage record cabinet!
---
Let's start sharing! Because this is a party, we encourage all who link up to visit several other bloggers who have linked as well – comments and pins are a great way to spread the love!
Before you get started, take a look at our guidelines:
This party is for home decor and home-related posts only (recipes, organizing, DIY, crafts, etc.). Link up to 3 related posts. Please do not link up informational posts that do not relate to the topic.
If you would please not link up shops, advertising, round-ups, other link parties, or any posts promoting sales, we would appreciate it.
DO NOT PIN FROM IMAGES ON THIS PAGE (it just won't work right on Pinterest). However, please visit the original post/source and pin from there. That works perfectly!
Please make sure that your images are in a jpeg or png format. If we can't save your image, we may not be able to feature you. So sad!
By linking to the party, you give us permission to share your projects on our blogs and social media. We will always give proper credit with a no-pin image.
We're looking forward to all of your fun posts this week! Give us your best!