Old Step Ladder Upcycle | Side Table
Would you believe that we combined an old ladder and cutting board to complete this step ladder upcycle? Yep! Nothing is safe around here!
As an Amazon Affiliate (and other companies including Dixie Belle Paint Company), we earn a small commission on products sold through affiliate links. Your purchases through those links help support this blog at no additional cost. In purchasing the supplies we use and recommend via our links, you help to support the free tutorials we offer you and our other readers. Thank you so much! Read my full disclosure here.
Ideas are constantly flying around in my mind! Take this old ladder for instance. I mean, who would have ever thought to use it as a side table? My mind is a bit strange sometimes!
old ladder upcycle
We had a thrift store cutting board laying around in the workshop so I decided to put it to use.
One side of the cutting board had a groove around the edge that was used to catch juices from meats when slicing. I didn't want that side to show so we flipped it upside down.
The underside of the cutting board got a good sanding. Afterward, I gave it a coat of General Finishes High-Performance Top Coat. I usually use the Flat finish but in this case, I used Satin. It gave it a bit of a sheen.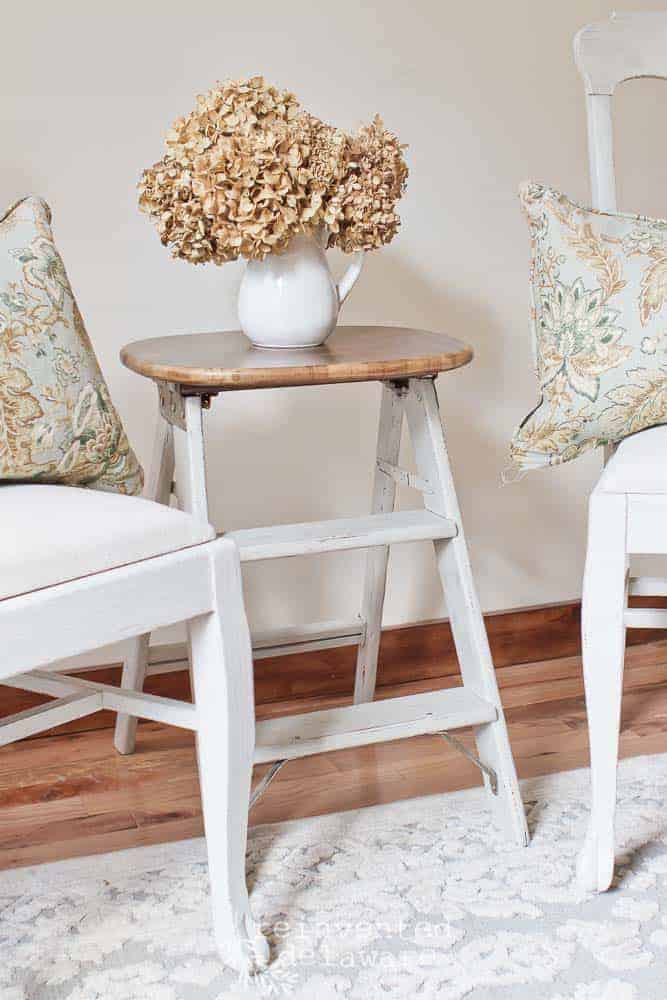 what can I do with an old ladder
Next, we used a couple of wood screws and attached the thrift store cutting board from underneath. We were careful to check the available depth that the cutting board and top of the step ladder created and then chose screws short enough that they would not come through to the top.
I say 'we' but what I am really saying is 'he.' Hubby does this type of work – securing tops to our pieces. 😉
custom mixed paint
I painted the ladder in a custom mix of General Finishes Milk Paint in Linen, Snow White, and Driftwood. I used equal parts of Linen and Snow White and mixed them well. Then I added just enough of the Driftwood to add a touch of gray. This makes a gorgeous Greige color that goes well in a variety of color schemes.
A bit of knife distressing added an aged look to this upcycle.
what can you make out of a wooden ladder?
A side table of course! Maybe that wasn't your first idea, but it's a good one, don't you think?
Isn't it the cutest?? It would make an adorable bedside table in a child's room. I also think it would be adorable on a front porch between two patio chairs.
vintage wooden ladder decorating ideas
Small step ladders and cutting boards can be found at yard sales and thrift stores for next to nothing. This is one of the easiest up-cycles we have done!
A quick search over on Etsy pulled up tons of ideas for different styles of old ladders that could be used for this project. They are a bit more pricey, but if you are looking for a unique old ladder, Esty is a great source!
I would love to know if you do a project like this! Tag me on Instagram so I can see your finished old ladder upcycle!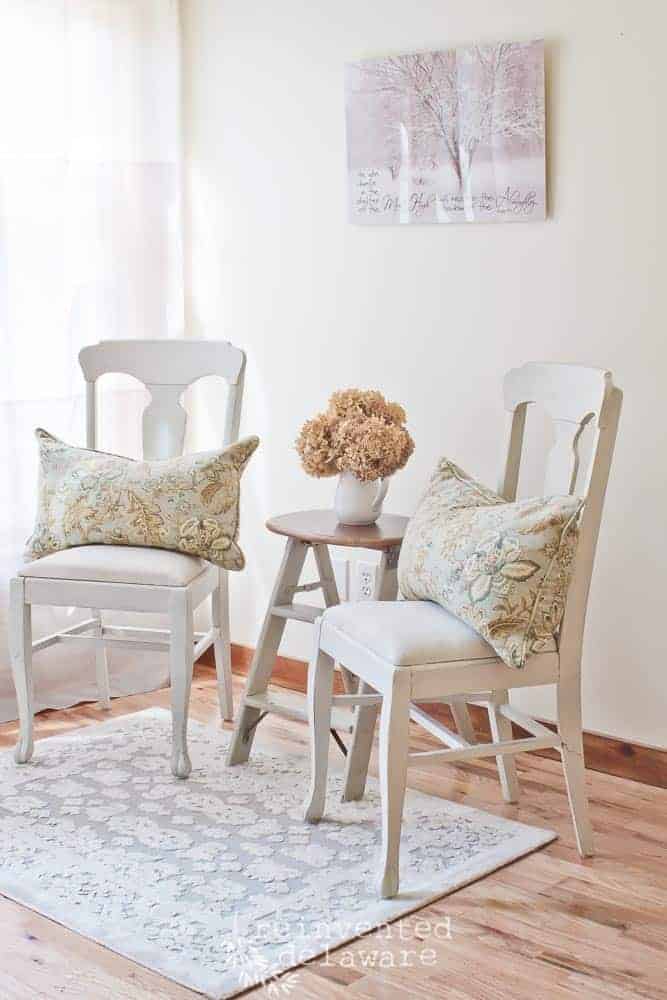 join our journey!
We want you to join our journey over on Instagram and Facebook! You can also find more inspiration on our Pinterest page! We're always pinning fresh ideas!
more upcycled projects
Just click the image to see more upcycled projects!
---
Visit my Amazon Storefront!
Click the button below and head over to our online shop on Amazon!