How to Repurpose an Old Wooden Toolbox
With a few supplies, you can repurpose an old wooden toolbox into a useful piece of farmhouse storage for your home! This is an easy project!
Let's get started!
The following post may contain affiliate links. That means if you click and then buy something, I will make a small commission at no additional cost to you! Thank you for supporting my blog. full disclosure here.
This post is sponsored by Dixie Belle. All opinions are my own!
Old wooden toolboxes can be found in several places, one being your grandparent's workshop or shed.
These boxes hold so much worth and value in my opinion.
They represent hard work and quality workmanship.
a little prep
Even though I can't remember exactly where we came across this wooden toolbox, I could tell it had been well-used over the years.
The first thing it needed was a good cleaning. The wooden toolbox received a good scrubbing with a solution of Simple Green and warm water and a good hose rinsing afterward.
A day in the sun was all this toolbox needed to completely dry.
quick video
Let's watch the easy process of lightening the original dark paint on this box. Be sure to subscribe while you are on YouTube!
easy project!
Wasn't that so simple? White Wax will lighten dark surfaces in a flash!
Not to mention the soft feel it gives to the wood!
my shopping links:

Don't you love that we were able to keep the original finish?
All this easy project needed was a good cleaning and waxing….
….and a few fun details too!
a little chain
Take a look at the lid! It was raw wood so the white wax settles into the grain perfectly.
Speaking of the lid, we wanted to make it useful for a home. Most wooden toolboxes do not come with a mechanism to prevent the lid from falling open too much.
That can cause the hinges to weaken over time.
(we'll talk about that adorable lid handle in just a bit!)
So, we added a section of the chain that we attached with a couple of screws. BTW, we measured the screws to make sure they wouldn't poke through the outside of the wooden toolbox!
The interior wood of the box needed a bit of love too.
Hemp oil is a perfect way to hydrate old wood.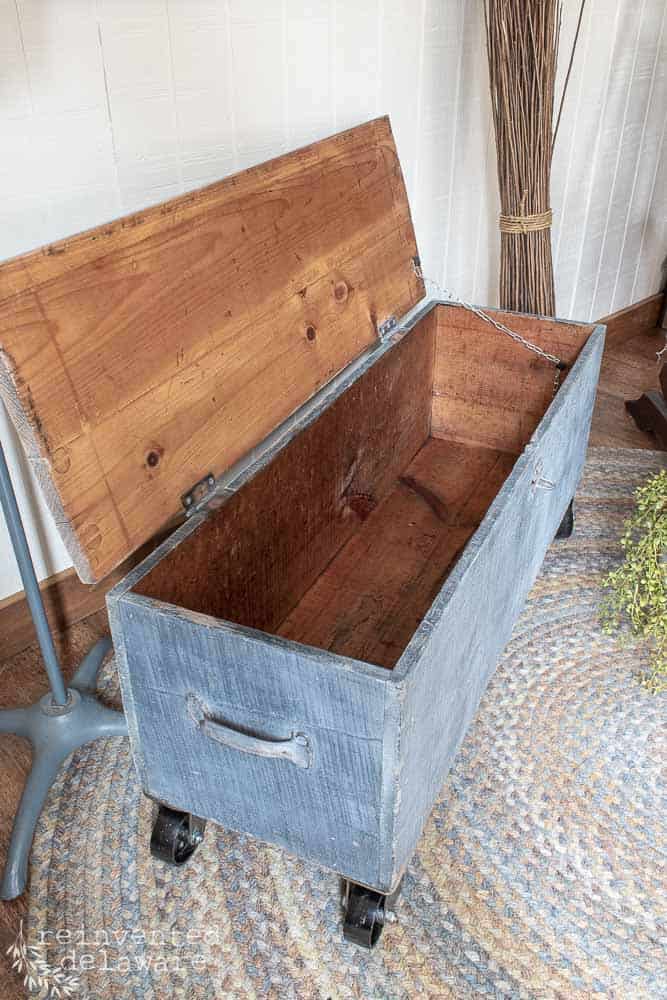 elegance meets practicality
Let's chat about that adorable handle!
When we attend auctions, we often purchase items in a box lot. The box can have a variety of items. I scan the box before the auction to see if there is enough to pique my interest.
This box lot had lots of silver-plated silverware, including some amazing serving spoons!
The spoons are easy to attach:
place the spoon in a vice to steady it
drill a hole a bit larger than the screw
attach the spoon with short screws that won't come out of the backside
Such an easy thing to do and it adds so much detail!
Not to mention the juxtaposition of an elegant silver spoon with a vintage wooden toolbox!
Take a look at the lock. The top part of the lock was missing but we decided to keep the latch. The top piece would have been on the lid and then it would flip down over the latch.
A lock could have been added to keep the tools safe inside.
The handles on the side were in great shape. They needed a bit of white wax to make them look even more amazing!
my shopping links:

casters and diamonds
Casters are one of my favorite things in the whole world.
Some girls collect jewelry.
Me??
I'm more into practicality!
And look how vintage these casters look! A bit of spray paint turns them into a color that looks good.
Plus, the casters turn this wooden toolbox into practical, mobile storage!
Casters are a girl's best friend!
But I still love diamonds!
my shopping links:

supplies to repurpose an old wooden toolbox
Wasn't that an easy project?
Here is a list of the simple supplies we used to repurpose an old wooden toolbox.
old wooden toolbox
Simple Green
scrub brush
outdoor hose
sunshine 😎
white wax
chip brush
blue shop towels
hemp oil
vintage silver serving spoon
chain
vintage style casters
Rust-oleum Hammered Spray Paint
easy supply shopping
I've gathered a few shopping links for the supplies so you don't have to hunt these products down.

a little fun
Just for a little fun, I thought I would share how busy my dog, Barkly, is. He wants to be in the shot but doesn't like to hold still long enough for the shutter to click!
That sweet little pup is so funny!
join our journey
Thanks for stopping by today for this quick tutorial on how to repurpose an old wooden toolbox!
I hope you are able to get out soon for some thrifting, yard-saleing, or maybe some snooping in your grandfather's workshop so you can find one of these vintage gems!
Feel free to pin any image to Pinterest so you will be ready when you find that wooden toolbox! Let me know in the comments how yours turns out!
Better yet, tag me on Instagram and Facebook so I can see your finished project! I would love to see it! Give us a follow while you're there so you can see more projects!
Follow us on Instagram and Facebook
More toolbox transformations:
Until next time….