Rocking Chair Upholstery | Eastlake Rocker
Want to know how easy it is to replace rocking chair upholstery on an antique Eastlake rocking chair? Let me show you how!
Some links in this article are affiliate links and if you click on them, we will receive a small commission at no additional cost to you! Clicking and purchasing help to support this blog and all of the home decor tutorials we bring to you! Click to read my full disclosure.
amazing deal
If you're like me, you often buy something because the price is amazing. You might not necessarily need it or even know what you will do with it, but the price can be too good to pass up.
how much did you say??
That's the story on this gorgeous pair of antique Eastlake folding rockers.
The pair was only $10
Whoa, wait…..did I just say $10?????
How could I not purchase them??
So, they came home with me. And I pulled out my upholstery tack and a staple remover.

deconstruct and prep
While removing the fabric panels, I paid close attention to how they had been attached and how they were constructed.
This information would be my teacher when it came to reconstructing the upholstered rockers.
Both chairs got a good cleaning with Simple Green and a heavy-duty Scotch pad. I did this step outside on a sunny day and let them dry in the sun.
hemp oil finish
The next step was to deal with the wood. I didn't want to paint these chairs because the wood was just so beautiful.
All the wood needed was a good coating of Miss Mustard Seed Hemp Oil. I brushed it on with a chip brush and then wiped off the excess with a blue shop towel.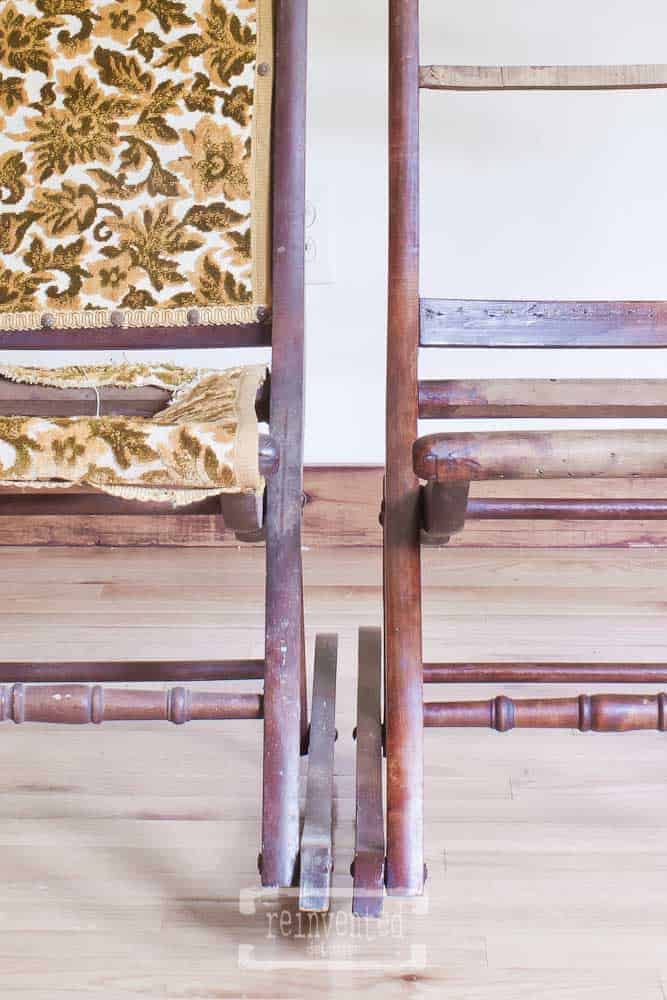 While the hemp oil soaked in and then cured, I stitched the three fabric panels I would need for each rocker in this rocking chair upholstery project.
rocking chair upholstery
Each rocker needed three panels: one panel for the inside back, one for the outside back and one for the seat.
The two panels for the back of the rocker were lined.
Using the old fabric as a pattern, I cut the new upholstery fabric making sure I included a seam allowance.
The panels also needed to be lined so I cut the same pattern in a neutral lining.
The next step was to stich the decorative fabric to the lining fabic leaving an opening for turning.
old-fashioned method
After they were stitched and turned right side out, I gave each panel a good pressing with an iron.
The next step is to attach them to the rockers. It was easy to see where to attach the panel by the previous tack holes.
I chose to do this step the old fashioned way instead of using a pneumatic staple gun.
The area where the nails would be attached is pretty narrow and I felt the old-fashioned method was the easiest way to keep things under control.
You'll also notice that I used a cardboard tack strip. This helps the fabric to lie flat on the right side.
Can you see the line of stitching around the perimeter of the panel?
After stitching right sides together, turning them right side out, and then pressing with an iron I top-stitched around the edge.
needle-nose pliers
Using pliers to hold each upholstery tack and the decorative tacks is a huge help! The tacks can be small and fingers can get in the way of the small tack hammer.
It takes some getting used to, but you'll get the hang of using the pliers in one hand and the tack hammer in the other. Using the pliers also helps the deocrative tack not to bend.

find the center
I could have measured before adding the decorative tacks, but this is what I did instead:
find the center of the area
tap the center tack first
tap the two outside corners with a tack at each corner
find the center between the main center point and one of the corners
tap the tack in that new center point
repeat
Basically, you find the center and one of the outside points. Find the center of that area. Then find the center again. You just keep finding the center of each area.
I hope that I explained that good enough to understand! If not, message me on Instagram and I'll make another attempt to explain it!
I eyeballed it. The perfect look is not what I am going for in our makeovers. The look will be handmade and perfect!
If you are more comfortable, you can certainly measure and mark the spots for the decorative tacks.
A squeeze clamp comes in handy if you don't have a third hand! If it is going to touch wood, protect the area with a scrap of fabric.
pillows
The rockers needed some small pillows and they were so easy to stitch up.
folding rockers
The rockers fold for storage. Don't you love that feature??
Furniture makers knew the importance of storage even 100 years ago!
true antiques
You read that right – this pair of rockers dates to the late 1800's – early 1900's!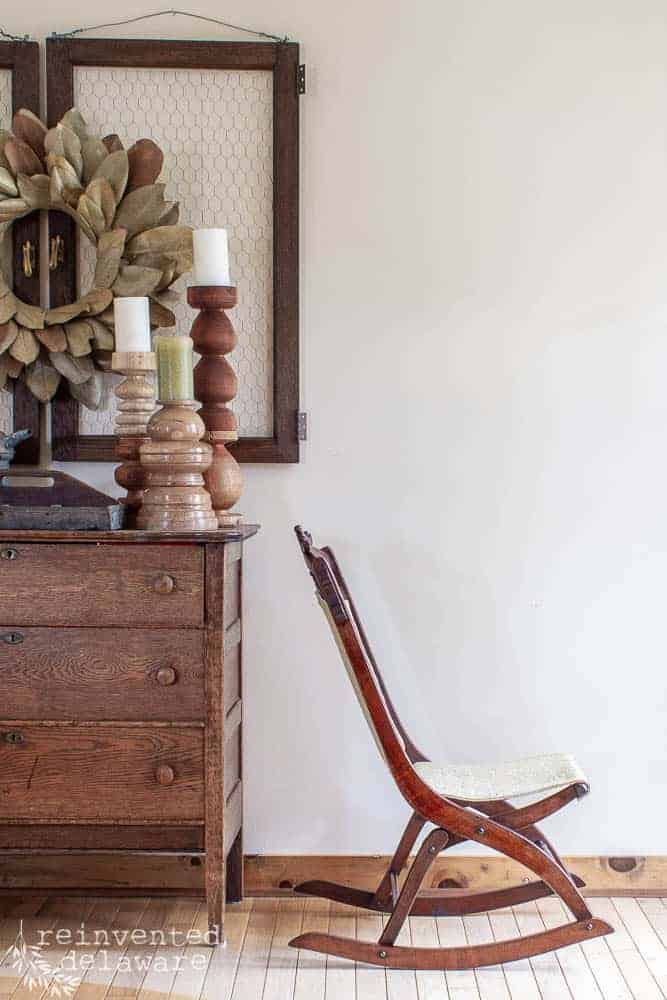 unconventional wall decor idea
Personally, I think they would be gorgeous hanging on the wall. They could be hung side by side for a wide wall.
If the area you want to hang them is narrow, consider hanging them one high up and the second one below it.
Talk about interesting wall decor! And useful too!
If you find a pair of these rockers (or even just one) and decide to hang it, let me suggest a heavy-duty decorative metal bracket that has been secured to a stud in the wall.
You might even considered using twine to secure the moving parts on the rocker.
Here are a few more tips about this rocking chair upholstery project:
wait 2-3 weeks after applying hemp oil to allow for a curing time. Oil could leach into the fabric if it hasn't cured long enough
basic sewing skills are needed for this project
make any necessary repairs before applying the finish
use caution when using these rockers, they might not hold excessive weight
Here is a before and after of the wood. The rocker on the left was dirty and dry. The one on the right has been cleaned and scuffed with a Scotch pad and then finished with a hemp oil finish.
so glad you're here
Thanks for stopping by for this quick tutorial about rocking chair upholstery!
Feel free to pin any of the images in this post for your reference! Ya' never know when you might come across a pair of beauties like this!
You are also welcome to join our journey on Instagram, YouTube, and Facebook where we share more behind the scenes of many of our projects!
If you need any supplies or tools, I have gathered some links for you! Thanks for shopping via the links. It really helps to support my blog and the free tutorials we offer here. If you purchase via our links, we do receive a small commission at no additional cost to you! Click here to read the full disclosure. Thanks so much!
**** That fabric used for my project is no longer available. Choose any heavy weight upholstery fabric for your decor. I have a suggested fabric in the shopping links that I think would look so good!

Want more ideas to reinvent? Sign up below and I will send you a list filled with inspiration! Plus, you'll get the free tutorials sent straight to your inbox!
Until next time…