Tuesday Turn About #190 Thrifting & Crafting
Hi friend! Welcome to Tuesday Turn About Link Party! This post is a great place to find all sorts of inspiration including:
DIY projects
thrifting and upcycling ideas
home decor inspiration
recipes
gardening tips
This post is basically an All Things Home weekly magazine! Take time to click through some of the posts that interest you. Hover your mouse over the little images at the bottom of this post and click for the ideas!
This week, we take a look at the joy of thrift shopping, an easy furniture makeover, and organizing our craft rooms.

Check out last week's party for more ideas and inspiration!
Weekly Thrifting Tip
This week let's think about some of the metal items you can find while out thrifting or yard sale-ing. Keep your eye open for metal lamps, metal wall plate hangers, metal shelf brackets, or metal wall art.
The metal might look a little tired and maybe even rusty. But metal home decor pieces can be updated and changed easily with metallic paints or even with Rub-n-Buff.
Don't pass by the metal home decor section too quickly! There are treasures just waiting for you to upcycle!
My Camera Gear
You might be interested in the gear I use to photograph all of the tutorials we offer here at Reinvented Delaware. If you have any questions about any of the camera equipment, just let me know!

My Ebook
This ebook is not just for bloggers! In it, I break down how to use your DSLR camera to capture beautiful images for your own personal use. It is also a great book for bloggers who want to reach their audiences with beautiful imagery!
Learn to tell your story through images!
Now for the Inspiration!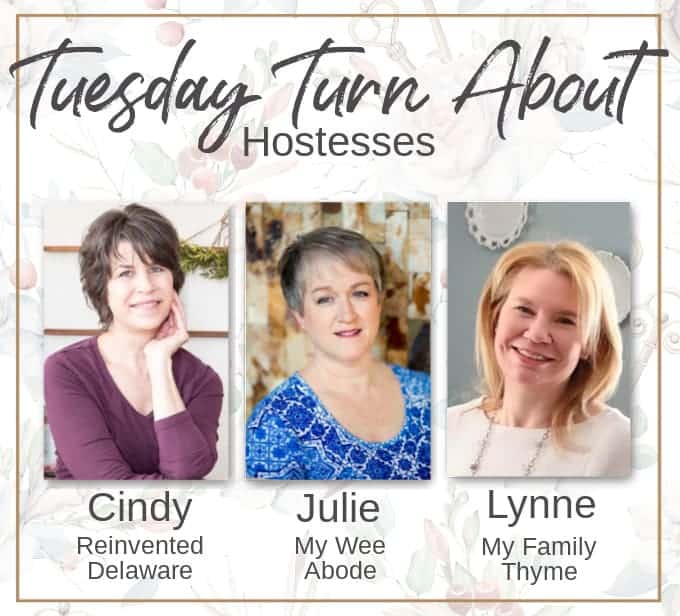 Join us on the socials!
Though not a requirement, we would love for you to join us on other platforms. Feel free to subscribe to our email lists, our Facebook pages, our Instagram accounts, and our Pinterest boards!
Let's create community!
Cindy at Reinvented Delaware
Upcycled Chairs – Sofa Table Project | How to Recover a Chair
Lynne at My Family Thyme
Easy Spring Dollar Tree Pizza Pan Wreath | 5 Easy Ideas to Welcome Spring Into Your Kitchen
Julie at My Wee Abode
Julie is under the weather this week so she is not able to join us. Be sure to pop over to her blog and give her a little love! We all need that when we are not feeling well 🙂
Lynne and I decided to share four features this week in lieu of Julie missing the party!
Be sure to hop on over to Julie's blog at My Wee Abode and Lynne's blog at My Family Thyme to check out SIX additional features from Tuesday Turnabout! If you haven't been featured on Reinvented Delaware this week, you just might be featured on one of the other hosts' blog!
Perfecting Places – Kim
15 Simple Craft Room Organizing Ideas
Birdz of a Feather – Sara
MCM Side Table Furniture Refinishing Tips
Shop at Blu – Sue
County Road 407 – Cindy
How to Add Vintage Charm for a Stupendous Spring Porch
Let's start sharing! Because this is a party, we encourage all who link up to visit several other bloggers who have linked as well – comments and pins are a great way to spread the love!
Before you get started, take a look at our guidelines:
This party is for home decor and home-related posts only (recipes, organizing, DIY, crafts, etc.). Link up to 3 related posts. Please do not link up informational posts that do not relate to the topic.
If you would please not link up shops, advertising, round-ups, other link parties, or any posts promoting sales, we would appreciate it.
DO NOT PIN FROM IMAGES ON THIS PAGE (it just won't work right on Pinterest). However, please visit the original post/source and pin from there. That works perfectly!
Please make sure that your images are in a jpeg or png format. If we can't save your image, we may not be able to feature you. So sad!
By linking to the party, you give us permission to share your projects on our blogs and social media. We will always give proper credit with a no-pin image.
We're looking forward to all of your fun posts this week! Give us your best!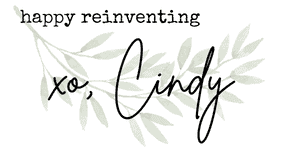 Tuesday Turn About Link Party runs from Tuesday 6 pm EST to Saturday 1 am EST. Join us during those times each week!
Before you link up, did you catch my thrifting tip for the week? Scroll up and read the tip! Then scoot down here to link up your amazing posts!