Tuesday Turn About #196 Fresh Starts
April 4th?? Easter is next weekend??
Omgoodness. Time does seem to move faster the older I get!
In fact, this is Tuesday Turn About #196 which means that #200 is right around the corner! And we have a treat for you that I'm excited to tell you about.
We are still ironing out all of the details but I can say that we are having a giveaway that includes EVERYONE! Other bloggers and my subscribers are eligible to win!
Stay tuned in next week's Tuesday Turn About for all of the details. You have a good chance of winning something amazing!

Weekly Thrifting Tip
When I did a ton of thrift and auction shopping for our vendor booth, I bought a lot of pieces. It was my job to search out and curate certain styles of home decor or furniture pieces that my local customers would love. They loved the vintage and antique style so those are the pieces I looked for and created.
We don't sell our pieces in a vendor booth anymore so I don't buy as many pieces as I used to. And yet my shopping mindset is still the same – I only purchase pieces that I love and will create the look I want for our home.
That leads me to my thrift shopping tip for this week. Purchase only the pieces you love that will go with the aesthetic you want for your home. It can be hard to not buy something just because it is a good deal.
But if you don't truly love it and have a purpose for it, your home will pile up with a mismatched look very quickly.
Be selective about your purchases. You'll love the look you curate over time!
My Camera Gear
You might be interested in the gear I use to photograph all of the tutorials we offer here at Reinvented Delaware. If you have any questions about any of the camera equipment, just let me know!

My Ebook
This ebook is not just for bloggers! In it, I break down how to use your DSLR camera to capture beautiful images for your personal use. It is also a great book for bloggers who want to reach their audiences with beautiful imagery!
Learn to tell your story through images!
Now for the Inspiration!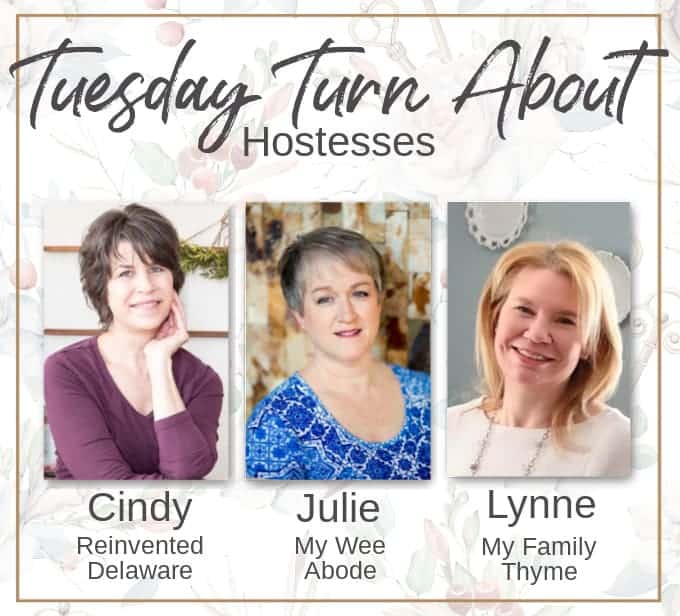 Join us on the socials!
Though not a requirement, we would love for you to join us on other platforms. Feel free to subscribe to our email lists, our Facebook pages, our Instagram accounts, and our Pinterest boards!
Let's create community!
Cindy at Reinvented Delaware
Repurposed Vintage Seed Spreader | A Functional Laundry Room Refresh
Julie at My Wee Abode
Sweet Spring Printables in Watercolor // How to Add Springtime Florals to a Small Patio
Be sure to hop on over to Julie's blog at My Wee Abode and Lynne's blog at My Family Thyme to check out SIX additional features from Tuesday Turnabout! If you haven't been featured on Reinvented Delaware this week, you just might be featured on one of the other hosts' blog!
My Home of All Seasons – Denise
Denise shares how to welcome your guests into your home during the spring season. I'm loving this birdcage since I just found one on a recent thrift-shopping trip!
New Springtime Welcome in the Entryway
My Thrift Store Addiction – Cecilia
Some of the most fun upcycling projects are fast. Cecilia shares this project that hardly takes any time!
This Dear Casa – Marie
You are not going to believe how Marie gained some storage in her home! This project is going on my to-do list for my craft room!
Turn IKEA Pax into Beautiful Built-Ins
Let's start sharing! Because this is a party, we encourage all who link up to visit several other bloggers who have linked as well – comments and pins are a great way to spread the love!
Before you get started, take a look at our guidelines:
This party is for home decor and home-related posts only (recipes, organizing, DIY, crafts, etc.). Link up to 3 related posts. Please do not link up informational posts that do not relate to the topic.
If you would please not link up shops, advertising, round-ups, other link parties, or any posts promoting sales, we would appreciate it.
DO NOT PIN FROM IMAGES ON THIS PAGE (it just won't work right on Pinterest). However, please visit the original post/source and pin from there. That works perfectly!
Please make sure that your images are in a jpeg or png format. If we can't save your image, we may not be able to feature you. So sad!
By linking to the party, you give us permission to share your projects on our blogs and social media. We will always give proper credit with a no-pin image.
We're looking forward to all of your fun posts this week! Give us your best!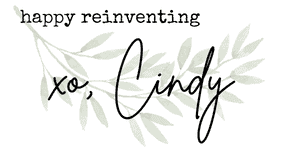 Tuesday Turn About Link Party runs from Tuesday 6 pm EST to Saturday 1 am EST. Join us during those times each week!
Before you link up, did you catch my thrifting tip for the week? Scroll up and read the tip! Then scoot down here to link up your amazing posts!
TECHNICAL DIFFICULTIES!
We had some technical issues on our end that closed the party too early! You can add your blog post links below my friend!
Thanks for being patient!