Fourteen Clever Upcycled Projects
Are you looking for clever upcycled project ideas? Then you will love all of the inspiration in this blog post!
As an Amazon Affiliate (and other companies including Dixie Belle Paint Company), we earn a small commission on products sold through affiliate links. Your purchases through those links help support this blog at no additional cost. In purchasing the supplies we use and recommend via our links, you help to support the free tutorials we offer you and our other readers. Thank you so much! Read my full disclosure here.
a quick disclaimer 👇🏻👇🏻
First off, let me say that I have taken photos of almost every single project we have ever made here at Reinvented Delaware. Most of the photos I have are from the beginning of our business and I wasn't blogging then. I wanted to record what the finished project looked like for my own reference. Please excuse any that are slightly blurred. At the time they were taken, I thought only my eyes would ever see them!
Enough of that! Let's take a look at some clever upcycled projects together!
upcycled project idea
Windows are some of the most popular items to upcycle. They come in an array of sizes and shapes and are fairly easy to find.
We find them mostly at auctions and architectural salvage shops.
That's where we found this beauty. We were at one of our favorite salvage shops – actually, it's not a shop in the sense that it is indoors. This fave shop of ours is completely outside and we have been customers for over 25 years!
This window had my name on it because of its shape. I love unusual shapes of things, especially windows. One of the panes was missing but that's not an issue in my book.
I measured and created hand-stitched quilt blocks for each pane. The quilt squares are held in from the back with a piece of cardboard and glazing points. This piece hangs in our home and it's one of my faves.
BTW, the window was under $5. We bought it before buying windows was a thing!
upcycled lamps
Lamps are such an easy thrift store item to upcycle. Most thrift stores will allow you to try the light to make sure it works and they can often be purchased for about $5. Such a deal, right??
I like to find unusual things for the shades. The lamp on the left was painted and the shade is the top of a birdcage. The bottom half of the birdcage was missing so the cost was about $1. Or maybe even less!
The sweet little lamp in the middle measures only 9″ and it is the most precious little thing, isn't it? I painted the 80s craft-style decor on the base of it and then pulled the fabric off of the shade. Chicken wire replaced the fabric and I spray painted the whole shade in a hammered metal finish.
The lamp on the right is also fairly small – about 15″ in height. The shade is a spray-painted wire basket turned upside down. The customer who bought it fell in love as soon as she saw it in our vendor booth.
simple upcycling idea
Picket fence projects are one of my faves. We've made signs, wood boxes, small crates, block signs, and little wooden boxes to hold things like flowers in painted milk bottles.
Just so cute, don't ya' think?
my vendor booth
Selling upcycled items has been a profitable creative business for us. We get to repurpose and reinvent all sorts of home decor and furniture and offer these unique pieces on our vendor booth at Wilderlove Handmade and Vintage in Greenwood, Delaware.
I seriously love my job!
upcycled slipper chair
We find single chairs often. I would prefer to find pairs of chairs but when a chair this cute comes along for free, I take it! The toile fabric was very inexpensive too. I purchased a whole bolt of this gorgeous fabric for only $7.
The slipcover has a button-down back so that it can be removed and washed. Of course, the buttons are thrifted as well. 😊
upcycle ideas to sell
One item that consistently sells in our booth is a repurposed drawer. We have upcycled drawers in a variety of ways and one of the most popular looks is the one you see below. The backing (actually that's the bottom) of the drawer is mod-podged sheet music.
We added dividers and a piece of broken table spindle leg to the front (now it's the top!), set it on end, and called it a shelf! People love these so much!
We have repurposed drawers using this method many times and each one looks a bit different.
upcycling copper
This is one of the easiest projects to upcycle. We come across copper pieces often but nothing as unique as this copper teapot.
Did you see the date stamp?? May 17, 1898! All this piece needed was a good cleaning and a bit of furniture wax to give it a nice shine.
The date reminds me of a gorgeous pair of school desks that we made over. They have a stamp with an 1898 year on the underside of the seat!
---
upcycling yard sale finds
Can you guess what the body of this piece is? Probably not. Hubby and I have never heard of it but the seller called it a Home Safe. Here is the story he told us:
His grandfather built it years and years ago in his home workshop. He could have been inspired by the roll-top desks that were popular during his era. The piece would be used as a nightstand with the front that you see below towards the front so that it would show.
See the area where the keyhole is? That's the front. It is a false front – in other words, the drawers do not open.
The back, which you can't see in this image, had a door. that opened. This area would be against the wall so that it wasn't visible to the eye. The whole piece is on very old wooden casters.
Is it coming together in your mind why this was called a Home Safe? The door that could be opened wasn't visible so if someone broke into the home, they would just bypass this as a nightstand with a front that didn't open.
Maybe not the most secure, but the seller's grandfather felt it was safe enough and used it in that way until he died.
We acquired it, painted it, added a piece of butcher block countertop, and called it a kitchen island. You can't see but the backside is completely open with shelves built-in for storage.
We kept the original wooden casters, of course.😊
more inspiring posts!
Click any of the images below to see step-by-step how we have repurposed and reinvented these sweet projects!
upcycling ideas for beginners
This is an easy project that we have repeated many, many times. It's an antique sewing cabinet drawer with spindles from some other piece of furniture.
Honestly, I can't tell you exactly what kind of furniture the spindles came from, I just have boxes and boxes filled with them.
I'm a spindle hoarder.
There I said it.
Here is another upcycling idea that we have repeated several times. A wooden fruit or grocery crate on spindles legs.
As I said, I'm a spindle hoarder.
These came from a chair and I have lots of these spindles in my workshop!
Doesn't this make a cute side table?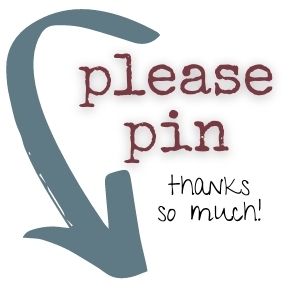 Pin the image below to your home decor and furniture boards! Just click the pin button at the top left corner!
Thanks for joining our journey!
Thanks so much for joining me today! I enjoy sharing our ideas and projects with you and I hope you are inspired to reinvent items for your own home!
Want to see more of our reinventing journey? Join us on Instagram, Facebook, and Pinterest! We love to share on our socials!
---
Visit my Amazon Storefront!
Click the button below and head over to our online shop on Amazon!
---