Here is an easy diy drawer liner idea for you! Use this technique in any old drawer including vintage and antique dresser drawers!
The following post may contain affiliate links. That means if you click and then buy something, I will make a small commission at no additional cost to you! Thank you for supporting my blog. full disclosure here.
We love Mod Podge around here! It is a product that has been around for ages and has been used in countless projects. The product continuously reinvents itself with mediums made for specific purposes.
We love to use it for the interior of drawers :). Let's see how to do this!
supplies for DIY drawer liner
Gather your supplies; click the images below for some of the supplies!
Mod Podge in Matte Finish (my preference – use gloss finishes if you prefer)
small disposable container
12″ metal ruler (optional)
a vintage book that you don't mind taking apart
drawer

clean the old drawer
Make sure the drawer is clean and dust-free before you begin this DIY drawer liner technique. I like to use my shop vac to get into the nooks and crannies. If the drawer is old, who knows what is in there! If you have any spots like dried-up gum (yuck!) then use a scraper or putty knife to loosen it. Be sure to vacuum all the yucky bits up!
Remove enough pages from the book to cover the area. You can tear out the pages carefully or use the Exacto knife and a straight metal ruler.
Pour a bit of the Mod Podge into the disposable container. I like to do this because the jar of Mod Podge can be a bit cumbersome. The smaller container is just easier to manage. 🙂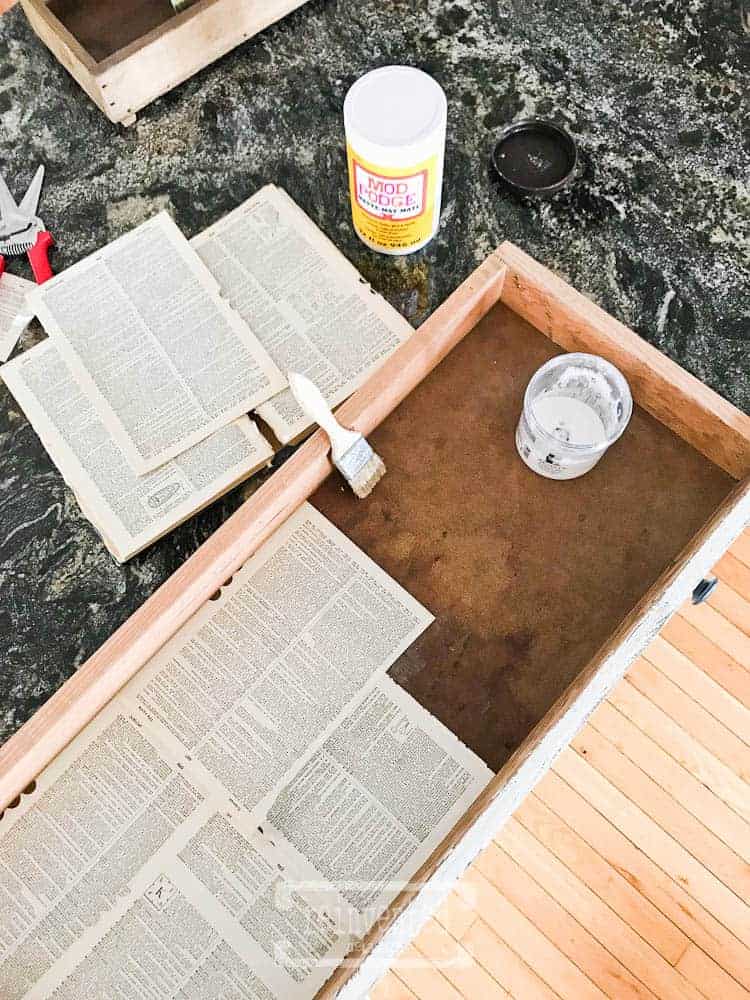 You can see that I started making progress before the camera came out!
interior drawer makeover
For this DIY drawer liner method, start by dabbing on some of the Mod Podge in the area that one page will cover. Be careful to not paint too much beyond the size of the page. Mod Podge dries quickly so you do not want to get too far ahead of yourself.
Spread the Mod Podge very thin. If the pages are made from thin paper, this thin layer will help them not to wrinkle up too much. Also, be sure to avoid going up the sides of the drawer with the Mod Podge. That can get sticky when laying down the pages 🙂 I am using a vintage Webster's Dictionary and the pages are pretty thin.
easy fix for ugly drawers
Lay down the first page starting at a corner. Make sure the corner of the page is snug into the corner of the drawer before you lay down the whole page. There will be a bit of wiggle room with the paper, depending on the thickness. Go slowly and lay down the rest of the page for this DIY drawer liner.
I like to hold onto the corner of the paper before I completely lay it down. This way, if I missed areas with the Mod Podge, I can quickly paint some on.
Pro Tip!
Work in small sections when adding Mod Podge and book pages. This prevents mishaps!
how to line old drawers
Use your thumb to smooth out any bubbles as you are laying down the paper. Once the paper makes contact with the Mod Podge be careful not to lift the page. Thin paper especially, will tear once it has the Mod Podge on it.
Go slowly with this. Put on an audiobook or a good movie and take your time!
The end of the handle of the chip brush is great for pressing down the corners of the pages. Use a light touch, that paper becomes fragile once it is dampened with the Mod Podge and can tear easily!
I like to have the pages meet up with the sides of the drawer, but sometimes this doesn't work out. The drawer may not be square or I wasn't paying close enough attention when I added one of the book pages.
If that is the case with your drawer, use the Exacto knife AFTER this DIY drawer liner is completely dry, and cut away the excess. A sharp blade is important here.
what can I line my drawers with?
Here you can see how the Websters dictionary pages overlap one another. I really like this look a lot. It is a nice little surprise when the drawer is opened!
Let the DIY drawer liner dry completely! It won't take long because thin layers of Mod Podge were used.
seal the inside of the refurbished drawer
After the drawer is completely dry, apply a thin layer of Minwax Water-Based Polycrylic. This will seal the pages to give them a bit more protection. Two coats can be applied if the drawer will be used heavily. Read the label for drying time, but 1-2 hours is usually long enough.
Let the interior of the drawer dry completely and place the drawer back where it belongs! This particular drawer belongs in an awesome toolbox that we converted into a coffee table. We added casters after cleaning it up and painting it. My husband added the farmhouse-style top.
more inspiring posts
Since this project was all about a DIY drawer liner idea that we completed on a wood toolbox, I thought you might enjoy seeing some of the other toolboxes we have made over previously!
Click the image to head over to the post!
how to update an old drawer
Here is the whole project finished! This toolbox was well used and will continue to be well used! All three drawers are lined with book page interiors. What a great addition to any living space!
This DIY draw liner technique can be used on antique and vintage dressers, nightstands, desks, and basically any piece with a drawer!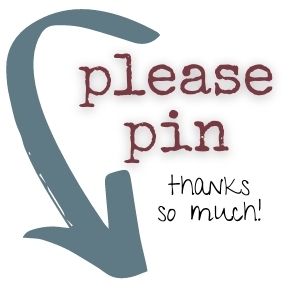 easy DIY drawer liner method
Thanks for stopping in to learn about this diy drawer liner technique! Let me know if you give this a try on a piece for your home! Look around your own home for some drawers that need a little attention 🙂
Please join our journey so you don't miss any of the fun projects, tutorials, and inspiration that we share with you each week! You can follow us on Instagram, Facebook, and YouTube. We share even more inspiration on Pinterest!
Visit my Amazon Storefront!
Click the button below and head over to our online shop on Amazon!