Melamine Serving Tray Makeover
Are you looking for a way to update a melamine serving tray that is stuck in the 80s? Then you will love this easy method to makeover a melamine serving tray!
As an Amazon Affiliate (and other companies including Dixie Belle Paint Company), we earn a small commission on products sold through affiliate links. Your purchases through those links help support this blog at no additional cost. In purchasing the supplies we use and recommend via our links, you help to support the free tutorials we offer you and our other readers. Thank you so much! Read my full disclosure here.
can you paint melamine?
Yes! Yes! and Yes!!
Can you tell I love the answer to this question? You will too when you see how easy this is to do!
And it's a good thing – I mean look at this outdated chicken! The tray is still in excellent shape, but it won't go with my newly painted kitchen cabinets so the red chicken has to go!
You can lightly sand the surface of the melamine serving tray (or any other melamine piece you come across) just enough to knock off the shine. Use a super fine R.A.D. pad to make this super easy. You can see below the white-ish dust that it created – be sure to clean the piece well after sanding with White Lightning Cleaner (seriously, thee best cleaner!)
You can also see that a little corner of the serving tray chipped off. That's completely my fault – after purchasing the tray for about $1, the excitement took me over and I dropped the tray on the pavement while opening the door to my truck.
It's a simple fix – just sand it smooth so there are no rough edges. 🙂
how do you prepare melamine for painting?
After sanding and cleaning the tray, the next step in prepping for paint is to use Dixie Belle's Slick Stick. This stuff is amazing! It sticks to anything – PVC, glass, Formica, laminate, metal, plastic melamine – anything slippery, shiny, or slick!
You might be wondering why I lightly scuffed the surface of the tray – I tend to go overboard with everything, including prep work. Dixie Belle Slick Stick does not require scuffing the surface – only a good cleaning with White Lightning.
Apply the first coat and let dry for 2-3 hours. Then apply a second coat and let it dry overnight (or for several more hours!)
The third image above shows the decorative color I used on the tray.
what paint to use on melamine
The chalk mineral paint colors I chose are French Linen, Cotton, and Caviar. Two coats of French Linen covered the melamine serving tray perfectly!
You can also see I have some stencils out! That's going to be fun 🙂
Also, the chalk mineral paint will stick to the Slick Stick and you could choose any color of Dixie Belle's durable paints to use on melamine!
Basically, Slick Stick will stick to just about anything, and paint will stick to Slick Stick!
Say that ten times fast!!
list of supplies:
Use the links below to purchase some of the supplies for this project! You are helping to support this blog and all the free tutorials we offer here! Thanks so much!😊
Belle's and Whistles Stencils
Have you ever stenciled anything? It is such an easy way to transform a solid space of color by adding another color and the appearance of texture!
Here's how to stencil:
choose the stencil (there are so many beautiful designs to choose from!)
center the stencil on the piece.
choose a contrasting color from the painted surface – something that will show up nicely
use a small craft sponge and the paint lid to dab a small amount of paint onto the sponge
dab lightly onto the stencil being careful to not get globs of paint on the surface
keep the sponge on the dry side so that the paint doesn't seep under the stencil
carefully lift the stencil and allow the area to dry (you can use a hair dryer on low to speed up the dry time)
position the stencil in the next section by overlapping some of the openings in the stencil.
wash the stencil and the sponge with warm soapy water when you are finished!
Dixie Belle silk screen stencils
Easy, right? Silkscreen stencils are just as easy! In fact, they're even easier IMHO! Here are the steps:
choose your stencil and your paint color (I chose the Farmhouse Stencil and Caviar chalk mineral paint)
peel off the white backing from the silkscreen stencil
position the sticky side of the stencil down in the desired spot
use your finger to make sure it has good contact with the surface.
painters tape will help to avoid stenciling off of the edge
use a sponge to place a very small amount of paint on the stencil (it doesn't take much paint!)
then use the flat scraper included in the package to spread out the paint
make sure all of the cutouts have been covered by using the scraper in different directions
remove the excess paint with the scraper carefully!
peel back the stencil and wash it in warm soapy water completely!
Silkscreen stencils can be used up to ten times! You could make so many projects just with the chicken stencil but the Farmhouse Silk Screen Stencils include two other farmhouse-style designs!
how to seal paint on melamine
Since this tray will be used for carrying dishes, napkins, and silverware to our outdoor patio, so I decide to seal it. If you just use something like this as wall decor then you won't need to seal it.
Three coats of Clear Coat in Flat give this piece a waxed look that will be durable for years of serving!
melamine serving tray makeover uses
Here are some ideas for you to use a tray similar to this one!
Melamine Serving Tray Ideas
carry supplies to outdoor grill
use on kitchen island for S&P shakers, napkins, flower/plant
add a hanger and hang in the kitchen as wall decor
coral items on a coffee table
---
melamine painting questions
what paint will stick to melamine
If you use Dixie Belle's Slick Stick be assured that chalk mineral paint will stick to the surface of melamine. I can't guarantee that any other paint would adhere well. And without Slick Stick, well let's just say, I wouldn't try it!
where to find melamine pieces to paint
Melamine pieces can be found in most thrift stores like Goodwill and Salvation Army. Often towns will have their own thrift store where you can find melamine trays, pitchers (don't use paint if you intend to use a pitcher that will need to be washed!), serving platters…..
You can also check out your local ReStore and vintage shops!
more inspiring posts!
If you enjoyed this upcycling project, here are a few more that will get your creativity in full gear!
shop for supplies
Feel free to visit the Dixie Belle Paint Company Website to purchase your supplies for this melamine serving tray makeover! Just click the graphic below for all of your paint supplies!
You can also shop directly using the links I've gathered for you at the top of the post!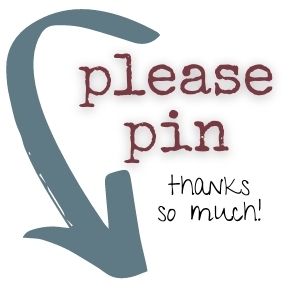 Pin the image below to your home decor and furniture boards! Just click the pin button at the top left corner!
---
thrift store decor team
Each month, I have the privilege of joining nine of the most amazing upcyclers on the web! This month's projects won't disappoint! All the links to each post are just below the collage of images showing the before shots!
You don't want to miss out on all this inspiration!
Thanks for joining our journey!
Thanks so much for joining us for this post! Join our journey so you don't miss any fun projects, tutorials, and inspiration we share with you each week! You can follow us on Instagram, Facebook, and YouTube. We share even more inspiration on Pinterest!
---
Visit my Amazon Storefront!
Click the button below and head over to our online shop on Amazon!
---