Trash to Treasure Picnic Basket
Are you looking for a fun, trash to treasure project that won't take much time? Then you will love this picnic basket makeover!
The following post may contain affiliate links. That means if you click and then buy something, I will make a small commission at no additional cost to you! Thank you for supporting my blog. full disclosure here.
This post is sponsored by Dixie Belle. All opinions are my own!
trash to treasure project
This picnic basket wasn't exactly trash, although it should have been! The straps were hanging on by a thread and sections of the bottom were broken.
We have a local thrift store that takes donations even though they are a privately funded shop. The prices are amazing so I love to shop there. You can see another amazing find that I purchased there for next to nothing!
There is a video towards the bottom of the post if you prefer to watch this makeover!
Use the links below to purchase some of the supplies for this project! You are helping to support this blog and all the free tutorials we offer here! Thanks so much!😊
list of supplies:
Thrifted Basket: shop your local thrift store!
Grainsack Fabric or ribbon
picnic basket upcycle
When I brought this dusty, broken but adorable picnic basket home, I repaired the straps. They were hanging on by a thread. E6000 is my go-to glue for repairs like this.
I added a dollop of glue behind each of the straps where they were attached. A squeeze clamp held it tightly overnight which was long enough for the glue to set.
The gingham check fabric was adorable but dry-rooted. My scissors came in handy to clip off the nylon thread that was used to attach the lining. Then the basket needed a good vacuuming! It was so dusty!
I wanted to lighten up the look of this picnic basket so I pulled out my light-colored paints. The first coat is Dixie Belle Chalk Mineral Paint in Fluff. It's a nice white. My chip brush was the perfect tool to apply the paint.
paint a picnic basket
When the first coat was dry, I used a dry brush technique to apply the slightly darker paint called Drop Cloth. I wanted to knock off some of the white and a dry brush technique is an easy way to do this. I didn't coat it heavily – just enough to skim over the surface of the picnic basket.
faux grain sack stripe
Grain sacks are such a popular vintage farmhouse home decor piece. Finding and purchasing them can be pricey. And you certainly won't find a grain sack striped picnic basket!
Let's just paint a faux grain sack stripe on this vintage picnic basket! The stripe is already on the basket that I am using, but if your basket doesn't have a design that you can follow, just use painter's tape to mask off the area.
In The Navy chalk mineral paint is a gorgeous deep navy that looks perfect with the light neutral shades of white that I chose for this trash to treasure upcycle.
Dixie Belle | Suzanne's Garden
The pleather straps on the picnic basket were dull. So I grabbed some brown shoe polish from my hubby's shoe polishing basket in our bathroom and applied it to the strap. It darkened it just enough!
Then I used Big Mama's Butta in Suzanne's Garden for the entire basket. It brought the scent of spring into my craft room and office!
trash to treasure picnic basket
Doesn't this basket look like it came from a high-end boutique?? It's lovely hanging in my dining room but eventually, it will be hanging on our front door.
easy spring decor
I might even add a couple of tall cups with water for fresh flowers when the time is right. Can't you see it filled with fresh zinnias from the garden?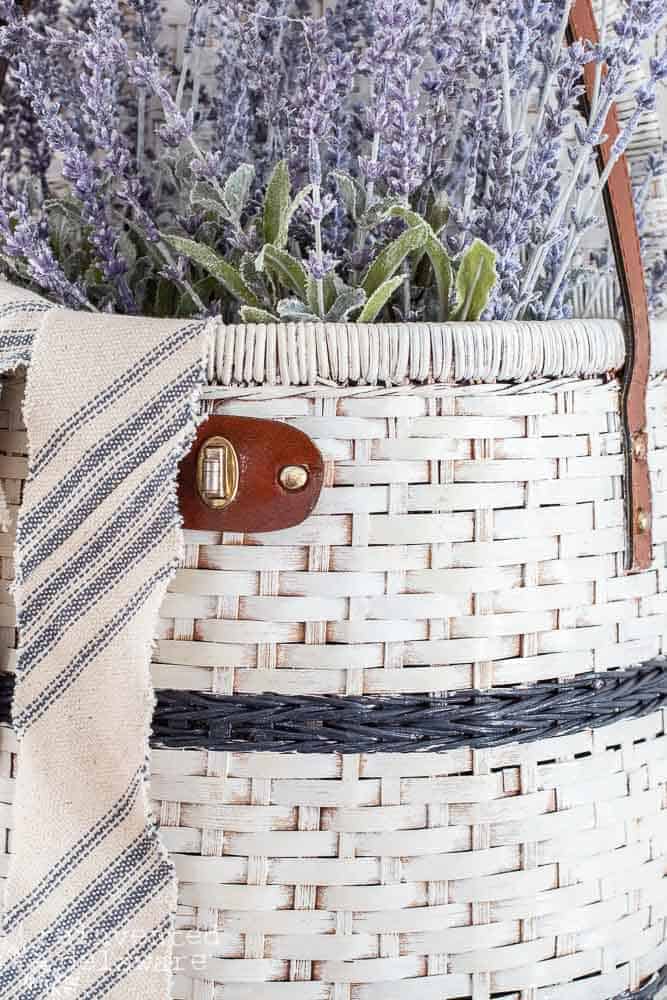 more inspiring posts!
Here are more upcycling projects just for you! Click the image to head to the post!
I hope you enjoyed this project! I sure did 🙂 Start looking for a basket at your local thrift stores so that you can do this project for yourself. Easy projects like this are good for the soul 🙂
YouTube video
Here is a video for you – some of us like to watch the before and after take place before our eyes – you'll enjoy this video, I am sure!
Feel free to subscribe while you are on YouTube! Thank you!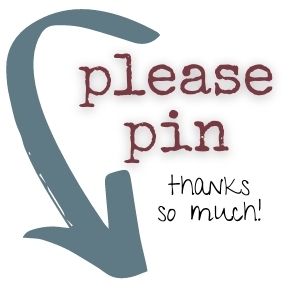 Pin the image below to your home decor and upcycling boards! Just click the pin button at the top left corner!
---
This post is part of a blog hop I do with some of my thrifty blogging friends each month! Be sure to visit their posts to see the fun projects they have to share with us!
Pin It!
Be sure to pin the image below to your thrifting and upcycling boards for future reference!
---
Thanks for joining our journey!
We want you to join our journey over on Instagram and Facebook! You can also find more inspiration on our Pinterest page! We're always pinning fresh ideas!
---
Visit my Amazon Storefront!
Click the button below and head over to our online shop on Amazon!
---