Easy Oven Roasted Chicken
Are you looking for the easiest roasted chicken that you can do at home? You will love this recipe and it will become a family favorite!
As an Amazon Affiliate (and other companies including Dixie Belle Paint Company), we earn a small commission on products sold through affiliate links. Your purchases through those links help support this blog at no additional cost. In purchasing the supplies we use and recommend via our links, you help to support the free tutorials we offer you and our other readers. Thank you so much! Read my full disclosure here.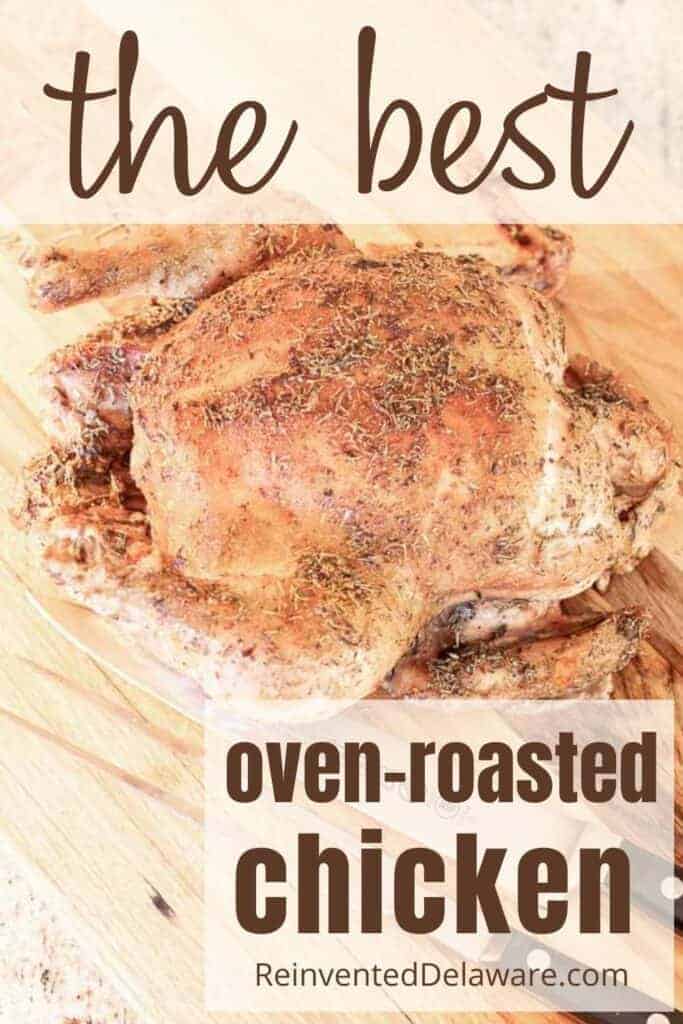 easy roasted chicken
We eat a lot of chicken, do you?
On average, we eat chicken 3-4 nights each week. That's why having a recipe like this is so good to have in your cooking lineup.
And this recipe isn't just good for one meal! You can use the leftovers to make some of our favorites. Click the images below to see the other chicken recipes we eat often!
list of ingredients:
whole chicken
olive oil
spices: thyme, sage, rosemary
granulated garlic
granulated onion
salt & pepper
my favorite kitchen tools
I'm not a kitchen gadget kind of girl. All I need are the basics. I'm not even really a cook but I can manage to get our family fed. Here are some of my favorite tools:
enameled cast iron dutch oven
a good cutting board (hubby made all of my cutting boards!)
a good meat slicing knife and fork
a meat/drippings baster
a meat thermometer
whole chicken
Let's talk about chickens. We have been buying our whole chickens from a local grower. They come vacuum sealed and frozen solid.
Of course, I have also bought whole chickens at the grocery store and have really liked the flavor. But I must admit, the local chickens are amazing!
I defrosted my whole chicken in a cooler filled with ice water for about eight hours. Then I rinsed the whole chicken in my kitchen sink.
Rest assured, I thoroughly washed my stainless steel sink first! It basically became a huge bowl! I was sure to wash the sink thoroughly after I rinsed the chicken.
Now my sink is really clean 😉
The inside of the chicken needs to be rinsed as well.
After I let most of the water drip out of the whole chicken, I patted it dry with clean paper towels. That will help the olive oil to stick to the surface of the chicken.
Then I placed it in my enameled cast iron dutch oven. I love this dutch oven so much and I use it all the time.
Seriously, the best $50 bucks I've ever spent! You need one, and you'll thank me later!
The seasonings are simple and I always have them on hand.
Did I mention that I don't measure? Including the olive oil! I poured enough in my hand that I thought would cover the chicken. I rubbed the chicken all over with the olive oil.
Then I sprinkled all of the seasonings over the whole chicken, including the inside.
BTW, I keep one hand to handle the raw chicken and the other hand for the spices. That makes cleaning up a bit easier since I don't have to wipe down all of the bottles of olive oil and seasonings.
I think I forgot to mention preheating the oven. This is a trick I learned from a local chef. He told me to turn the oven pretty high – 450* to preheat and then when I put the chicken into the oven, turn it back to 350*
This is how I have roasted countless chickens over the last 30 years and it works every time. The high heat sears the outside of the roasting chicken and helps to seal in the flavors and juices.
internal temperature for a roasted chicken
165* That's the standard according to all of the food professionals. I'm sticking with that temp!
The meat thermometer should be inserted in the thickest part of the chicken breast. Be sure to not touch any bone or the bottom of the dutch oven. That would throw off the reading.
Also, baste the chicken several times while roasting. As the chicken roasts, it will put off its juices including fat. The fat will help to brown the roasted chicken beautifully!
roasted chicken cooking time
Time will vary for each chicken depending on its size. My chicken is a decent size and it took about 1 hour and 45 minutes.
Did I mention that you should leave the lid off of the dutch oven? This will help the chicken to brown all the way around.
The cast iron in this dutch oven heats up and holds its heat. So, when you roast meat in it, it is kinda like an oven inside of an oven. The roasted chicken will brown perfectly because of the heat that radiates off of the sides of the dutch oven.
Seriously, you need this enameled dutch oven!
how to get chicken drippings
After the chicken is finished roasting, lift it out and put it on a cutting board to rest. I used two large spatulas to lift it out of the dutch oven.
And look at the liquid gold that is left!! Woohoo, we're having homemade chicken noodle soup this weekend!!
I can show you how I make homemade chicken stock with drippings. It's sooo good and sooo easy to make! Click the button below to see the recipe:
let's review the steps
rinse and dry the whole chicken
rub with olive oil and sprinkle with seasonings
preheat oven to 450*
place chicken in a dutch oven and then in the oven for roasting
turn the temp down to 350*
roast until internal temp reaches 165*
baste with drippings periodically while roasting
two meals from one chicken!
All that's left to do is slice the chicken and enjoy! Depending on how many you are serving will determine the leftovers. Even if the chicken is completely eaten, save the bones and the drippings for the stock.
recipe card
Here is a recipe card for you! You can print it if you like. You could also pin this post to your recipe Pinterest boards and refer to it as often as you need to!
Your friends and family would probably love to know how easy it is to roast a chicken in a dutch oven, Could you share this with them? They would appreciate it, I'm sure, and so would I!
[mv_create key="1″ type="recipe" title="Easy Oven Roasted Chicken" thumbnail="https://www.reinventeddelaware.com/wp-content/uploads/2022/02/Roast-Chicken-15.jpg"]
I've gathered some supplies you might need! Thanks for shopping through our links below!
thanks for joining our journey!
Thanks so much for joining us for this post! Join our journey so you don't miss any fun projects, tutorials, and inspiration we share with you each week! You can follow us on Instagram, Facebook, and YouTube. We share even more inspiration on Pinterest!