Easy Chicken Corn & Butternut Squash Chowder
This chicken corn and butternut squash chowder with bacon will warm you up on those chilly fall and winter nights! And it's so easy to make!
As an Amazon affiliate (as well as other brands including Target), we earn a small commission on products sold through affiliate links. Your purchases through those links help to support this blog at no additional cost to you. In purchasing the supplies we use and recommend via our links, you help to support the free tutorials we offer you and our other readers. Thank you so much! Read my full disclosure here.
comfort food for fall and winter
The fall and winter seasons are all about creating a cozy feeling in our homes. We light the fireplace, have a candle burning, and eat good food that fills us up.
This chicken corn and butternut squash chowder fits the bill perfectly!
is this a chowder or a hearty soup?
But I must confess something to you: technically it isn't 'chowder.'
I know, I know, you came here for chowder. But I assure you this hearty soup won't disappoint!
Keep reading to find out why it isn't technically chowder but you can certainly make it one with one extra ingredient!
list of ingredients:
rotisserie chicken from the grocery
butternut squash (I roasted and froze ours from our garden)
corn (also cooked and frozen from our garden)
large onion
garlic
bacon
Orrington Farms Broth Base in Chicken
seasonings: sage, thyme, rosemary
salt and pepper
half-n-half cream
All the ingredients and measurements are listed in the recipe card at the end of this post!
my favorite kitchen tools
There are a couple of basic tools I use in my kitchen on a regular basis. Especially when making soups, stews, and chowders.
enamel covered dutch oven
chef's knife
wooden cutting board
emersion blender
strainer
large measuring cup (8 cups)
wooden utensils
kitchen shears
thanks for shopping via my links!

prep the ingredients
I made my chicken stock the night before in my Instant Pot. This stock is so easy to make and I have used a crockpot for years to make it. I recently got an Instant Pot from my hubby and it speeds up the time to make the stock.
Here is a post about my homemade chicken stock from a store-bought rotisserie chicken.
The chicken comes off the bone so easily after you have made the stock.
I chopped the onion and the garlic.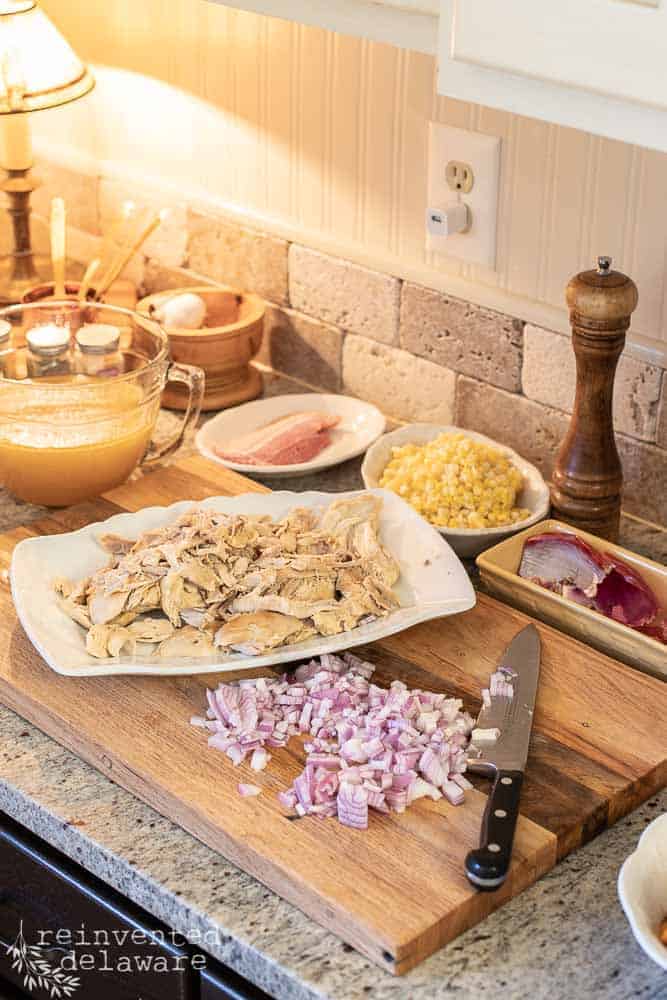 The kitchen shears come in handy when cutting up the raw bacon. Doing it this way saves clean-up time too!
The bacon goes right into a pre-heated enamel-covered cast iron dutch oven.
Seriously, this dutch oven is one of my favorite kitchen tools!
Next, completely brown the bacon until it is crispy. Remove the bacon and save for later – think toppings!!
Add the onion and garlic and saute till they are softened. Then added the roasted butternut squash.
easy chicken stock
The chicken stock amounted to eight cups. I like to add some additional flavor so the Orrington Farms Broth Base is so good! I added about four teaspoons into the homemade stock.
The next step is kinda fun. I get my Vitamix Emersion Blender and blend up the onion, garlic, butternut squash, and two cups of broth right in the dutch oven.
Be careful with an emersion blender – the blades need to stay below the surface of the liquid so that it doesn't spray hot liquid all over!
If you don't have enough liquid, just add more stock. It's all going in there anyway!
Add the chopped, pulled chicken, the corn, the remaining stock (save one cup for later), and all of the seasonings. Give everything a good stir and bring to a slight boil.
corn starch as a thickener
Many chowder recipes say to thicken by adding flour to the fat and making a rue. I have done that many times and it works.
I have also used this method many times and I like it just as well.
Mix a heaping tablespoon of corn starch to one cup of the cooled chicken stock. Whisk it to blend. Then pour it into the chowder stirring constantly. The chowder will thicken as it heats up.
If it doesn't thicken to your likeness, just do the same thing with the chilled cream and then add it to the chowder.
Keep this in mind when thickening with corn starch: add the corn starch to a cooled or chilled liquid not directly to a hot liquid. Be sure to mix it in a small quantity and not in the whole pot of chowder.
Weird things happen if you do it the wrong way.
Trust me on this, ok??
chicken corn & butternut squash
So, have you figured out why this isn't technically a chowder yet?
There are no potatoes. There, I said it. There are no potatoes.
Confession: I forgot to add them! And I didn't realize it until I was editing the images for this post!
This is how the Webster Dictionary defines chowder:
You could easily add diced potatoes to this hearty chicken corn and butternut squash soup and make it chowder!
It was good without the potatoes but I sure did miss them!
Remember the bacon we reserved? Sprinkle it on top and you won't miss the potatoes one bit!
We had this for dinner tonight and I served it with homemade sourdough biscuits. You can find that recipe over on Farmhouse on Boone. She has great sourdough recipes! The biscuits are a-maze-ing!!
chicken corn & butternut squash recipe card
Print Recipe
Chicken Corn and Butternut Squash Chowder with Bacon
A hearty chicken and corn chowder that is easy to make.
Equipment
enamel coated cast iron dutch oven

Chef's knife

wood cutting board

kitchen scissors

Instant Pot or Crock Pot

emersion blender

colander
Ingredients
1

rotissierre chicken

8

cups

homemade chicken stock (or store-bought)

2

cups

roasted butternut squash, diced (or frozen)

2

cups

frozen corn

1

large

onion, chopped

1/4

pound

bacon

5

cloves

garlic

1

tsp

ground sage

1

tsp

thyme

1

tsp

rosemary

salt & pepper to taste

3/4

cup

half-n-half cream

4

tbsp

Orrington Farms Broth Base
Instructions
Prepare homemade stock in the Instant Pot (30-40 minutes) or Crock Pot (7-8 hours).

Remove meat from bones. Strain the stock.

Saute chopped bacon in dutch oven until browned and crispy. Remove and set aside for topping.

Add chopped onion and garlic to the dutch oven with the rendered bacon fat.

Saute veggies until tender. Add roasted butternut squash and two cups of homemade stock.

Use emersion blender and blender all the veggies and stock until creamy.

Add chopped chicken, corn and remaining stock (reserve one cup of stock).

Add diced potatoes to the dutch oven and boil rapidly til the potatoes are tender, about 10-12 minutes.

Add heaping tablespoon of corn starch to remaining one cup of stock and mix well.

Stir corn starch and stock mixture to the dutch oven, stirring as you pour.

Add cream and stir. **Option to use cream and corn starch to thicken chowder more if desired.

Serve with reserved bacon bits, hot bread and enjoy!
Notes
Even though I forgot to add diced potatoes, the chowder was amazing.  You could certainly omit the potatoes and make it low carb!
I've gathered some supplies you might need! Thanks for shopping through our links below!

thanks for joining our journey!
Thanks so much for joining us for this post! Join our journey so you don't miss any fun projects, tutorials, and inspiration we share with you each week! You can follow us on Instagram, Facebook, and YouTube. We share even more inspiration on Pinterest!
Until next time…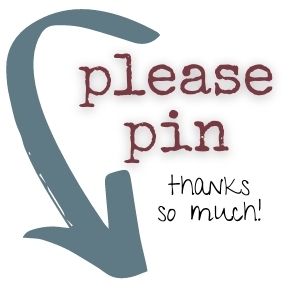 more fall themed delicious recipes:
just click the image to see the recipe!
Until next time…