Easy Five Ingredient Instant Pot Chili Recipe
With just five ingredients, you can whip up an easy chili recipe for dinner. In this post, I will share with you the easiest instant pot chili you've ever made!
how to make an easy bowl of chili
I'm not kidding when I say easy. This is such a simple and quick meal to put together when I don't have a lot of time. It's also super easy to double the recipe and freeze portions for later.
This is one of our go-to meals because I always stock the ingredients in my pantry.
BTW, if you are interested in seeing my refreshed pantry area, check out the post in the button below. Then come right back because you don't want to miss this easy 5 ingredient chili recipe!
Click the button below to see my pantry!
The following post may contain affiliate links. That means if you click and then buy something, I will make a small commission at no additional cost to you! Thank you for supporting my blog. full disclosure here.
This post is sponsored by Dixie Belle. All opinions are my own!
Here are the ingredients for the chili. I am willing to bet you have most of this in your kitchen already!
list of ingredients:
1 pound of ground beef (85% / 15%)
28 oz can crushed tomatoes (optional: tomato sauce and tomato paste)
15 oz can red kidney beans
15 oz can black beans
medium onion
fresh garlic
olive oil (or oil of your choice)
chili powder, cumin, onion powder, granulated garlic (or chili seasoning packet)
salt and pepper
You might notice I did not list the specific amount of chili powder, cumin, onion & garlic powder. I have found that people like to add spices according to their own taste preferences. Hubby and I like spicy foods so we always add extra! My best tip is to taste as you go! You can always add more spice but you can't take it out!
Here are the ingredients for the chili. I am willing to bet you have most of this in your kitchen already!
list of ingredients:
1 pound ground beef (85% / 15%)
28 oz can crushed tomatoes
15 oz can red kidney beans
15 oz can black beans
medium onion
fresh garlic
olive oil (or oil of your choice)
chili powder, cumin, onion powder, granulated garlic
salt and pepper
kitchen tools for a bowl of chili
Here are the kitchen tools I used to make this easy bowl of chili:

prep the veggies
Start with chopping the onion and the garlic.
I used some roasted garlic I make ahead and store it in the freezer. You can see how I roasted garlic the easy way over on my Instagram highlights called Roasted Garlic.
It's so handy to have roasted garlic in my freezer!
I sliced some of the garlic and then realized it would just melt into the rest of the chili as it cooked. So I just tossed the rest of the garlic along with the chopped onion into the Instant Pot set on the saute function.
You could also add chopped red bell pepper to give this bowl of chili more veggies!
what kind of beans go in chili
While the onion and garlic were sauteeing, I drained the beans.
I like to use black beans and dark red kidney beans but you could use any combination of beans you like. Regular kidney beans and black beans are probably the most popular and readily accessible.
You could use other beans like black-eyed peas (technically they are beans) or pinto beans too.
I would save the light-colored beans for chicken recipes. In fact, I will be making one of our favorite white chicken chili recipes soon and I use Great Northern beans in that chili!
what kind of meat for chili
While the beans drained, I continued to stir the onions and garlic. They finished sauteing and I added the ground beef.
Let's chat about all things meat for chili for just a minute.
When I make red chili, I use ground beef. You could also add ground pork sausage.
For a light-colored chili, I use ground turkey or chicken. Sometimes, I use chopped chicken instead of ground chicken.
You could use any combination of ground meats totaling up to one pound.
One thing to consider when using ground beef or ground pork is the fat content. I don't like to use lean ground beef or the one with the most fat. I usually like the 85% / 15% fat content. It gives the perfect amount of flavor without too much fat.
This masher is perfect for mashing up whatever ground meat you choose. I use it several times throughout the cooking process to break up the meat. It creates finely ground-up cooked meat!
Instant Pot chili
If you use ground meat that has more fat, I suggest you drain the meat before adding the spices and tomatoes. My chili was light on fat so I didn't need to drain it.
Next, I dump the can of tomatoes and spices into the Instant Pot. I give it a good stir and put the lid on.
BTW, so far I have only spent about 10 minutes on this meal! This bowl of chili is going to be super easy and super quick to put together!
Instant Pot as a slow cooker
I set the Instant Pot to the slow cooker option. It was early in the day when I started this chili so I knew I had several hours until we would have a bowl of chili for dinner.
If it had been later in the day, I would have used the high pressure settings to speed up the process. If you use the high pressure settings be sure to add enough liquid so you can avoid the 'burn' settings. A cup of beef broth would make an excellent choice for the liquid!
The best part about this easy chili recipe is that you can cook it any way that is best for you! Use a crockpot, a heavy cast iron pot on the stove top or in the oven, or use an Instant Pot. Whatever method you use to cook the chili, I am sure your entire family will love it for a weeknight meal!
The timer automatically went to six hours so I left it at that. Our dinner time is usually 5:30-6 each evening so it would work out perfectly.
If you don't have time for the slow cooker option to cook the chili, set it to pressure cook for about 10-15 minutes.
Be sure to set the knob on the top to 'venting' if you are using the slow cooker option. The 'sealing' option is for pressure cooking.
easy homemade bowl of chili recipe
Six hours later I had a delicious bowl of chili ready for dinner! Ten to fifteen minutes of prep time and six-ish hours in the Instant Pot on the slow cooker option was all it took!
chili toppings
Here are a couple of options to top your chili. I suggest you open your fridge and see what you have on hand. You might get a nice surprise topping that you haven't thought of before!
shredded cheddar cheese (Monterey jack is also nice) 😊
sour cream
sliced avocado
chopped green onions
finely chopped red onion
fresh lime juice and zest
Salsa or fresh diced tomatoes
Red pepper flakes
finely chopped jalapeno pepper
finely chopped red bell pepper
Dashes of hot sauce
We usually have cheddar cheese in the fridge so I shredded some up and sprinkled it on top. It just melts into the hot bowl of chili!
What are your favorite toppings for chili?
how to serve a bowl of chili
I grew up eating saltine crackers with chili. In fact, we used the cracker to scoop the chili up. We rarely used spoons!
Now, my hubby and I like to use tortilla chips. My favorite is the lime flavor. Have you tried them?? They are perfect with a bowl of chili!
Here is another use for this chili: spread the tortilla chips on a cookie sheet in a single layer, spoon the chili all over the chips, sprinkle with shredded cheddar cheese, and bake in the oven till the cheese melts.
Omgoodness, that sounds so good for a group of people to gather and eat right from the cookie sheet!
If you decide to make more of this great recipe for homemade chili than you need for one meal, use a freezer bag or an airtight container to save the rest. Allow the chili to completely cool then add it to the freezer bag. Label it and store it for another quick weeknight meal!
stove top chili
Before I go I wanted to mention that if you do not have an Instant Pot or a Crock-Pot, you can make this chili on the stovetop. I have cooked this chili on the stovetop in a heavy enamel-covered cast iron dutch oven many times! It works just as well!

So, what do you think of my easy bowl of chili recipe?? Doesn't a warm bowl of chili sound perfect on a cold day? I make this chili about every other weekend. I can start it early on a Saturday morning and have enough for dinner that night and Sunday night as well.
We like to have this while we sit on our back patio with the outdoor fireplace going all through the chilly fall season.
I hope you enjoyed this easy bowl of chili recipe! I would love to know if you cook it for your family!
Are you still looking for options for this one pot meal wonder? Try these substitutions and make your own favorite chili:
Substitute the ground beef for ground turkey for an instant pot turkey chili that is healthy
Substitute the ground beef for cubed chicken and the kidney beans for white cannellini beans to make white chicken chili. For the tomato component, substitute it with chicken stock. Also, substitute the cheddar cheese with Monterey Jack cheese.
more fall comfort food
Here are some popular instant pot recipes that will warm you from the inside out! Just click the image to see the recipe!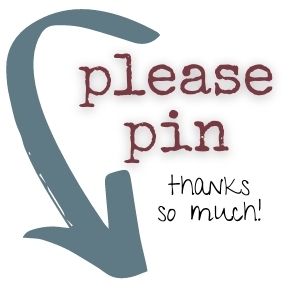 Pin the image below to your easy recipe boards! Just click the pin button at the top left corner!
Here is a recipe card for you! Be sure to save any image in this post to your Pinterest food and recipe boards!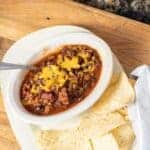 Print Recipe
Homemade Bowl of Chili
This is any easy chili recipe that you can make in minutes!
Equipment
Instant Pot

food masher

Chef's knife

wood cutting board

cheese grater

colander
Ingredients
1

pound

ground beef

1

28 oz

canned crushed tomatoes

1

15 oz

canned kidney beans

1

15 oz

canned black beans

1

medium

yellow onion

2

cloves

garlic

1

tbsp

chili powder

1

tbsp

ground cumin

1

tbsp

granualted garlic

1

tbsp

onion powder

1

tsp

salt & pepper
Instructions
Finely chop the onion and garlic

Saute chopped onion and garlic in the Instant Pot.

Add ground beef and continue to saute till beef is cooked through.

Cook in Instant Pot using the slow cooker function for approx 6 hours.

Serve bowl of chili with desired toppings like shredded cheddar cheese.
Notes
This recipe can easily be converted to a Crock-Pot or a dutch oven on the stove top.  You can also choose a variety of toppings to suit your tastes!
**I do not measure spices when I am actually cooking this chili.  I add spices and salt & pepper to taste!
Thanks for joining our journey!
Thanks so much for joining us for this post! Join our journey so you don't miss any fun projects, tutorials, and inspiration we share with you each week! You can follow us on Instagram, Facebook, and YouTube. We share even more inspiration on Pinterest!
Until next time…