Easy Shrimp Bisque Instant Pot Recipe
This easy shrimp bisque instant pot recipe is the perfect starter for a special occasion or for any night of the week. Ingredients can be kept on hand so this delicious soup can be made in just 30 minutes!
5 Days of Christmas Cheer
We are five blogger friends who are kicking off the Christmas Season with Five Days of Holiday Inspiration! Here is a sneak peek at what we will be sharing each day! Be sure to go to the end of this post to see today's inspiration!
5 Days of Christmas Cheer
As an Amazon Affiliate (and other companies including Dixie Belle Paint Company), we earn a small commission on products sold through affiliate links. Your purchases through those links help support this blog at no additional cost. In purchasing the supplies we use and recommend via our links, you help to support the free tutorials we offer you and our other readers. Thank you so much! Read my full disclosure here.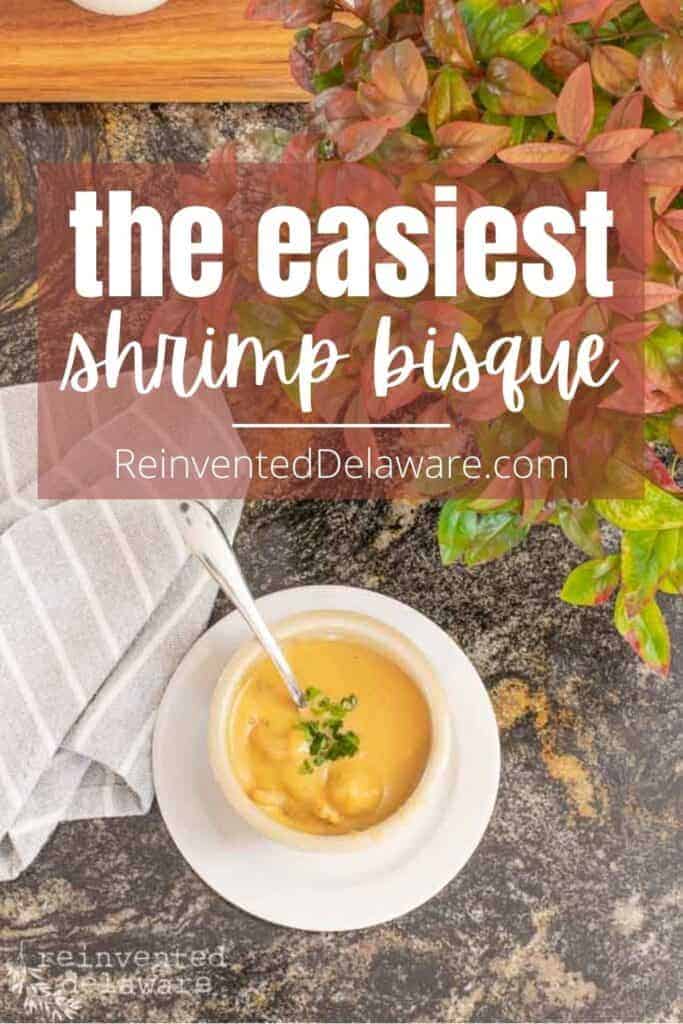 shrimp bisque ingredients
So, I have a confession to make. This soup didn't start out as shrimp bisque.
But when I got to the grocery store, they were out of the seafood I wanted for this soup.
Crabmeat. Lump crab meat to be exact.
Substituting with shrimp worked out pretty well – my hubby prefers shrimp over crab!
Anyway, the ingredient list is simple. Except for the seafood, seafood stock, and the Old Bay, you probably have everything else.
list of ingredients:
frozen shrimp, peeled and deveined
seafood broth
half and half or heavy cream
white wine
chopped carrot
medium onion
garlic cloves
scallion onions
Old Bay seasoning
bay leaf
butter and olive oil
corn starch
salt and pepper (optional: tiny pinch of cayenne pepper)
my favorite kitchen tools
There are a couple of kitchen tools that I use every single day. They are basic tools and you might already have them. If you don't, I have gathered some of my favorite tools together for you!
wooden cutting board
chef's knife
measuring cups
immersion blender
Instant Pot

---
how to make shrimp bisque in an Instant Pot
The Instant Pot is changing how I make some of our meals. Since I have had my Instant Pot, I have made yogurt (it's so easy and soooo good!), steel-cut oatmeal, lemon chicken tenders for salads, spaghetti sauce, and of course, soups.
Here are some of the soups (and sauces) I have made. They are easy and delicious, belly-filling bowls of goodness!
Let's get started on the shrimp bisque before I get too off track!
Turn the Instant Pot to the Saute function and throw in the chopped carrots, onion, and scallion white sections in half of the butter and the olive oil. Stay close because the veggies will cook quickly! Use a wooden spoon to prevent the veggies from sticking.
Remove the veggies and put them in a separate bowl. Add the shrimp and saute till they are pink and cooked through.
Remove the shrimp when they are finished cooking through. Leave the juices that shrimp produced in the Instant Pot.
Now it's time to add the liquids. Pour in the seafood stock, the white wine, the seasonings, and the bay leaf.
Set the Instant Pot to the Soup setting, change the time to 15 minutes and turn the knob to Sealing. Cooking with the pressure in the Instant Pot speeds up the process. In only 15 minutes, you will have the cooked all-day taste. The seasonings blend in so nicely with the stock and the wine.
When the timer is finished, allow the pressure to release naturally. To speed this up you can also do a quick release. Be very careful if you do this – the steam is hot!! And in no way should you take the lid off before the pressure has completely released.
instant pot quick-release method
Instant Pot Quick Release Method!
Use a thick folded towel to turn the knob to Venting. Do this carefully! Steam will come out and it is very hot.
Make sure the steam is not in the direction of the upper cabinets in your kitchen. Please take my word on this!!
When the pressure is completely released, remove the lid and grab your immersion blender!
It's the best kitchen tool I have ever purchased. Ok, maybe that's an exaggeration. But seriously, I use this immersion blender every day for my smoothie breakfast.
And it's great for creamy soups like this shrimp bisque! Just place it inside the stainless tub of the Instant Pot and blend away!
***Keep the immersion blender below the surface of the liquid. It gets messy if you come above the surface and this soup is hot!!
Next, throw the shrimp back in!
Oh, hold it!! I forgot to tell you to remove the tail shells and cut the shrimp to the desired size. In my case, I cut them in half.
how to thicken shrimp bisque
Many people like to use flour to thicken soups. I like to use cornstarch for thickening. Mix the cornstarch into the cold half-and-half or heavy cream. Whisk until it is completely mixed.
It's important to know that you cannot mix cornstarch with hot liquids. It will not mix and gets extremely lumpy. Always mix it in a cold liquid.
Whisk the half and half/corn starch mixture into the soup. Bring to a boil using the saute function and allow it to boil for a couple of minutes until it is thickened.
Using heavy cream in this seafood soup turns it into a delicious creamy soup that will warm you to the core!
---
how to serve shrimp bisque
I made sourdough flatbread to go along with the shrimp bisque. Lisa from Farmhouse on Boone knows all things sourdough and that is where I found the recipe. Here is the link to this recipe:
I did make an addition to the flatbread: roasted garlic butter! Omgoodness, this stuff is amazing!!
You can always find roasted garlic cloves in my freezer. It's so easy to make in the Instant Pot (or crock pot) In fact, hop over to my Instagram highlights to see how I do it! Here is the link for the highlight: Roasted Garlic in the Crock Pot
This compound butter is easy to make – mash the roasted garlic with the butter, add a little salt and pepper, and maybe even any spices that would go with your meal!
I spread the garlic butter on the flatbread and topped it with shredded parmesan cheese. It was perfect with the soup when we had it for dinner!
additional ideas for a seafood bisque recipe
As I was making this shrimp bisque for the first time, I had a few other ideas about the recipe that I thought you might enjoy.
make your own shrimp stock from the shrimp shells if you decide to purchase either fresh or frozen shrimp with the shells still on
add tomato paste for additional flavor and color
make an easy substitution of lobster and you will have a delicious lobster bisque
use chicken broth to make up the difference for the smaller amount of seafood stock
make a traditional bisque by using lump crab meat
purchase store-bought crusty bread instead of making your own
double the recipe for a large group
add a squeeze of lemon juice for lots of flavor
creamy shrimp bisque
Here is an option when making this great shrimp bisque recipe if you don't have an instant pot.
Use a large dutch oven and follow the steps I've listed here. Use medium heat when cooking the veggies first and then the shrimp.
Add the liquids and the seasonings then turn the heat down so that you have a low simmer in the large pot. Cook for at least 30 minutes.
With all of the ingredients in the pot (except for the cooked shrimp and bay leaf!) use the immersion blender to blend the liquids and the veggies together until smooth.
Follow the rest of the directions for this creamy shrimp bisque and enjoy!
And there ya' have it! And easy, simple, and delicious Shrimp Bisque in the Instant Pot! Wasn't that easy? The soup only took about 30 minutes.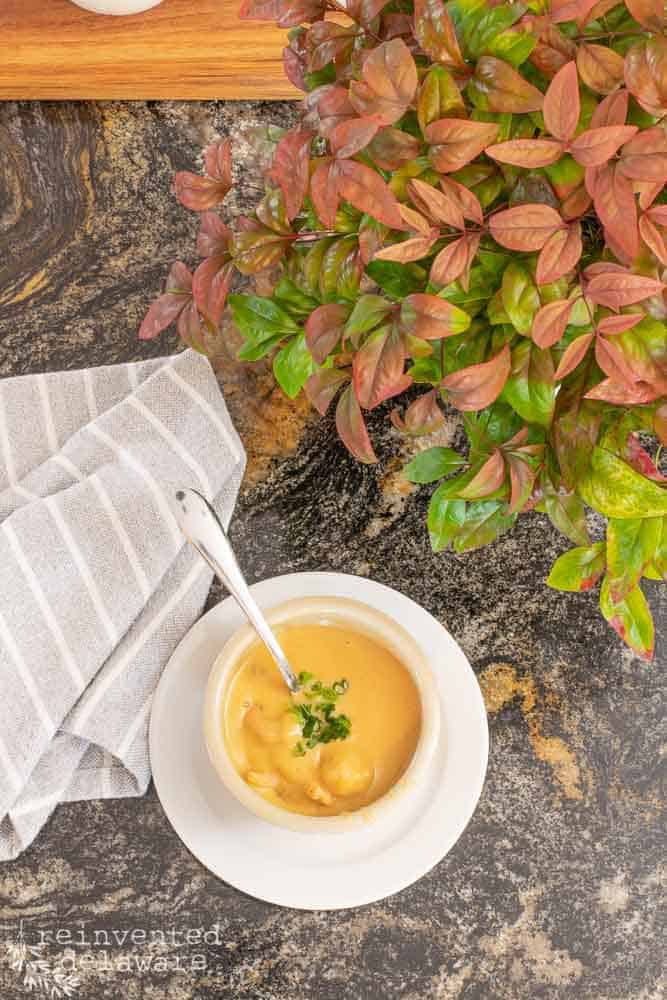 This soup is so filling, especially when you serve it with hearty bread. A salad would be perfect with this soup too.
You can see that I topped the soup with chopped scallion greens. You could also use parsley.
I had a small bowl of this soup as soon as it was finished. Which meant I had lunch at 11:30!! It was a good day to be having shrimp bisque for lunch!
With the holiday season coming, I am sure you will find the perfect time to enjoy this amazing soup.
Or maybe you want to have it for dinner, in front of the fireplace with your special someone of 38 years 🙂
shrimp bisque recipe card
Feel free to print this recipe card I made for you! Also, pin this post to your recipe Pinterest boards so you don't lose it!
Print Recipe
Shrimp Bisque Instant Pot Recipe
This simple shrimp bisque is creamy and filling and so easy to make!
Equipment
Instant Pot

Chef's knife

wooden cutting board

emersion blender
Ingredients
12

0z

frozen shrimp, medium size, peeled and deveined

32

0z

seafood broth

1

cup

half & half

1/4

cup

white wine

1

cup

chopped carrots

1

medium

onion

4

cloves

chopped garlic (or roasted!)

3

scallion onions (green onions)

3

tbs

corn starch for thickening

3

tbs

butter

1

tsp

olive oil
Seasonings
1/2-1

tbs

Old Bay Seasoning (this can be spicy!)

1

tsp

each: granualated garlic & onion

3-4

dried bay leaves

salt and pepper to taste
Instructions
Use the saute feature on the Instant Pot and cook the chopped carrots, chopped onion, chopped scallion whites and minced garlic. Saute with 1/2 of the butter and olive oil.

When the veggies are tender, remove them from the Instant Pot.

Add the shrimp, keeping the shells on for added flavor. Saute until pink and cooked through. Remove the shrimp and place on cutting board.

Add the seafood broth, white wine, the seasonings and a couple of bay leaves. to the Instant Pot. Use a wooden spoon to scape up the bits on the bottom.

Set the Instant Pot to the Soup feature and change the time to 15 minutes. Set the button to Sealing and allow the stock and veggies to cook.

While soup cooks, remove the shells from the shrimp and chop shrimp to desired size.

When the timer is finished on the Instant Pot, allow the pressure to release naturally or use a thick folded towel to move knob to Venting. DO THIS CAREFULLY! DO NOT OPEN THE LID UNTIL THE PRESSURE IS COMPLETELY RELEASED!!

Once the pressure is released, remove the lid and take the bay leaves out of the pot. Use an emersion blender to puree the veggies into the broth. BE CAREFUL!! Add butter into the soup.

In a small dish, mix the half and half with three tbs of corn starch. Mix completely. Whisk into the soup slowly.

Bring the soup to a boil using the saute feature. Boil for a minute or so until the soup thickens, stirring contantly.

Add the chopped shrimp and top with chopped scallions green tops.Serve with toasted french bread. Enjoy!
Notes
This recipe makes approximately 6 cups of soup. If you want more shrimp, just add another 12 oz bag. This recipe could be doubled easily for a larger group.
I've gathered some supplies you might need! Thanks for shopping through our links below!

thanks for joining our journey!
I'm so glad you stopped by today!
Thanks so much for joining us for this post! Join our journey so you don't miss any fun projects, tutorials, and inspiration we share with you each week! You can follow us on Instagram, Facebook, and YouTube. We share even more inspiration on Pinterest!
Until next time…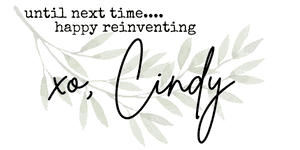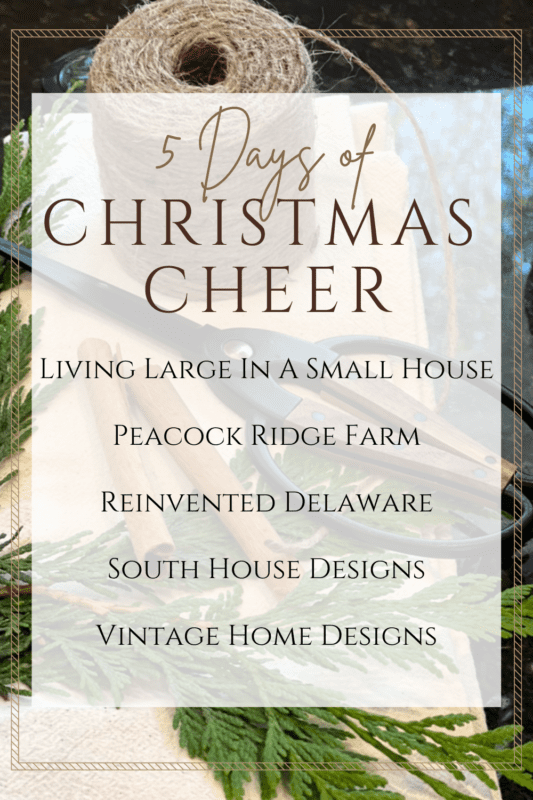 Living Large in a Small House
Signature cocktails are fun, especially at this time of year so I'm sharing with you how to make the perfect holiday cocktail. I have 5 different cocktails to go along with 5 different types of holiday events.

Peacock Ridge Farm
The chill is in the air and that means it's time to start thinking about delicious harvest salads for your Holiday Feasts! This festive salad recipe is easy to follow and perfect for a nutritious lunch or dinner. Plus, it's hearty enough to keep you satisfied all day long. So, gather your ingredients and get ready to enjoy a tasty meal!

Reinvented Delaware
This easy shrimp bisque instant pot recipe is the perfect starter for a special occasion or for any night of the week. Ingredients can be kept on hand so this delicious soup can be made in just 30 minutes!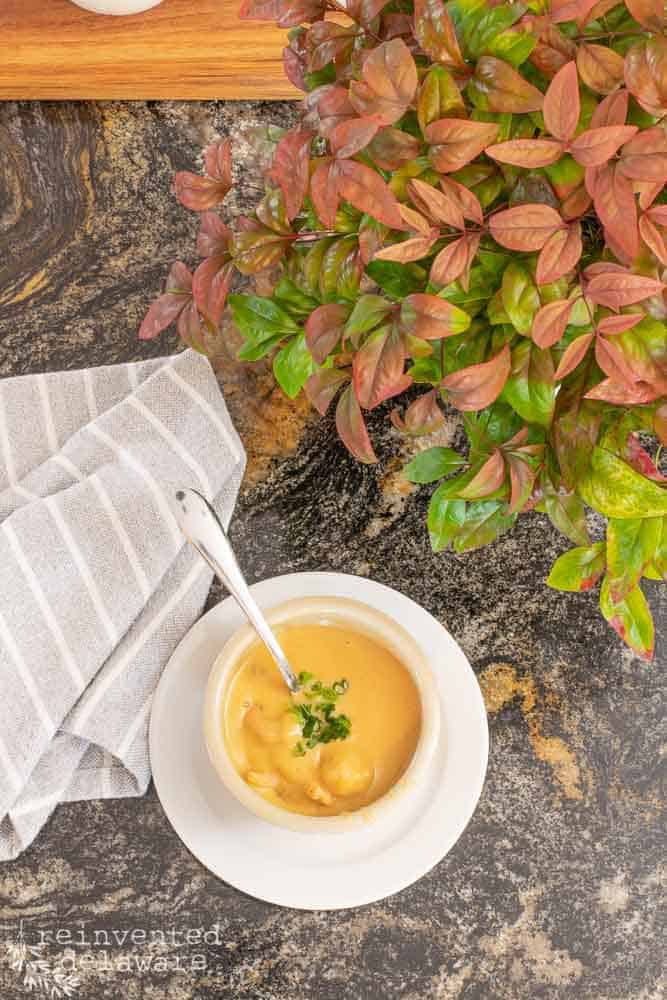 South House Designs
Treat your guests to a delicious, focaccia Christmas tree. It's festive focaccia bread art that's perfect for any casual gathering. Grazing board, anyone?

Vintage Home Designs
This Christmas tree charcuterie board is so easy to put together. It's very festive and perfect for any holiday get-together.

Be sure to check back in tomorrow when we share our tablescapes for the holidays!