In todays post, I am sharing the transformation of a thrift store find — a tea cart! Keep reading to see the fun details this tea cart has to offer!
new thrift store in town!
I was riding through our little town of Milford, DE a few weeks ago and passed a new thrift store. Of course, my heart made a little pitter patter as I pulled into the parking lot. Mind you, I had no intentions of purchasing anything!
But as I entered the store, I spotted a tea cart on the other side of the check out counter. I tried not to look at it honestly, but it was calling me! I pulled it out and realized the sliding tray was broken. So I changed my mind about purchasing it and headed home after glancing at a few other goodies in the store.
it kept calling my name
But I kept hearing the tea cart call me. I live five miles from the thrift shop so it was calling pretty loudly 😉 .
Christmas kept us pretty busy with projects for our clients at Wilderlove Handmade and Vintage so the tea cart had to sit in the workshop and wait. The hustle and bustle of Christmas came and went and we had a warmish day in early January. Perfect for sanding the tea cart!
This is one of those projects that I worked on in bits and pieces and unfortunately, I didn't take pictures during those random work times! Sorry! Best I can do is show you this image of the tea cart in my kitchen upside down! One morning I decided, 'Today is the day to paint the tea cart!' I'm impulsive like that sometimes 🙂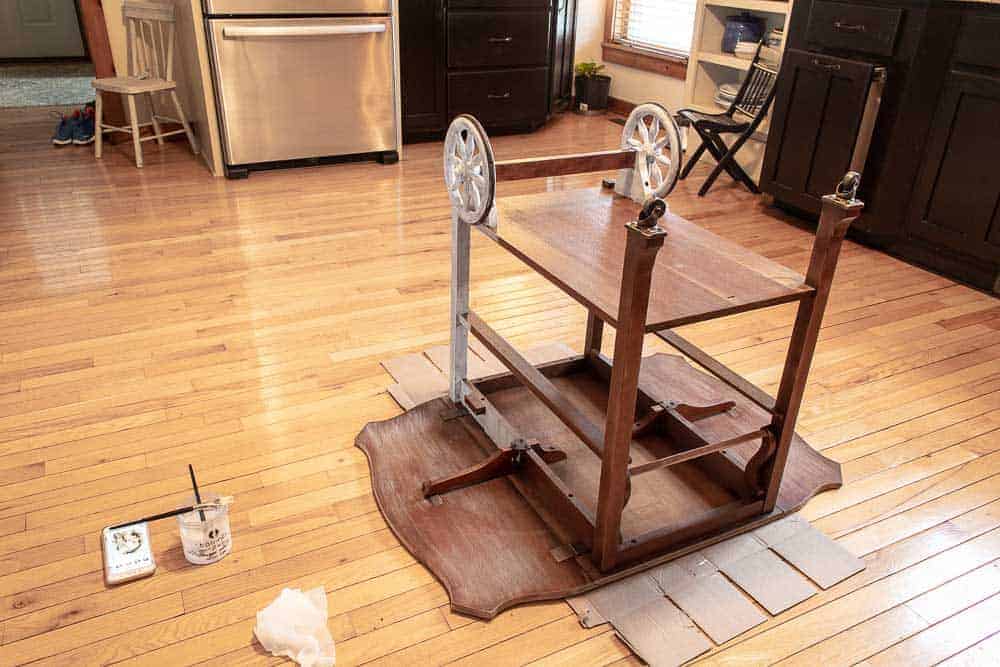 upside down is easiest
After sanding and cleaning the tea cart, I brought it inside so I could paint in a warm room. The wheels would be easier to paint if the cart was upside down. I laid down a piece of cardboard and the a towel to protect the top.
You can see here that I am not using a conventional paint brush to paint the spindle wheels. For small areas like this, I like to use an artist's brush. The brush I used is the widest in a variety pack I found at Wal-Mart in the art section. Less paint is on the brush and that makes it easier to control. It really helped getting into all the tiny places around teach spindle.
first coat is a bit scary!
The first coat of Miss Mustard Seed Milk Paint can look pretty scary. This cart required three coats of paint because it was so dark! I started painting the wheels first with the small artist's brush but I ended up painting the framing with the small brush too.
You will also notice that I haven't painted the underside of each section. I like to leave those in it's original finish as a way of paying homage to it's history 🙂
Can you see the areas of paint that 'spilled' over the edges? I like to go back and clean that up with a bit of sandpaper after I have finished painting all of the parts.
useful details
Speaking of the parts of this adorable tea cart, check out this spring loaded leaf support! It swings out and supports the leaf and swings inward when the leaves are down!
Our clients really love the look of furniture painted on the bottom sections and wood on the top sections – we love that look too! I chose to use Miss Mustard Seed White Wax to lighten the top of the tea cart.
(Side note — you'll notice I did this step before I was completely finished with the painting. The bottom shelf only has one coat of milk paint on it! But we'll finish that soon enough.)
plan B
But not all products are made for all pieces. I was just not pleased with the results of using the white wax on this particular piece. Let me say that the wax went on beautifully but I didn't like the look of the white wax on this particular wood grain veneer.
Mineral Spirits on a disposable shop towel took the wax off. I knew the top would need to be sanded again since the waxed section was darker than the rest of the top.
Fortunately, we had another warmish day in Delaware in January and I was able to sand the whole top again using 220 grit sandpaper on my DeWalt Orbital sander.
your vote counts!
I asked for my followers on Instagram to vote for a finish offering Clear Coat, Hemp Oil or Natural Wax to choose from.
Hemp Oil was the winner! I applied it with a chip brush, allowed it to sit for about 30 minutes then wiped off the excess that had not soaked in using a disposable blue shop towel.
Miss Mustard Seed Hemp Oil is one of my favorite finishes! I mean look at the results! By the way, the entire piece was finished using this Hemp Oil.
ready for tea
And here she is all finished! The tea cart set up for a tea party with our 35 year old set of Pfaltzgraff in the blue Yorktowne pattern.
Isn't she lovely??
additional space
The tea cart has two leaves which adds so much space when it is needed! Here I have the tea cart turned at a side profile….
…with only one leaf extended.
Here, I have the tea cart turned at the front profile with both leaves extended. It could comfortably sit two people for a dinner or maybe for coffee in the mornings!
additional shelf
I haven't even mentioned the sliding shelf. Originally, it had been glass but when I found it the glass was broken. Hubby cut a piece of luan to fit the groove the glass had been in. Luan is not a very pretty piece of wood so I used a vintage Websters Dictionary to book page the surface. Two coats of General Finishes High Performance in Flat seals it nicely.
The shelf slides out completely. It could be used as a tray to carry items that are not too heavy.
Look at the amazing chippy action that Miss Mustard Seed Milk Paint creates! The Ironstone color is a gorgeous soft white that goes with any interior!
Earlier I mentioned that the top is sealed with Miss Mustard Seed Hemp Oil. The veneer wood top is in such good condition and the edge detail is just so pretty!
Remember how I started painting with the tea cart upside down using an artists brush? That was a life saver when painting around these small 3″ spindles!
i love casters!
Original casters on the tea cart help it to move around to a new location in a room easily.
And then we have the spring loaded leaf supports! I love this kind of detail found in vintage furniture!
The front of the cart has a swinging handle too. Just give it a slight pull and the tea cart is ready to move to another location!
versatility of the tea cart
This is a versatile piece of furniture that looks so good from the front or…..
…from the side. Which view do you like best? Let me know in the comments! I would love to hear your thoughts!
thanks for stopping by!
So glad you stopped by to see this transformation! We would love you to follow along on our reinventing journey over on Instagram and Facebook! Sharing the behind the scenes of our projects and getting your opinions and thoughts on colors and finishes is so much fun! Wont' you join us?
We love Pinterest too! Feel free to pin any image and follow along for more inspiration!