Upcycled Step Ladder Decorating Ideas
This DIY upcycled step ladder project is easy! A little bit of paint, scrap wood and some distressing and you have yourself an adorable plant stand for a front porch or even in your home!
The following post may contain affiliate links. That means if you click and then buy something, I will make a small commission at no additional cost to you! Thank you for supporting my blog. full disclosure here.
This post is sponsored by Dixie Belle. All opinions are my own!
This post is sponsored by Dixie Belle Paint. All opinions are my own. Rest assured that I have used these products and would not share them with you if I wasn't thrilled with the products!
what can you do with an old ladder?
We were at a yard sale meandering and searching for all of the treasures when I spotted this wooden step ladder off to the side.
It wasn't even part of the yard sale, but it kept grabbing my attention as I looked at the yard sale tables.
I felt it calling my name! "Cindy…..Cindy…..Cindy"
Side note: does junk speak to you or am I just an absolute flake??
A question ran through my mind, "What can I do with an old ladder?"
I mean, if the people who were running the yard sale didn't even think they could get anyone to buy it, who was I to think anything could be done with a dirty and broken wooden ladder?
So, I asked and then bought it for $1 with no idea what I would do with it. 🙂
At the minimum, I knew I would paint it. The color was pretty but very worn out and it needed a fresh coat.
In fact, the more I looked at the color, the more I loved it.
I was on a mission to find that exact color and guess what…..I did!
We bought the ladder for a buck, brought it home and I scrubbed it with a hose and a solution of Dixie Belle White Lightning. This cleaner cuts through all of the grime, oils, and any other gunk that was on the step ladder.
list of supplies:
Use the links below to purchase some of the supplies for this project! You are helping to support this blog and all the free tutorials we offer here! Thanks so much!😊
Dixie Belle Products:

Amazon Products:
painting an old wooden ladder
The painting process was finished in two steps. I wanted the time-worn look chippy paint.
The easiest way to create the contrast needed for a good chippy paint finish is to paint the first coat a dark color. Dixie Belle Chalk Mineral Paint in Caviar was a perfect choice. One coat of any dark color will do.
Remember I loved the original color of the wooden step ladder? I found it!! It's called Farmhouse Green and it is the perfect spring green I was looking for!
When the dark color was completely dry, I used a chunk of beeswax to act as a resist. You can see how easy this is to do in the video below?
how to create a chippy paint finish
After I applied the beeswax, I turned on a podcast and applied two coats of Dixie Belle paint in Farmhouse Green.
Be sure to watch the video above to see the next step in the chippy paint finish. It's fun and scary all at the same time! 😊
fix a broken step on an old ladder
We always have scrap wood left over after building farmhouse tables. The wood we use for the farmhouse tables is reclaimed oak boards that are about 1 1/2″ thick and 6″ wide. It's just too good to throw out and my hubby and I use the scraps for various projects.
I grabbed two sections of the reclaimed wood and cut them to the correct width for the steps. Only one step on this upcycled step ladder was broken, but I thought it would look better to have both of the steps match.
The very top 'step' was in perfect condition and someone had previously added a piece of wood to it so I didn't need to do a thing to it!
I used screws long enough to go through the new step and into the original step. I put the screws in from the underside so they wouldn't show. Three screws will hold it snug. This ladder isn't intended to be used for its original purpose so I didn't need to think about the ladder folding up.
upcycled step ladder
Cute isn't she?? The color is perfect if this is used as a plant stand, don't you think?
My pothos plants look amazing on the upcycled step ladder but I can also envision potted herbs for the kitchen! Place this near a brightly lit window and you could have fresh herbs all year!
step ladder decorating ideas
Here are just a few of the ideas that came to my mind for this adorable step ladder:
UPCYCLED LADDER DECORATING IDEAS
use this upcycled ladder in a bathroom to stack towels and bathroom necessities on.
place next to a bedside to stack your current nightly reads.
put the ladder in the corner of a front porch and add seasonal potted plants to brighten your porch and welcome your guests.
add baskets to the steps/shelves and use them to store small toys for the kids.
place between two outdoor chairs for a fun spot to hold your coffee cup for morning coffee.
add a thrift store cutting board to the top of a smaller step ladder and you have an instant side table!
ladder decorating ideas
Some of my friends have the greatest ideas for decorating with ladders! Be sure to click the links below for some ladder decorating inspiration!
upcycled ladder shelves
You can see that using the 6″ wide oak boards creates a nice surface for just about anything from plants to stacks of books.
BTW, I clear coated this whole piece with Dixie Belle Topcoat in Flat. If you use this type of project outdoors, I suggest you seal it with Gator Hide. It is water repellant and will make this finish last for years!
chippy paint on an upcycled step ladder
Can you see how the dark paint shows through creating a chippy paint finish? This technique is fool-proof and so fun! Here is another video about creating the chippy paint finish with Dixie Belle. You won't believe the crazy tool I use!
Just click the button below!
---
repurposed wooden ladder
Now that was a fun project, don't you think? Start keeping your eye out at yard sales for ladders sitting off to the side. Always ask if something is for sale!
more inspiring posts!
Here are some of the fun things we have reinvented and upcycled. Hope you enjoy the posts!
Just click the image to see the project!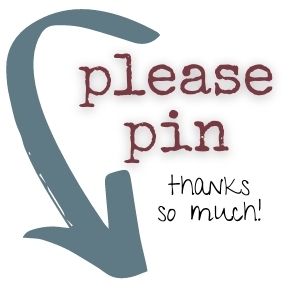 Pin the image below to your home decor and furniture boards! Just click the pin button at the top left corner!
---
This post is part of a blog hop I did with some of my thrifty blogging friends! Be sure to visit their posts to see the fun projects they have to share with us!
Links to the other projects are below the image collage!
check out the amazing projects my friends did this month! just click the links below!
How To Spray Paint Wood Furniture
Upcycle Vintage Metal Library Stool
How to Upcycle a Floral Centerpiece
Upcycling Plates into a Snowman
Pine Tree Embroidery for Winter Decor
Thrifted Wooden Box Boho Makeover
Upcycled Stepladder Decorating Ideas )You're already there!)
---
Thanks for joining our journey!
---
Visit my Amazon Storefront!
Click the button below and head over to our online shop on Amazon!
---