Tuesday Turn About #143 Fresh Ideas
Can you believe we are at the next Tuesday Turn About? It feels like we were just sharing all the fun ideas you linked up last week! Time is flying by!
Tuesday Turn About #143 Fresh Ideas
Check out last week's party for more inspiration!
This post may contain affiliate links, at no additional cost to you. For more information, see my complete disclosure HERE.
Weekly Photography Tip
We've taken the last few weeks to review shooting in manual mode and defined the three settings you should pay attention to, ISO, shutter speed, and aperture.
As home decor bloggers, we will mostly pay attention to the aperture settings because we are more concerned with the parts of the image we want in sharp focus and the parts of the image we want to blur.
Use this guide when taking your next image:
Set the ISO to the lowest possible setting for the scene. Try to stay between 200-400 and not over 800. A tripod is absolutely necessary for interiors in order to keep the ISO as low as possible
Set the Aperture depending on the desired look for the image:

Choose your subject
Do you want the whole room in focus? Use high numbers like 18 & 22
Do you want to capture a detail in the room and blur the background? Use low numbers like 1.8 or 2.8
Do you want something in between those two? Use middle numbers like 7.1 or 10

Set Shutter Speed so that the light meter lines up at the center mark.
Set your focus point on the subject, press the shutter button to capture the image, and then use the screen to view the image up close. Adjust your settings accordingly! Use your timer set at 2 or 10 seconds to prevent camera shake. Yes, even pushing the shutter button down will shake your camera!
Shooting in manual mode this way is easy. You have three decisions to make: ISO, aperture, and shutter speed. Set the ISO first and leave it alone. Set the aperture next to create the desired look. Set the shutter speed so that the light meter lines up on the center mark! Easy Peasy!
Is this series helpful to you? I know it started out to be photography tips, but I felt it necessary to cover the basics of shooting in manual mode first. If you have any questions, feel free to comment below or send me an email with your question. I would love to answer your questions in the next Tuesday Turn About!
Now, let the party begin!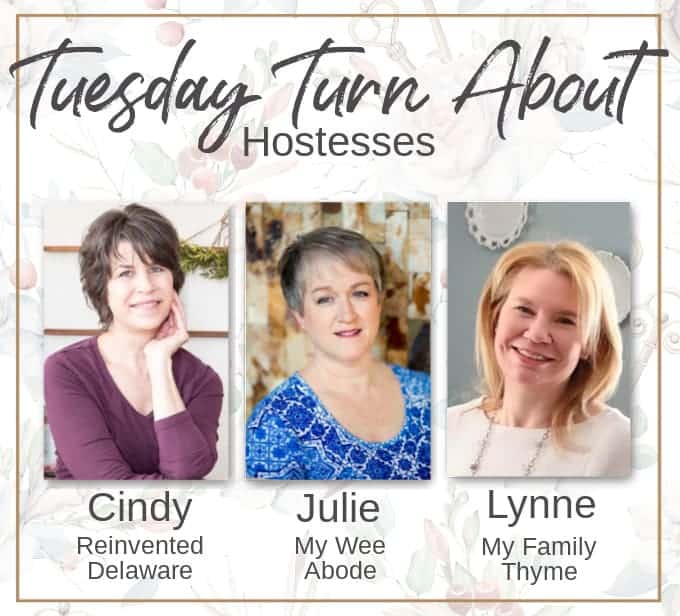 Join us on the socials!
Though not a requirement, we would love for you to join us on other platforms. Feel free to subscribe to our email lists, our Facebook pages, our Instagram accounts, and our Pinterest boards!
Let's create community!
Cindy at Reinvented Delaware
Julie at My Wee Abode
Lynne at My Family Thyme
Be sure to hop on over to Julie's blog at My Wee Abode and Lynne's blog at My Family Thyme to check out SIX additional features from Tuesday Turnabout! If you haven't been featured on Reinvented Delaware this week, you just might be featured on one of the other hosts' blog!
How to Make Non-Slip Rugs
Does your kitchen rug slip all over the place? Mine does and it drives me crazy! Rachel from The Ponds Farmhouse has an easy DIY solution that you can do this week! Goodbye slippery rugs!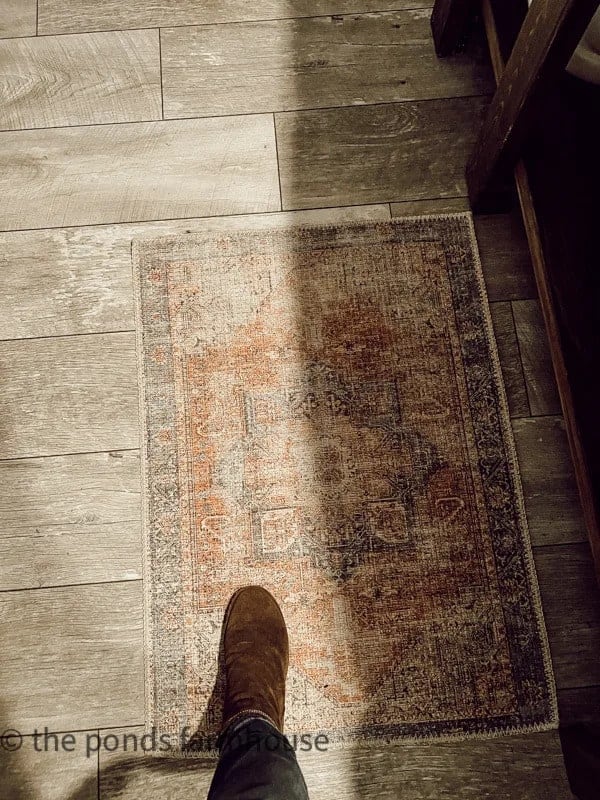 How to Design a Cutting Garden
Have you ever planned a cutting garden? This is something I have wanted to try for years but haven't yet! Lynn from Living Large in a Small House offers just the inspiration we all need to get started.
The Most Favorite Fruit Tea
Tea is a family favorite and I've made plenty of it over the years. Leslie from Feet Under My Table shares a unique recipe to make tea extra special for our gatherings this spring and summer!
---
Let's start sharing! Because this is a party, we encourage all who link up to visit several other bloggers who have linked as well – comments and pins are a great way to spread the love!
Before you get started, take a look at our guidelines:
This party is for home decor and home-related posts only (recipes, organizing, DIY, crafts, etc.). Link up to 3 related posts. Please do not link up informational posts that do not relate to the topic.
If you would please not link up shops, advertising, round-ups, other link parties, or any posts promoting sales, we would appreciate it.
DO NOT PIN FROM IMAGES ON THIS PAGE (it just won't work right on Pinterest). However, please visit the original post/source and pin from there. That works perfectly!
Please make sure that your images are in a jpeg or png format. If we can't save your image, we may not be able to feature you. So sad!
By linking to the party, you give us permission to share your projects on our blogs and social media. We will always give proper credit with a no-pin image.
We're looking forward to all of your fun posts this week! Give us your best!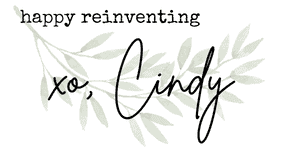 Whoa nelly – before you link up, did you read my photography tip for this week? Scroll back up and read it – You'll thank me later!