Tuesday Turn About #142 Spring Blooms
This week is all about spring! It's funny that I say that because as I write this post, it is snowing outside! A small blizzard is coming through our area in Delaware while I sit by our fireplace and chili is cooking in the Instant Pot!
But I've got spring on my mind 😊
Tuesday Turn About #142 Spring Blooms
And since spring is on my mind, I was drawn to all the spring posts! Ways to freshen rooms for spring, home decor with a spring theme, and spring blooms!
This post may contain affiliate links, at no additional cost to you. For more information, see my complete disclosure HERE.
Weekly Photography Tip
Last week we started to tackle the aperture settings in your DSLR camera and what settings to use to create the look you want for the image.
This week in part two of the aperture discussion, let's discuss another way to achieve the blurry background we all love in an image.
You can create blurriness in an image by placing the subject at a good distance from the background. Why is this important to know? You might not own a lens that can open up to settings like 1.8 or 1.4. Most kit lenses that come with a camera can only go to f/3.5-5.6 depending on how much you zoom the lens (18-55mm is the standard for most kit lenses.)
If you have a kit lens and are having a hard time creating the blurriness you want, simply move the subject farther away from the background!
Here is an example. Let's say you want to get a close-up shot of an adorable handmade home decor piece on a coffee table and you want the background of the room to be blurry.
Place the piece on the coffee table, kneel down, get close to the piece, place your focus point on the piece and take the shot with the settings we have discussed so far.
Look at the shot on the back screen of the camera. Is the background blurry enough? If not, move closer to the piece with your camera and take another shot.
Look at the shot, is it blurry enough now? If not move the coffee table with the piece farther from the background and take another shot.
The last point might seem weird because you are moving furniture around. Keep in mind you won't leave the coffee table in that spot when you shoot the whole room! We only moved it to create the distance needed for the blurry background we wanted in order to help the home decor piece to stand out from the background!
Phew, that was a lot of information! I feel like I am writing a book 😉 and maybe I am! Stay tuned for next week because I will be walking you through step-by-step how to take a shot in manual mode using the settings we have discussed up to now!
Now, let the party begin!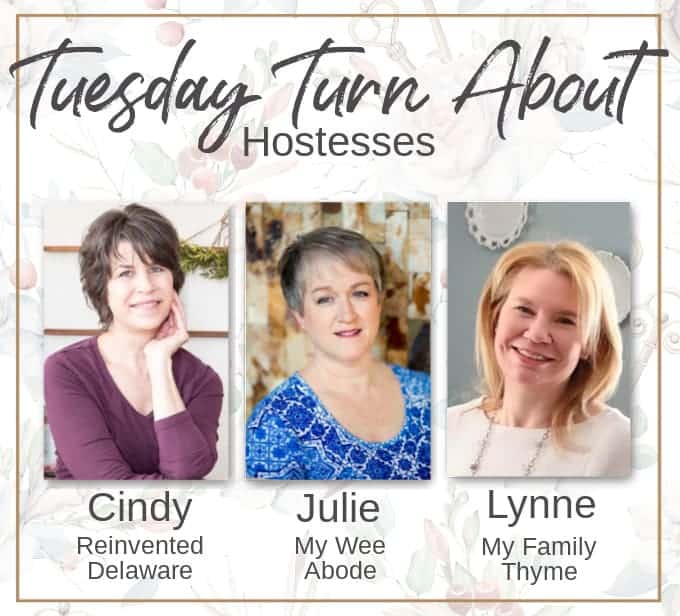 Join us on the socials!
Though not a requirement, we would love for you to join us on other platforms. Feel free to subscribe to our email lists, our Facebook pages, our Instagram accounts, and our Pinterest boards!
Let's create community!
Cindy at Reinvented Delaware
Julie at My Wee Abode
Lynne at My Family Thyme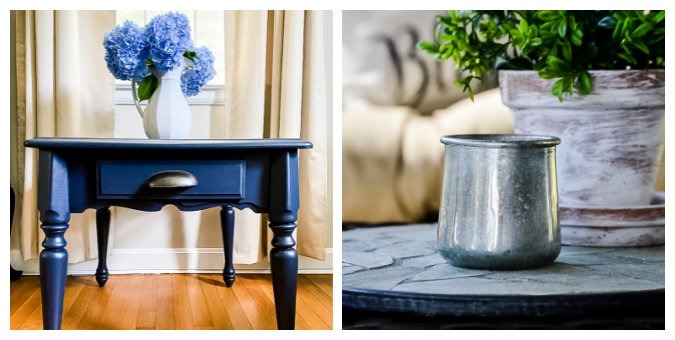 Aged Tulip Crate
Whether you have fresh tulips or the gorgeous faux tulips that are so popular, you need an adorable tulip crate to put them in! Lee Ann from Creative Moments has got you covered with this easy way to create an aged effect on a crate!
Faux Daffodil Centerpiece
Speaking of faux blooms, have you noticed how real-looking they have become over the years? Debra from Common Ground grabbed bunches of them and made this beautiful arrangement! She has the cutest little bird's nest in this post too -you will love it!
St. Patrick's Day Centerpiece
Faux florals are popping up everywhere online! Maybe it's because they are so practical and beautiful! Beverly from Across the Blvd shares her arranging tips with a unique surprise filler!
---
Let's start sharing! Because this is a party, we encourage all who link up to visit several other bloggers who have linked as well – comments and pins are a great way to spread the love!
Before you get started, take a look at our guidelines:
This party is for home decor and home-related posts only (recipes, organizing, DIY, crafts, etc.). Link up to 3 related posts. Please do not link up informational posts that do not relate to the topic.
If you would please not link up shops, advertising, round-ups, other link parties, or any posts promoting sales, we would appreciate it.
DO NOT PIN FROM IMAGES ON THIS PAGE (it just won't work right on Pinterest). However, please visit the original post/source and pin from there. That works perfectly!
Please make sure that your images are in a jpeg or png format. If we can't save your image, we may not be able to feature you. So sad!
By linking to the party, you give us permission to share your projects on our blogs and social media. We will always give proper credit with a no-pin image.
We're looking forward to all of your fun posts this week! Give us your best!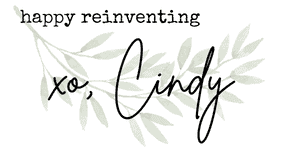 Whoa nelly – before you link up, did you read my photography tip for this week? Scroll back up and read it – You'll thank me later!