Tuesday Turn About #138 Blooms, Baskets & Hearts
Welcome to Tuesday Turn About #138! I'm so glad you are here and I'm excited to show you my features this week.
Tuesday Turn About #138 Blooms, Baskets & Hearts
Last week we saw so many great posts! We saw all the things from displaying vintage copper to a DIY gold leaf project to installing floating shelves. We even had someone show us how to build a bat house to rid your yard of mosquitoes this summer!
Bloggers are the best and I appreciate all of the hard work that these fun posts represent 🥰
Check out last week's party to see those amazing posts!
Before we look at the features for this week, let's get some helpful tips!
This post may contain affiliate links, at no additional cost to you. For more information, see my complete disclosure HERE.
Weekly Blogging/Photography Tip
The best thing you can do to improve your images is to learn to use Manual Mode on your DSLR camera. Knowing how to use the manual settings on your camera gives you complete control over the final look of the image.
Knowing what each setting is for is crucial in capturing beautiful images.
Aperture = the distance that will be in focus from the focus point (examples 1.8, 5.6, 22)
Shutter Speed = how long the shutter remains open (examples 1/60, 1/200)
ISO = how sensitive the camera sensor is to light (examples 200, 400, 800)
Each of these settings has a specific job to do in capturing images. We will review them over the coming weeks in Tuesday Turn About so be sure to stop here each week for a new photography tip! You can see last week's tip HERE.
Let's talk about ISO. This is the setting that will determine how sensitive the camera sensor is to light. Low numbers like 100 and 200 allow in less light but produce and clear image. High numbers like 640 and 800 allow in more light but produce an image with 'noise' making it seem less clear.
Locate the dial or button on your camera that adjusts the ISO and keep the setting as low as possible to reduce the 'noise' in the image. This will help your images to be clear and sharp!
If you have a photography question you would like me to answer, please feel free to reach out and ask!
Now, let the party begin!
Be sure to hop on over to Julie's blog at My Wee Abode and Lynne's blog at My Family Thyme to check out SIX additional features from Tuesday Turnabout! If you haven't been featured on Reinvented Delaware this week, you just might be featured on one of the other hosts' blog!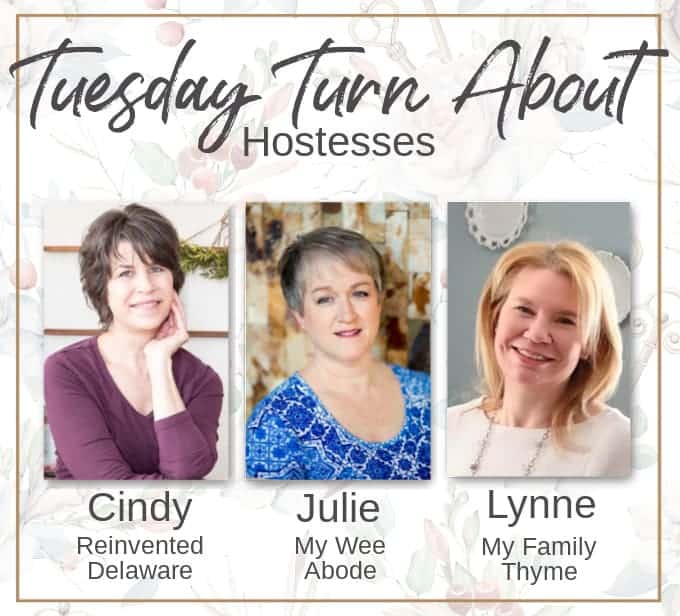 Join us on the socials!
Though not a requirement, we would love for you to join us on other platforms. Feel free to subscribe to our email lists, our Facebook pages, our Instagram accounts, and our Pinterest boards!
Let's create community!
---
Cindy at Reinvented Delaware
---
Julie at My Wee Abode
---
Lynne at My Family Thyme
---
DIY Clay Hearts with Flower Imprints
Have you tried using air-dry clay? It's so much fun to work with and Emily from LeCultiveteur will take you step-by-step in making these adorable clay heats!
Collecting Antique Baskets
It's almost time for outdoor vintage markets, yard sales, and auctions and that means vintage shopping! Anna from Sky Lark House will teach you what to look for if you are looking to find amazing antique baskets!
DIY Aged Spring Planter
We probably have spring on our minds and Jen from Midwest Life and Style has an easy project to add some character to your spring planters!
---
Let's start sharing! Because this is a party, we encourage all who link up to visit several other bloggers who have linked as well – comments and pins are a great way to spread the love!
Before you get started, take a look at our guidelines:
This party is for home decor and home-related posts only (recipes, organizing, DIY, crafts, etc.). Link up to 3 related posts. Please do not link up informational posts that do not relate to the topic.
If you would please not link up shops, advertising, round-ups, other link parties, or any posts promoting sales, we would appreciate it.
DO NOT PIN FROM IMAGES ON THIS PAGE (it just won't work right on Pinterest). However, please visit the original post/source and pin from there. That works perfectly!
Please make sure that your images are in a jpeg or png format. If we can't save your image, we may not be able to feature you. So sad!
By linking to the party, you give us permission to share your projects on our blogs and social media. We will always give proper credit with a no-pin image.
We're looking forward to all of your fun posts this week! Give us your best!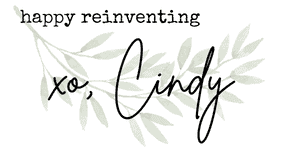 Whoa nelly – before you link up, did you read my photography tip for this week? Scroll back up and read it – You'll thank me later!
INSERT INLINKZ CODE BELOW!