Looking for an easy and fairly quick project for your home? In this post, I will share the repurposed roll top desk sofa table project! That's a mouthful! Let's dive in!
backstory
A few weeks ago I posted a recap of our business happenings for 2019. I shared in that post about some big struggles we had in the fall of 2019. Back end blog problems were among them. That slump totally slowed down my posting momentum and before I knew it, I was out of the routine of blogging altogether.
But the projects in my workshop continued on! I was able to keep up with photographing those projects but editing and sharing came to a screaming halt.
months later….
So here we are, months after some of these projects have been completed and even sold! But I want to share them anyway! I will get caught up with posting these completed projects over the next few weeks and months.
Starting with this reinvented roll top desk project. One of our friends gave us a 100+-year-old roll top desk. We, I mean my hubby, picked up the desk and into the back of our work truck it went–upside down
We started taking it apart while it was still in the truck as soon as he got home. It just made sense to use the bed of the truck as a huge workbench!
Listen, this roll top desk was ginormous!! There was no room in my workshop (aka the garage) to put it. So it had to come apart first.
I found this image on an eBay listing that is similar because I didn't grab my camera before we started disassembling the desk!
See that section of the desk on the very top that the lamp and phones are sitting on? We knew we could do something amazing with it! I mean this desk is over 100 years old, solid oak, gorgeous patina — what else could a girl ask for??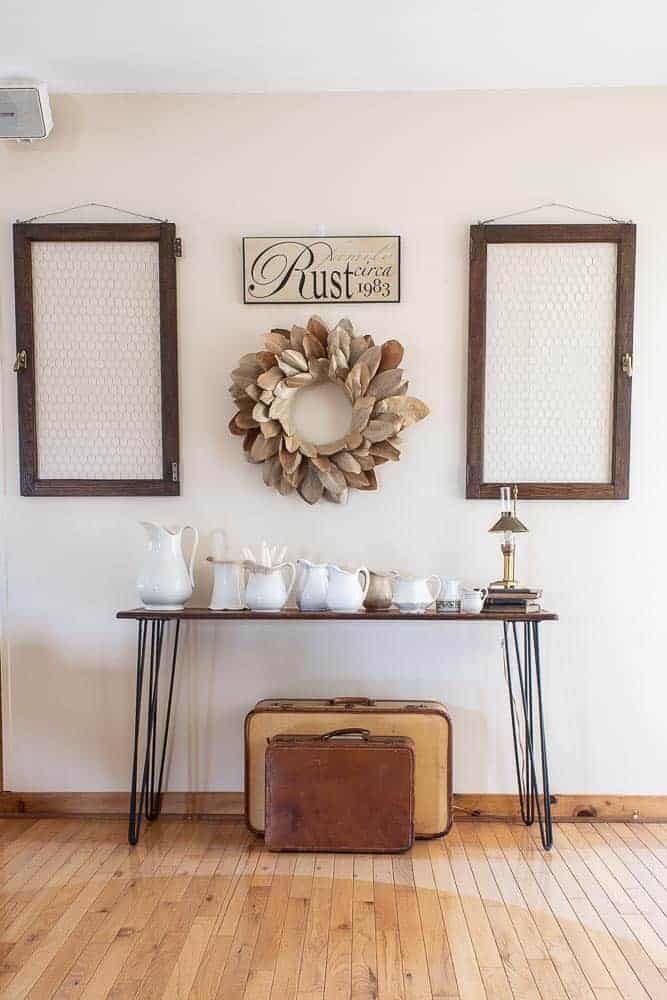 hubby takes over!
My hubby is the behind the scenes worker of this business and he said, 'Let me have it!' Off to the workshop, he went with a gorgeous, solid oak piece of wood and an idea in his mind!
And this is what he came back with!
OOOO la, la!
'Wow, honey!! It is gorgeous!!' I had wondered what was in the long box from eBay!
It was a set of 28″ hairpin legs! Don't they look stunning on this gorgeous section of repurposed roll top desk??
He told me they were easy to attach to the bottom of the wood section of this repurposed roll top desk using the screws that came with the legs. After drilling the holes first, he attached the legs to the bottom of the wood!
See?? I said this was an easy project!
patina, patina
It was really a match made in heaven! The wood was so beautiful that he chose not to paint it. He gave it a good sanding but was careful not to remove the patina that had taken over 100 years to develop.
Oak is so beautiful with its grain patterns. When you allow it to age over time it just becomes more beautiful!
Why can't we think of ourselves like that?? Aging is a beautiful thing, isn't it? We just have to change our mindset to see the value in it! We are developing our own patina!
finishing the wood
He removed the dust from sanding with a shop vac then using a clean, microfiber cloth he wiped down the surface.
The only finish he applied was Miss Mustard Seed Hemp Oil. The wood was like a sponge, soaking it all in. I think he applied two coats.
Hemp Oil is such an amazing product on old wood. The sanding helps to open the pores so that the Hemp Oil can soak deep into the wood. It conditions and moisturizes the wood much like lotions do on our skin after we exfoliate!
hairpin history
Let's talk about hairpin legs. I found this article that was so interesting after a quick search on Google (be sure to pop over and read the whole article – the inventer had quite a history!):
FROM THE HAIRPIN LEG COMPANY

Furniture trends come and go, so it may surprise you that hairpin legs have been about for over seventy years.
Their inventor, Vienna-born Henry P. Glass, was working in New York for industrial designer Russel Wright when he crafted the world's first hairpin leg, in 1941.
Materials were scarce during WWII, so designs that used minimal materials were in demand.
Glass' furniture legs required only a small amount of steel, but remained sturdy and stylish – a true wartime example of form meets function.
Isn't that an amazing bit of history?? People have been rethinking design out of necessity for years! How inspiring is that!
early 1900s meets 1940s meets 2020
I really love how the hairpin leg design of the 1940s meets up with the turn of the century wood of this repurposed roll top desk and has now entered the 2020s in someone's home today!
Yep, you read the right, this piece sold! It made its way home to a lovely lady and her hubby who came to one of the craft shows we participated in during the fall. See it peeking out at the bottom right of this image?
It wasn't there long! When she saw it she said she had to have it but wanted to walk through the rest of the show and think about it. Within twenty minutes she was back at our spot and measuring to make sure it would fit in her vehicle!
And off it went!
I am sure it is just as beautiful in her home as it was in ours.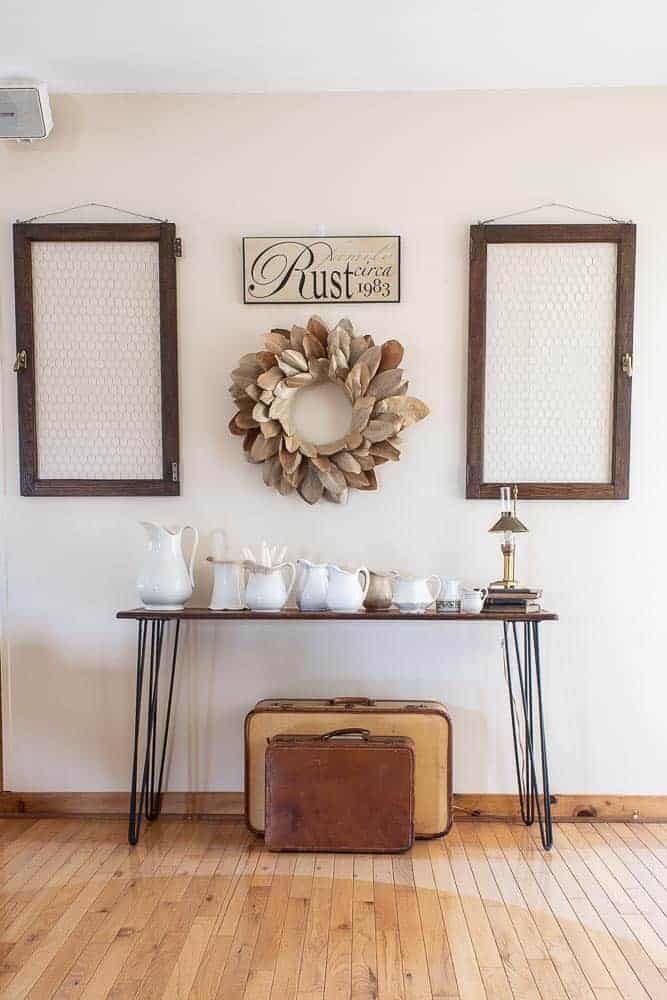 repurposed roll top desk
Want to see another project we are working on using the repurposed roll top desk? Pop over HERE to see what it is! You're going to love the details of this piece!
So glad you stopped by for this simple yet gorgeous project! I encourage you to look beyond what you see and design a beautiful piece of furniture for your home! I hope this has inspired you to think outside of the box!
You are welcome to follow along with us on our reinventing journey! You can find us on Instagram, Facebook, and Pinterest where we share behind the scenes to many of our projects!
Sign up for our email so you don't miss a project! We promise to keep your email a secret!