Tuesday Turn About #157 Summer Fun
This week's Tuesday Turn About #157 Summer Fun features include summertime ideas, a super cute thrift store upcycle, a couple of posts to celebrate July 4th, and a lesson on cutting star fruit! Let's get started!
Since our co-host Lynne, is away on vacation, Julie and I will each be featuring five posts! Be sure to check out the features Julie has picked on her blog.
Thanks so much for joining us each week and sharing your projects, recipes, DIYs, furniture makeovers, and inspiration! Lynne, Julie, and I really appreciate you for linking up!
Tuesday Turn About #157 Summer Fun
This post may contain affiliate links, at no additional cost to you. For more information, see my complete disclosure HERE.
Weekly Photography Tip
One of the most important tips I can offer when taking a photo is to check the perimeters and the background before pressing the shutter button.
Most of us just look at the subject and our human eye tunes out the background. But for some reason, our eye can pick out the weird thing in the background once the image has been captured.
Look past the subject and look for these things when capturing your next shot:
bright colored objects like a bright red toy or a neon orange micro-fiber cloth (yeah, that second one is my nemesis!)
an open door exposing a messy room
an object that doesn't make sense in the scene
If you are shooting a tutorial, some of your images might seem 'messy' but the background can relate to the story of a workshop or craft room where you are completing the project. Then when you shoot the finished project, you can stage the piece with a lovely background.
This upholstery footstool is a great example.
These are just a few ideas to encourage you to check your background before taking the shot!
Now, let the party begin!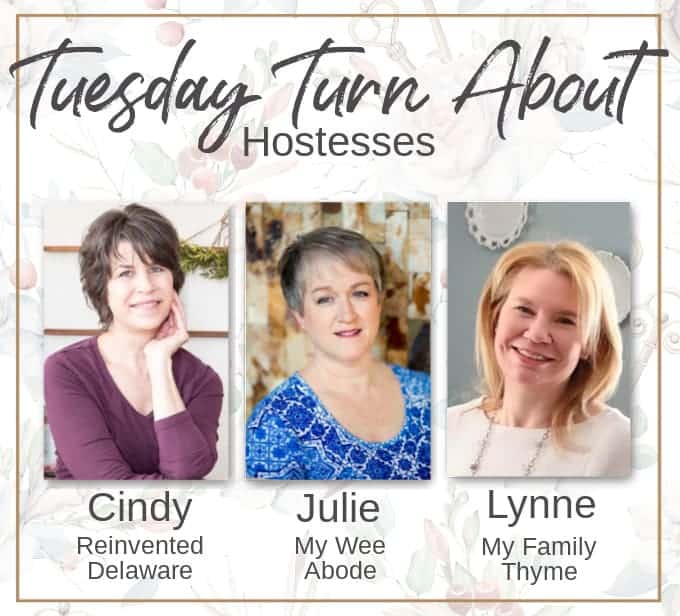 Join us on the socials!
Though not a requirement, we would love for you to join us on other platforms. Feel free to subscribe to our email lists, our Facebook pages, our Instagram accounts, and our Pinterest boards!
Let's create community!
Cindy at Reinvented Delaware
Julie at My Wee Abode
Be sure to hop on over to Julie's blog at My Wee Abode and Lynne's blog at My Family Thyme to check out SIX additional features from Tuesday Turnabout! If you haven't been featured on Reinvented Delaware this week, you just might be featured on one of the other hosts' blog!
DIY Recycled Wine Cork American Flag
Beth from Creatively Beth came up with the cutest way to use up wine corks! Isn't this American Flag so unique? You will have fun making this project!
Simple Frozen Yogurt Bites
Yogurt is one of my favorite breakfast foods so I was excited to see this recipe for frozen yogurt bites at our link party this week! Thanks to Michelle from The Wooden Spoon Effect for creating this summer recipe!
Goodwill Vase Before and After
Thrifting and upcycling are popular around here. And I think Laura from Everyday Edits likes to thrift and upcycle too! She shares this vase makeover and it will inspire you to look for a vase to makeover for your home!
How to Make Your Front Yard Prettier
Kathryn from The Dedicated House shares her tips to make any front yard prettier. You will enjoy the tips she shares!
How to Cut a Starfruit
Have you ever tasted a starfruit? I haven't but after seeing Marie from This Dear Casa show us how to cut a starfruit, I want to head over to my local grocery and purchase one! Thanks, Marie!
---
Let's start sharing! Because this is a party, we encourage all who link up to visit several other bloggers who have linked as well – comments and pins are a great way to spread the love!
Before you get started, take a look at our guidelines:
This party is for home decor and home-related posts only (recipes, organizing, DIY, crafts, etc.). Link up to 3 related posts. Please do not link up informational posts that do not relate to the topic.
If you would please not link up shops, advertising, round-ups, other link parties, or any posts promoting sales, we would appreciate it.
DO NOT PIN FROM IMAGES ON THIS PAGE (it just won't work right on Pinterest). However, please visit the original post/source and pin from there. That works perfectly!
Please make sure that your images are in a jpeg or png format. If we can't save your image, we may not be able to feature you. So sad!
By linking to the party, you give us permission to share your projects on our blogs and social media. We will always give proper credit with a no-pin image.
We're looking forward to all of your fun posts this week! Give us your best!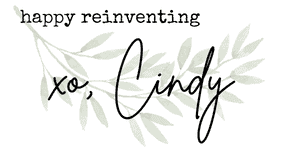 Whoa nelly – before you link up, did you read my photography tip for this week? Scroll back up and read it – You'll thank me later!