Tuesday Turn About #175 Dinner Club
This week's feature was fun to gather together. I'm sharing a lovely table makeover, a beautiful table decor idea, and of course some delicious food to round out this Dinner Club inspiration! Tuesday Turn About #175 Dinner Club Inspiration.
Tuesday Turn About #175 Dinner Club
This post may contain affiliate links, at no additional cost to you. For more information, see my complete disclosure HERE.
Weekly Photography Tip
After hitting publish on my e-book last week, I wondered if you would still be interested in receiving photography tips here on Tuesday Turn About Link Party each week.
Most of you reading this post are bloggers, but I also know that some of you are coming here because you subscribe to my blog updates.
So I thought it best to continue to share tips here as a way of inspiring you to continue to learn about your camera and how you can improve your images whether or not you are a blogger.
If you want to know something specific about photography, please ask in the comments section below this post. I seriously want to help you improve your photography skills the best that I can!
I might even consider a video that would help to reinforce the concepts I teach in my e-book. Let me know your thoughts on that!
Here is this week's tip: use a tripod for tack-sharp images. That's simple enough, right? If at all possible, use one with a 360* ball head. You will love the positionability (that's a totally made-up word!) of this feature.
Here are the three I use interchangeably:

The Geekoto tripod is lightweight and easy to move around. It also extends to 77″ which is helpful for overhead shots.
The Vanguard Alta Pro has an amazing trigger 360* ball head feature that makes adjusting your camera super easy! This tripod is a workhorse!
The third tripod, the Joby GorillaPod, is my recent fave. It is a tabletop tripod and is made to be carried by those who vlog on YouTube. But I also love it for close-ups right on my workbench.
my camera gear

Now, let the party begin!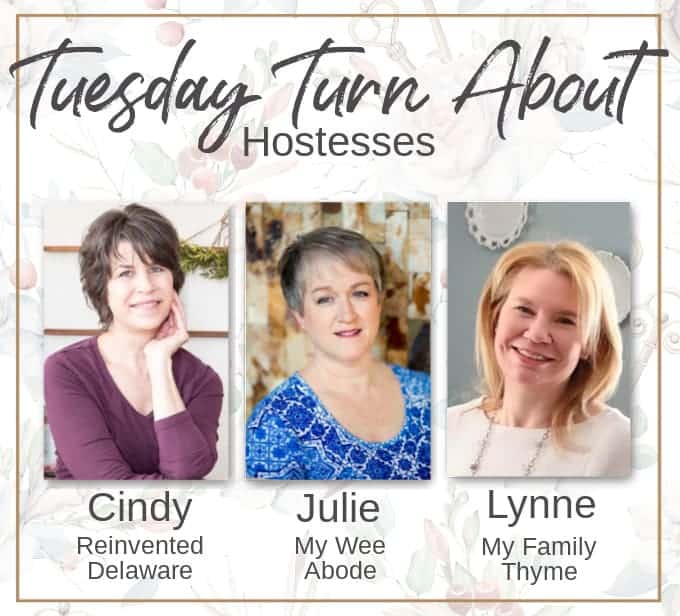 Join us on the socials!
Though not a requirement, we would love for you to join us on other platforms. Feel free to subscribe to our email lists, our Facebook pages, our Instagram accounts, and our Pinterest boards!
Let's create community!
Cindy at Reinvented Delaware
Box Springs & Buttons Christmas Trees | Twig Wreath with Sparkly Pinecones
Julie at My Wee Abode
Free Thanksgiving Printable Two Ways // DIY Stretch Velvet Acorns the Easy Way
Lynne at My Family Thyme
How to DIY a Cardboard Gingerbread Garland | Ribbon Wrapped Christmas Ornament
Be sure to hop on over to Julie's blog at My Wee Abode and Lynne's blog at My Family Thyme to check out SIX additional features from Tuesday Turnabout! If you haven't been featured on Reinvented Delaware this week, you just might be featured on one of the other hosts' blog!
Walnut and Black Dining Table
Lee Ann from Creative Moments shares her tutorial on bringing an oak table into today's look for dining rooms. It's the perfect place for a holiday meal, don't you think?
Easy DIY Plate Chargers
Donna from An Organized Season has a gorgeous tablescape and easy DIY Plate Chargers that would look gorgeous on that table!
Pesto Chicken Stuffed Shells
You'll need a delicious meal to serve on that gorgeous table setting so Estelle from Homemade on a Weeknight shares this delicious-looking Pesto Chicken Stuffed Shells. Let's sit down and enjoy this meal!
---
Let's start sharing! Because this is a party, we encourage all who link up to visit several other bloggers who have linked as well – comments and pins are a great way to spread the love!
Before you get started, take a look at our guidelines:
This party is for home decor and home-related posts only (recipes, organizing, DIY, crafts, etc.). Link up to 3 related posts. Please do not link up informational posts that do not relate to the topic.
If you would please not link up shops, advertising, round-ups, other link parties, or any posts promoting sales, we would appreciate it.
DO NOT PIN FROM IMAGES ON THIS PAGE (it just won't work right on Pinterest). However, please visit the original post/source and pin from there. That works perfectly!
Please make sure that your images are in a jpeg or png format. If we can't save your image, we may not be able to feature you. So sad!
By linking to the party, you give us permission to share your projects on our blogs and social media. We will always give proper credit with a no-pin image.
We're looking forward to all of your fun posts this week! Give us your best!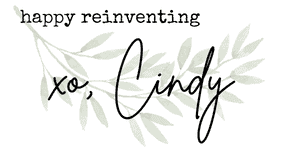 Tuesday Turn About Link Party runs from Tuesday 6 pm EST to Saturday 1 am EST. Join us during those times each week!
Whoa nelly – before you link up, did you read my photography tip for this week? Scroll back up and read it – You'll thank me later!