Tuesday Turn About #145 Spring Ideas
Looking out of my office window as I write this post, I can see the gentle breeze moving the shrubs, I hear the sound of the lovely wind chimes on my front porch and I see the birds fluttering from one tree to the next.
Spring is a lovely time, don't you think? So many of you shared amazing spring ideas in last week's Tuesday Turn About link party! Thanks so much for showing up here each and every week!
Tuesday Turn About #145 Spring Ideas
This post may contain affiliate links, at no additional cost to you. For more information, see my complete disclosure HERE.
Weekly Photography Tip
Have you been practicing shooting in manual mode with the easy steps from last week's Tuesday Turn About? If you practice using those steps every single time you take a shot, your manual mode skills will improve! You are developing muscle memory each time you shoot in manual mode so keep on practicing!
This week we will begin looking at composition. This will take us two or three weeks to tackle so be sure to stay tuned!
Composition in the photography world is all about how you want to present your image, what part of the scene you want to be the most noticed, and what you want your reader/viewer to see and feel when they see the image.
Composition is about telling the story of your image. We convey our stories through text but also through images. It's up to us as photographers to convey the story and we can do that by framing the shot so that it is pleasing to the viewer's eye.
The first aspect of composition that I usually consider is the rule of thirds. Here is how to use the rule of thirds in your photography: imagine a tic-tac-toe grid. You can do this either vertically or horizontally, depending on how you orient your camera.
**BTW, some cameras have a setting for the rule of thirds grid like a tic-tac-toe grid. Look in your manual or do a quick Google search using your camera make and model in your search terms!
Your subject will be pleasing to the eye if you place your subject on the lines of the grid and better yet at the crosspoints on the grid! Try several different places on the grid when placing your subject to see which you like best!
It takes some practice but just like with anything, the more you use the rule of thirds in your photography, the better you will get!
Now, let the party begin!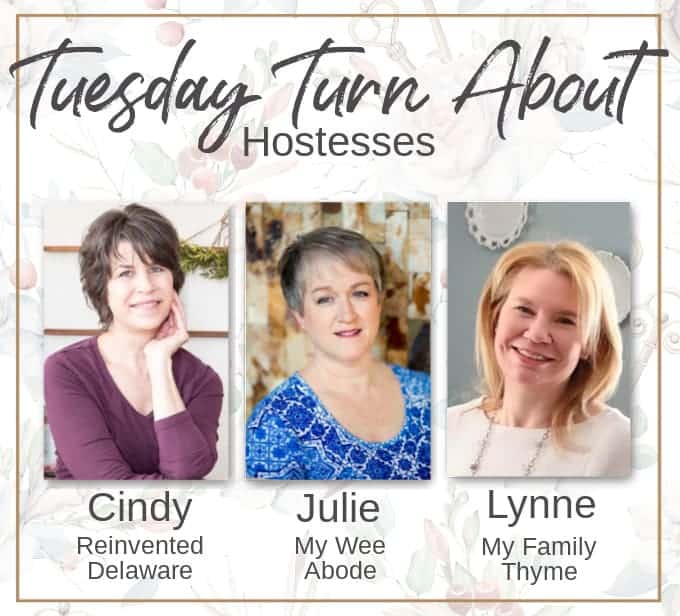 Join us on the socials!
Though not a requirement, we would love for you to join us on other platforms. Feel free to subscribe to our email lists, our Facebook pages, our Instagram accounts, and our Pinterest boards!
Let's create community!
Cindy at Reinvented Delaware
Julie at My Wee Abode
Lynne at My Family Thyme
Be sure to hop on over to Julie's blog at My Wee Abode and Lynne's blog at My Family Thyme to check out SIX additional features from Tuesday Turnabout! If you haven't been featured on Reinvented Delaware this week, you just might be featured on one of the other hosts' blog!
bunny ear napkin rings
Have you been seeing the adorable bunny ear napkin rings swirling around Pinterest? Marie from This Dear Casa shares the easiest way to make them!
simple spring milk can
Laura from Everyday Edits found such a clever way to decorate her Simple Spring Milk Can. Such an easy idea and so fresh looking, don't you think?
Oak End Table Quick and Easy Update
You know I love a good furniture makeover, right? Doesn't everyone? Marie from Interior Frugalista makes over an adorable oak end table and she will take you step-by-step through the easy process!
---
Let's start sharing! Because this is a party, we encourage all who link up to visit several other bloggers who have linked as well – comments and pins are a great way to spread the love!
Before you get started, take a look at our guidelines:
This party is for home decor and home-related posts only (recipes, organizing, DIY, crafts, etc.). Link up to 3 related posts. Please do not link up informational posts that do not relate to the topic.
If you would please not link up shops, advertising, round-ups, other link parties, or any posts promoting sales, we would appreciate it.
DO NOT PIN FROM IMAGES ON THIS PAGE (it just won't work right on Pinterest). However, please visit the original post/source and pin from there. That works perfectly!
Please make sure that your images are in a jpeg or png format. If we can't save your image, we may not be able to feature you. So sad!
By linking to the party, you give us permission to share your projects on our blogs and social media. We will always give proper credit with a no-pin image.
We're looking forward to all of your fun posts this week! Give us your best!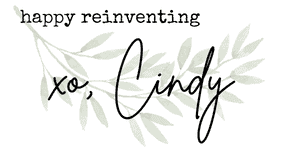 Whoa nelly – before you link up, did you read my photography tip for this week? Scroll back up and read it – You'll thank me later!