Pine Cone Table Decorations
Are you looking for some adorable pine cone table decorations for spring? This easy spring DIY is for you!
As an Amazon Affiliate (and other companies including Miss Mustard Seed's Milk Paint), we earn a small commission on products sold through affiliate links. Your purchases through those links help to support this blog at no additional cost to you. In purchasing the supplies we use and recommend via our links, you help to support the free tutorials we offer you and our other readers. Thank you so much! Read my full disclosure here.
pine cone table decorations
Do you think of pine cones when thinking about table decorations for spring? If you are like me, you relate pine cones to fall and winter projects.
But this adorable pine cone floral arrangement will change your mind!
Let's go over the supplies you will need for this pine cone flower craft.
list of supplies:
how to mix milk paint
Milk paint is easy to mix using a one-to-one ratio of water and dry milk paint. You can use Milk Mix EZ to reduce the foaming that can happen with milk paint. If you stir the paint slowly, you won't have much problem with foaming.
An ice cube tray is a perfect container to mix small amounts of milk paint. You'll only need one teaspoon of milk paint to one teaspoon of water. Add the water first then the milk paint. If you let it sit for a minute or so, the milk paint will absorb the water and mixing will be easy!
pine cone flowers
Using the pointed floral clippers, cut the pine cones into about 3-4 sections creating pine cone flowers. This step is messy so be prepared to clean up with your shop vac!
BTW, I started using the regular wire cutters to cut the pine cones as you see below. Take my word for it, the pointed floral clippers linked above in the supplies list work much better!
After cutting all of your pine cone flowers, stir the paint and grab your artist's paintbrush! And prepare to be a little messy. Holding the pine cones while you paint them gets your fingertips covered in paint!
But Joanna Gaines says that in the kitchen if you are not making a mess, you are not having fun!
Let's use the same mindset with this project, ok? 😊
Paint as many pine cone flowers as you need in a variety of colors. Separate some of the pine cone petals and paint them in Layla's Mint (green) to represent leaves for the floral stems.
what can you make with pine cones?
You can make so many projects with pine cones but most of them are Christmas or winter-themed. That's one of the cool things about these pine cone table decorations – these floral stems are intended for spring and summer!
And here's another great thing about these pine cone flowers – change the paint colors for different seasons! Can't you see these in all the fall colors that mums come in?
And for winter?? They could be painted in a variety of whites and add a little glitter! That sounds like another post!
spring home decor
For now, let's stick with the spring theme!
Once you have painted all of your pine cone flowers, it's time to assemble them. Cut the 18 gauge wire stem in half with heavy wire cutters creating about 8-9″ lengths.
You might want to watch this step in the video towards the end of this post. Basically, you are going to thread the thin brown wire through some of the pine cone petals and then wrap the thin wire around the 18 gauge wire stem.
Twist the thin wire down the stem to the next spot where you want to add a flower, thread the thin wire through the petals and then wrap the wire on the stem again
Three flowers fit the flower stem well if you place them 2- 2/12″ apart. The top bloom should sit directly on top of the stem. You might have to use some hot glue to hold it there!
what can I do with old pine cones?
Maybe I forgot to mention this, but my pine cones were collected last Christmas from our yard and sat in a box in my garage for a year before making anything with them. If you collect pine cones for this project, you should do a quick Google search for ways to get rid of the little critters that can live in the pine cones.
Once all of the pine cone flowers are secured to the stems, bend them slightly to create a more natural-looking flower stem.
Then grab the container you want your arrangement in – I used an ironstone pitcher – add a piece of floral foam inside the pitcher and cover it with floral moss to hide the foam.
pine cone table decorations
Floral arranging is not my strong suit, that's for sure! Fortunately, the free-form aesthetic is popular! When you add your floral stems to the foam, arrange them how you see best, bending the stems as you need to.
So, what do you think? Don't these pine cone flowers make a beautiful arrangement for spring? This sweet little arrangement is sitting on our $2 communion table in the kitchen currently and it makes me smile every time I pass through the kitchen.
Simple decor like this is my favorite. How about you? Do you like simple decor for your home?
BTW, that table will be painted in the next few weeks – sign up for our email so you don't miss it!
another pine cone table decoration!
There was a lot of pine cone flowers leftover and they had to be used up. You will never believe what the sphere is made from!
It's a balled-up piece of heavy craft paper covered in floral moss! My craft cabinet was empty in the styrofoam ball department!
Isn't this pine cone topiary adorable? And it cost next to nothing – pine cones from my yard, a stick from my yard, leftover moss from several projects, and hot glue!
Btw, my hubby hand-carved the wooden bowl it sits in. He makes them in his workshop in the evenings after work. Isn't is gorgeous??
more inspiring posts!
Miss Mustard Seed's milk paint has been used a lot in our workshop over the years. Here are two furniture makeovers that are popular on Pinterest.
pine cone table decorations
Did you enjoy this pine cone table decoration tutorial? Let me know in the comments if you would like to make these florals for your home! What kind of container will you put your floral arrangement in? Tell me about it in the comments – I would love to hear your plans!
YouTube video
Some of us like to watch projects unfold before our eyes, so here is the video I made for you!
Be sure to subscribe to my YouTube channel while you are over there. We make a new video each week!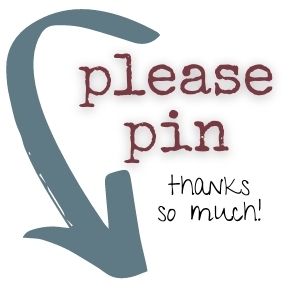 Pin the image below to your home decor and spring decorating boards! Just click the pin button at the top left corner!
Thanks for joining our journey!
Thanks so much for joining us for this post! Join our journey so you don't miss any fun projects, tutorials, and inspiration we share with you each week! You can follow us on Instagram, Facebook, and YouTube. We share even more inspiration on Pinterest!
Visit my Amazon Storefront!
Click the button below and head over to our online shop on Amazon!