Cheap DIY Farmhouse-Style Christmas Ornaments
DIY Farmhouse Style Christmas Ornaments are easy to make using pine cones from your yard for this holiday season! Start celebrating your Christmas season by making your own rustic farmhouse ornaments!
5 Days of Christmas Cheer
We are five blogger friends who are kicking off the Christmas Season with Five Days of Holiday Inspiration! Here is a sneak peek at what we will be sharing each week! Be sure to go to the end of this post to see today's inspiration!
5 Days of Christmas Cheer
The following post may contain affiliate links. That means if you click and then buy something, I will make a small commission at no additional cost to you! Thank you for supporting my blog. full disclosure here.
This post is sponsored by Dixie Belle. All opinions are my own!
DIY Christmas ornaments
Making your own handmade Christmas tree ornaments is a great way to start off the holiday season. This is a tradition I started the first Christmas season we were married. It was the first year we started sending Christmas cards too. In fact, we used to hand deliver the cards to our friends and neighbors!
I remember the first DIY ornaments I made. One of these days, I will post about each of the handmade ornaments I have made over the years. There have been countless handmade angels, stars, upcycled spindle 'icicles', snowmen, and garlands.
Making my own ornaments helps to get me in the holiday cheer mindset. Having a Christmas movie on, a cup of hot cocoa, and a fireplace roaring in the living room, and a project to work on, well, there's just nothing better.
The only thing that could make that scene merrier would be to have my hubby and my young kids around.
But those days are gone. Hubby and I enjoy the fireplace together but our kids are grown and gone. It still warms my heart to think of those times. I sure do miss them 🙂
supplies
wooden ornaments
For now, let's learn how to make these rustic Christmas tree ornaments that won't break the bank!
First, let's gather the pine cones. I gathered pine cones from our yard and also from the local state park walking trail where we often go for a Sunday walk.
Do you think it's weird that I am referring to the pine cones as wooden ornaments? Technically, they are wood!
The pine tree in our yard is one that was our indoor Christmas tree one year. We have often purchased a root ball tree so we could plant it in our yard.
The smallest pinecones caught my eye in particular because I knew they would hang on the farmhouse Christmas tree aesthetic I am going for this holiday season
After gathering a wicker basket full of pinecones (BTW, I gathered larger pinecones as well because I have the plan to make DIY Christmas wreaths too!) I laid them out on a cookie sheet and placed them in the oven that I had warmed to 200* then turned off.
The pinecones sat in the oven for about two hours to kill any little critters that might be living in the petals of the pinecones.
painted pine cones
The next step was to paint the pine cones. Well, at least some of them. I didn't paint all of them but we will get to that later in this post.
I used Dixie Belle Chalk paint in Cotton. It's a bright white paint that I thought would resemble snow. You could also use spray paint but keep in mind, the chalk paint adds a nice thick layer that will look like snow on the pinecones.
gilded pine cones
My plan for decorating our home this year is to include vintage items and holiday decor that has tones of gold, silver, and white. So I decided to gild some of the pine cones.
Dixie Belle has gilding wax in Silver and Gold, not to mention other metal finishes. It's easy to add to the tips of the pinecones with a small artist's paintbrush to make these DIY Christmas ornaments.
Using the small paintbrush, I simply dabbed on some of the silver and some of the gold gilding wax to the tips of the pinecones. It adds a little whimsy to the rustic style of the pinecones, don't you think?
When the white-painted pinecones were dry, I decided to add some sparkle to them. Glass glitter has become one of my favorite craft supplies lately and I knew this would add the right amount of sparkle to these DIY farmhouse Christmas decorations
glittery pine cones
I pulled out the Mod Podge and another small artist's brush. Next, I dabbed the Mod Podge on several of the pinecone petals then sprinkled the glass glitter (also called Diamond Dust) over the areas with the wet Mod Podge. I worked in small sections so that the Mod Podge wouldn't dry.
You could also use hot glue to add the glass glitter. I would imagine you have to work pretty fast so that the glue doesn't cool off before you get the glass glitter sprinkled on! The best thing about using Mod Podge for these rustic decorations is that you have more working time.
BTW, I used a clear cup and a paper plate under the cup to catch any glass glitter that might go astray. Plus, this was a perfect way to keep the mess contained while also saving the glass glitter. I just poured it back into its container!
As a side note, I also thought it would be a great idea to add some glass glitter to a couple of the gilded pinecones. I figured you can't go wrong with shiny things to pick up the Christmas lights on the tree. I can just imagine them sparkling now!
Be sure to tap the excess glass glitter off of the DIY pinecone ornaments. You wouldn't want that kind of glitter on the floor!
glass glitter safety
Before I go on to the next step, let's chat about the glass glitter. I read the reviews on Amazon and so many people loved the sparkliness of the real glass that makes the glass glitter. There were a few people that said they had glass pieces in their fingers after using it.
To me, this is a common sense issue. Sorry – I don't mean to offend anyone, but the label clearly states that these are REAL shards of glass. They are teeny-tiny pieces and I didn't have any issues when working with the glass glitter.
My advice would be to consider your fingertips. Mine are a bit rough because I don't use gloves when working in the garden or out in my workshop. Maybe that is why I didn't have any issues.
Also, this is NOT. kids crafting project! My advice about using glass glitter is to use good ole' common sense!
how to hang a pinecone
Let's add hangers to these rustic ornaments! This very fine wire is covered in brown paper and the best part is will completely disappear on a faux green tree as well as a white Christmas tree.
Cut a piece of wire about 6″ long and fold it in half. Wrap the cut ends around the stem leaving the loop part as the hanger. The thin wire is easy to wrap around the stem of the pinecone. I also added a dollop of hot glue to hold it in place.
Next, I used this gorgeous organza ribbon I found on Amazon and tied a simple knot around the stem. Another dot or two of hot glue will hold it securely.
You could cut your ribbon longer and make a bow. I like simple things so a knot is just fine with me.
favorite DIY farmhouse Christmas ornaments
All that's left to do is hang these adorable rustic ornaments on my King of Christmas tree to create the perfect farmhouse tree!
Yep, you read that right! King of Christmas has some beautiful trees and I found the perfect one that has a lovely but rustic look that I am aiming for in our vintage farmhouse decor this winter season.
BTW, these are one of my favorite DIY ornaments. They were fast and so inexpensive to make! I'm sure I have another plan for gilded pine cones!
Stay tuned because I will be sharing that decorated Christmas tree with natural elements soon!
farmhouse Christmas decor ideas
Can you think of some other ways you could use these adorable handmade Christmas tree ornaments?
gild enough pinecone to go around a wreath mold to make a rustic farmhouse Christmas wreath for the front door (you could use a burlap ribbon to add the perfect touch!)
fill a basket full of pinecones then added gilded pinecones to the top to make it seem like you have a basket filled with them. tuck the basket anyplace you need some extra Christmas cheer like maybe the front porch. add a string of lights as you add the pinecones for extra sparkly
make a garland with the gilded pinecones by tieing them to a long burlap ribbon
hot glue the gilded pinecones to a cone-shaped styrofoam piece to make a tree. make these trees in a variety of sizes and group them together for a lovely dining table centerpiece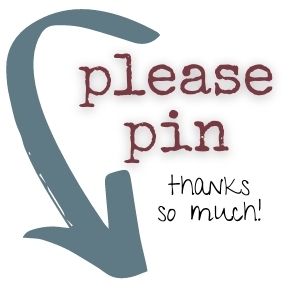 thanks for joining our journey!
I'm so glad you stopped by today!
Thanks so much for joining us for this post! Join our journey so you don't miss any fun projects, tutorials, and inspiration we share with you each week! You can follow us on Instagram, Facebook, and YouTube. We share even more inspiration on Pinterest!
Until next time…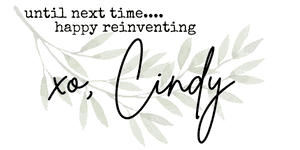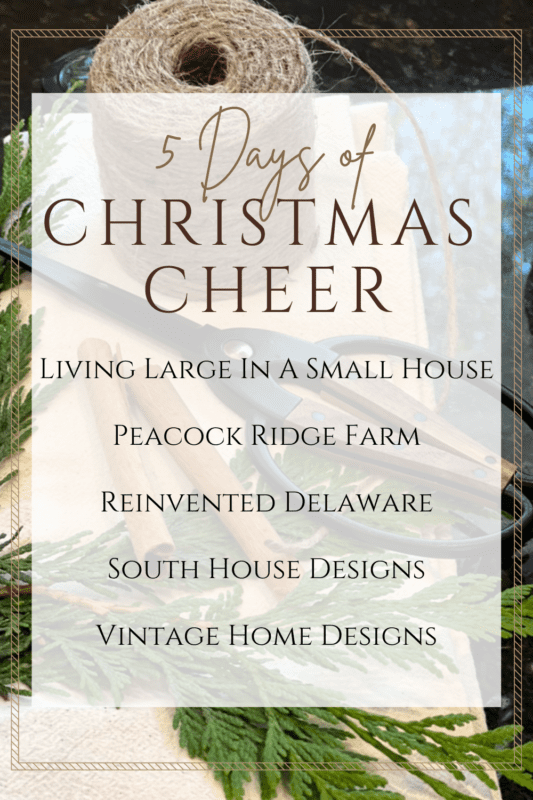 Reinvented Delaware
DIY Farmhouse Style Christmas Ornaments are easy to make using pine cones from your yard for this holiday season! Start celebrating your Christmas season by making your own rustic farmhouse ornaments!

South House Designs
Imagine making your sports fan a gift with your favorite team's logo. If you have a Cricut, you can! turned into a bolo tie, earrings, a pin, etc. Here's how.

Vintage Home Designs
If you need some super easy Christmas ornament ideas, look no further. These unique handmade ornaments would be beautiful on your tree and they would make a great gift for an ornament exchange or a hostess gift for a holiday party.

Living Large in a Small House
I have many handmade mason jar gift ideas for you today! If you are on a budget this holiday season this is a great way to keep the cost down by making homemade gifts.

Peacock Ridge Farm
Are you looking for the perfect DIY gift to give this holiday season? Look no further than a charcuterie basket! This easy project can be tailored to your recipient's tastes, and it makes for a beautiful presentation. Plus, it's much more personal than buying one from a store. So get creative and make your own charcuterie basket today!