Simple Christmas Gift Wrapping Ideas
Simple Christmas Gift Wrapping Ideas that are creative and won't break the bank! These easy and unique ideas are fun to create and won't take much time. Slow down and enjoy this Christmas Season!
5 Days of Christmas Cheer
We are five blogger friends who are kicking off the Christmas Season with Five Days of Holiday Inspiration! Here is a sneak peek at what we will be sharing each day! Be sure to go to the end of this post to see today's inspiration!
5 Days of Christmas Cheer
The following post may contain affiliate links. That means if you click and then buy something, I will make a small commission at no additional cost to you! Thank you for supporting my blog. full disclosure here.
This post is sponsored by Dixie Belle. All opinions are my own!
simple Christmas gift wrapping ideas
Wrapping paper has gotten so expensive in recent years! And so have all of the extras for the pretty Christmas presents we want to give during the holiday season.
This year, I was determined to come up with some great ideas for gift wrap as well as exchange the bright, colorful ribbons for something more along the lines of including natural elements.
One goal I have had over the years is to have the gift wrapping coordinated under our Christmas tree. Truth be told, I like it to match our decor too! Are you like that? Does it bother you if the wrapping paper doesn't compliment your living area decor? Maybe I'm just weird!
creative gift wrapping
Anyway, let's think of some creative ways to wrap each holiday gift, have them look nice in our homes, and include a creative gift with a personal touch in the wrapping! You'll see what I mean about that in just a bit!
Craft brown butcher paper has been an option for Christmas wrapping ideas for several years now. I remember about 20 years ago, I wrapped handmade wreaths (similar to THIS ONE) in a brown paper bag.
It was an easy way to make a gift bag and it didn't cost a dime! All I did was add a pretty plaid ribbon with some fresh greenery from our yard that I attached with a stapler and wa-la! Instant gift wrapping idea!
So I decided to pull out the brown kraft paper that I used in furniture makeovers. This paper has a design that adds another layer of texture to the wrapped gifts.
step-by-step instructions for gift wrapping
This video from HGTV on YouTube is a must-watch if you want to see how to get the wrapping paper perfectly around a box.
Here are the basic steps to get your brown paper packages looking like a professional wrapped them!
---
use pine cones to embellish the gifts
The next step was to think of the decoration for the top of the wrapped gifts. Lately, I've been on a kick with projects using pine cones. I've made a beautiful wreath with rose pine cones, and just this week I made the most adorable pine cone Christmas tree ornaments.
So needless, to say, instead of using a bow, I'm going to use pine cones! I ordered some bakers twine type of cord that has a strand of gold in it. BTW, this also comes in pretty colors if that's more to your liking.
The ribbon had to be different than what I was seeing in the stores but I wasn't sure exactly how. After searching for about 30 minutes on Amazon, I started to see organza ribbons used for weddings and bridal showers.
unique wrapping ideas | ribbons
And then I saw an assortment of blue, green, and white and knew that is what I wanted. Maybe I haven't mentioned it here on the blog yet, but I have a goal of changing my home decor colors to shades of blue and green.
I've started slowly but surely. There are two certain chairs in my living room that need desperate attention as far as the color is concerned.
Back to the creative ideas for gift wrapping!
gilded pinecones
After gathering all of the pine cones from our yard that I needed, I gave them a quick once over with Vintage Gold spray paint. It is the perfect gold in my opinion! You could certainly choose another color like silver or even white paint and I think that would be lovely!
While I had the gold spray paint out, I also did a very light coating on the faux greenery I found at Walmart. The greenery I found at Walmart is boxwood.
The price couldn't be beaten and I knew gold spray paint was a great way to jazz it up for the holiday season. I also took the greenery apart to make small sections of the boxwood.
Next, I gathered the painted pine cone to the small sections of boxwood and tied them together with the baker's twine. I also made a looped hanger from thin brown craft wire and then wrapped more of the baker's twine around that to secure it. You can also add a dot of glue with your hot glue gun for extra holding power.
Yep, I added a hanging loop! These sweet little gift-wrapping decor pieces, not only make a beautifully wrapped gift, but they also make a great gift themselves! The gift recipient can use the pine cone as an ornament on their tree!
creative gift wrapping with pinecones
But, I'm getting ahead of myself! Let's use the gorgeous chiffon ribbon I found on Amazon. On some of the packaging, I wrapped it around the package. On other gifts, I used it as a bow, and still another package, I simply tied it in a knot.
The ribbon is gorgeous enough that your family member or friend will want to keep it. It feels just like silk.
Here is more than just one gift wrap idea – I've included several variations using the same supplies. Creating variety is the best part of using the same colored wrapping paper, ribbon, and of course pine cones. The look is cohesive but not boring.
supplies to help you with gift wrapping

Christmas gift wrapping inspiration
I hope you are inspired by this blog post to wrap the perfect gifts this Christmas season using the simple supplies you can find at your local craft store, Amazon, and your own backyard!
Happy wrapping and I hope you have a Merry Christmas!
thanks for joining our journey!
I'm so glad you stopped by today!
Thanks so much for joining us for this post! Join our journey so you don't miss any fun projects, tutorials, and inspiration we share with you each week! You can follow us on Instagram, Facebook, and YouTube. We share even more inspiration on Pinterest!
Until next time…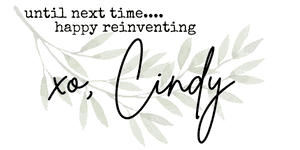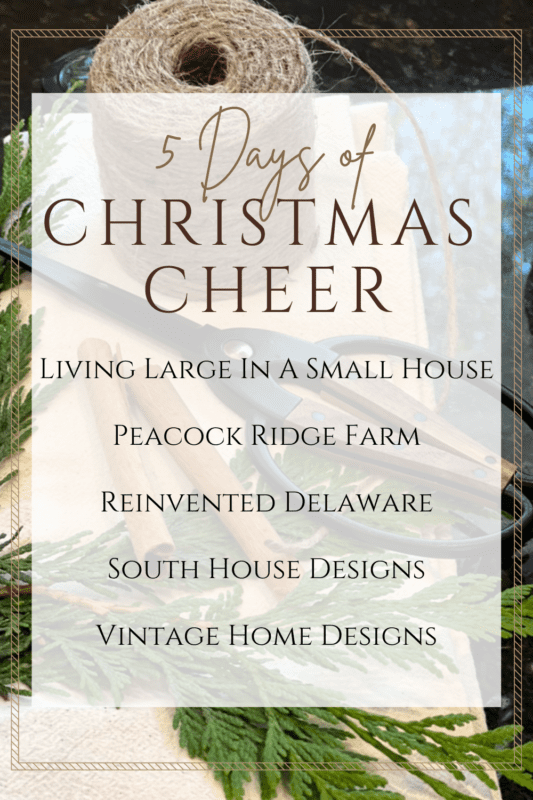 South House Designs
Here's a clever and eco-friendly embellishment to make for your gift wrapping, or use as place cards or even as ornaments for the holidays. These stars are fun to make and can be customized in so many ways! Besides, there's nothing like a great upcycle and saving money too!

Vintage Home Designs
I'm sharing so many fun, creative and inexpensive ways to wrap your holiday gifts. By thinking outside the box and also using some things you probably already have on hand you can easily create beautiful packages to put under your tree!

Living Large in a Small House
Beautiful gift wrapping doesn't have to cost a lot of money. Using kraft paper is an economical option and now it's available in all different colors.

Peacock Ridge Farm
The holidays are a time for giving, and what better way to show your loved ones how much you care than by wrapping their gifts in beautiful paper and bows? If you're looking for some inspiration, check out these creative gift-wrapping ideas that will make your presents stand out from the rest. From sparkly decorations to the festive ribbon, there's something here for everyone! So get started on your holiday shopping and start wrapping those presents like a pro.

Reinvented Delaware
Simple Christmas Gift Wrapping Ideas that are creative and won't break the bank! These easy and unique ideas are fun to create and won't take much time. Slow down and enjoy this Christmas Season!