Vintage Christmas Home Tour
Sharing with you our Vintage Christmas Home Tour 2021! Grab a cup of hot cocoa and join me in our home at Christmas!
The following post may contain affiliate links. That means if you click and then buy something, I will make a small commission at no additional cost to you! Thank you for supporting my blog. full disclosure here.
This post is sponsored by Dixie Belle. All opinions are my own!
home tours | inspiration
Do you love to look into someone's home virtually? I sure do! Since Pinterest began back in 2009, I have enjoyed perusing other people's homes online.
In fact, here is a confession: I love to ride around at night when people have their interior lights on, and take quick glances at what their home looks like.
Creepy, I know. But let's be honest – we all do it! 😉
Anyway, you don't have to be sneaky to see the inside of our home! I'm inviting you in virtually to see how our home is decorated for our Vintage Christmas.
Let's start in our dining room. This spot is one of my favorite areas to decorate. In fact, I used to stage furniture all the time on this wall until my craft room/office/workroom was remodeled!
vintage furniture
This beautiful antique sideboard was gifted to us by a dear friend of my husband's. I've moved it around several times and this is the current home for this beautiful piece.
The antique cabinet doors were gifted to us as well. The glass was missing so we replaced it with chicken wire. Last year, I strung real cranberries and allowed them to dry naturally. The strand is hanging on the cabinet doors.
Clippings from our Nandina bush, fresh greenery, and real pine cones along with some vintage brass candlesticks and ironstone fill the space perfectly, don't you think?
holiday decorating | vintage style
On the other side of the dining room is my handmade snowman collection. Each year (well most years!) I make a new handmade snowman. They make a nice little community grouped together on the vintage stroller we've had for years.
The snowman with the green hat and blue buttons is the newest member of the snowman community. You can see how I made him in a YouTube video I created for you.
The neutral snowman has a full tutorial to show you how he was created.
using natural elements
The dining table is decked out with more clippings of Nandina in ironstone pitchers and bowls. I place a mason jar filled with water inside of the pitchers and then put the Nandina inside the water. This helps the bush to stay fresh longer.
There are a couple of areas in my home (like on top of a large cabinet) where the Nandina won't be touched and I have allowed it to dry on its own without water. They dry beautifully but I must warn you, the leaves will fall off if they are disturbed. That's why I put the Nandina without water in areas where they won't be touched.
Having a puzzle out is part of Christmas decorating to me. We have put puzzles together over the years and especially at Christmas when we are all home for several days together.
vintage linens and ironstone
A vintage linen tablecloth gathered up in the center of the table looks like a bit of fallen snow. It helps to lighten the dark table and it is a good backdrop for the dark red and green colors of the Nandina. The dark pine cones and the ornaments show up well against the light color table cloth.
vintage style living space
Let's move toward the living room. Our living room, dining room, and kitchen are all open to one another. In fact, I can stand where our Christmas tree is and turn a full circle to see the whole space.
Maybe you are wondering how on earth the lights work on the tree if it is placed in the middle of the space?? We had an electrical floor outlet installed when our home was built. We have another one in the room if I decide to move furniture around.
handmade Christmas decor
You might have noticed that Barkly could care less about how we are lighting our tree! He has paid a lot of attention to the Hestia nativity figurines in the handmade Creche. It's been a daily surprise to see what he decides to pull out of the manger!
---
handmade vintage Christmas ornaments
Handmade vintage-style ornaments fill our tree. For the last several years, I have made multiples of some of my favorites. The wool felted angels are among one my faves. We have about ten of them scattered around the tree.
Painted pine cones from our yard and a variety of feathered birds that we have collected help to give the tree a natural feel.
---
handmade creche
Hubby built this creche several years ago from barn wood that he reclaimed from a friend's property. The friend was taking the barn down and didn't want the wood so of course, hubby jumped on that opportunity!
We started the Hestia nativity collection several years ago. Hubby and I don't really exchange gifts with each other anymore but we did purchase the pieces as a together gift.
The pieces are durable resin and we are hoping our grandchildren will want to play with the pieces at Mimi and Pop-pop's house!
Christmas decor for the fireplace
Over by the fireplace, we have a flocked tree from Walmart. It's about 5′ tall and it sits in a vintage apple press. Real pine cones, glittered faux berries, and a handmade star on the top decorate this tree.
See the stack of boxes under the tree? The boxes were a project for last year and I never got around to doing anything with them. This year, I chose several neutrals of paint from Dixie Belle and painted them.
Maybe when next year comes, I can add some ribbon to the boxes! Haha!
vintage lighting
On either side of the trio of windows in our living area, we have hanging shutter lights. We made these over the summer and I also have a post and a YouTube video showing how we made them.
Instead of hanging a wreath on them, I painted a wooden round frame (without the glass) and added a swag of cotton bolls.
handmade Christmas decor
To me, vintage Christmas decorating includes handmade pieces. So I made a wreath for our front door. Our front door opens in the center of the large open-concept living space. On the outside of the front door, I have a lovely wreath hanging to greet people as they come to the door.
See the sweet trees on the antique oak dresser? The trees are one of the projects I made this year. I used scraps of dropcloth, grain sack, and burlap.
our vintage style home tour
Thank you for stopping by to see our home at Christmas! We enjoy the vintage pieces we have curated over the years and we love to use those pieces in our vintage Christmas decor.
YouTube video
I've made a video tour of our home for you! Click below to watch the video!
more inspiring posts!
From my home to yours, we wish you a very Merry Christmas!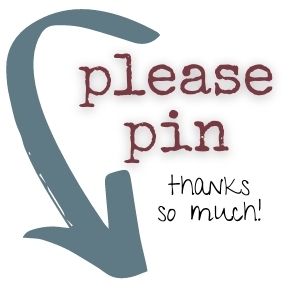 Pin the image below to your home decor and furniture boards! Just click the pin button at the top left corner!
Thanks for joining our journey!
Thanks so much for joining us for this post! Join our journey so you don't miss any fun projects, tutorials, and inspiration we share with you each week! You can follow us on Instagram, Facebook, and YouTube. We share even more inspiration on Pinterest!
---
---
Visit my Amazon Storefront!
Click the button below and head over to our online shop on Amazon!
---