Christmas Decor 2020 | Part 2
Welcome back! I'm excited to finish showing you our Christmas Decor 2020! You can see the post previous to this one for Part One!
This time let's look closer at the details!
Christmas decor details
Do you remember this spot from our last post? Our fireplace mantle has looked different through the seasons and this Christmas season I decided to dress it with several of the snowmen we have made over the years.
snowmen galore!
This cute pair was made in masses! Several years ago, my friend Kathy and I made a ton of these snowmen together. She made them for her family and I made them for ours.
It was fun to give them as gifts but I must admit, the real fun and enjoyment came from time spent with my friend 🙂
This little fella was made with scraps of cotton batting as the body. At the time, I thought it was brilliant to use cotton batting for the body – that is until I started to stuff his body with poly-fill. I stuffed a little too much and tore the batting!!
Those areas were patched up with some wool scraps and were definitely a happy accident! Look closely and you will see the wool patch on the bottom.
BTW, he sits nicely on top of a hand turned wood candle holder, doesn't he?
This snowman has the cutest sweater, don't you think? It is a section from a real wool sweater, buttons and all! And this one is holding a babe! See the shiny silver thingy in her hand? That was a gift 'bow' from a gift we received and I thought it was too cute to toss in the trash!
This fella is wearing a quilted jacket. Quilting is one of my hobbies (seriously, I have too many hobbies!), and using the scraps from several quilts, the sewing machine and I whipped this little jacket up.
Snowmen need to be warm too 🙂
He sits on top of a vintage cast-iron pot.
the fashion show continues…
This snowman is sporting an outfit from J.Crew (is this starting to sound like a fashion show for snowmen??)
The 100% wool sweater from J.Crew was used to dress this fella. We even found a use for the tag!
There is a whole blog post teaching how I made this snowman! Hop over and take a look. It would be a great project for the winter!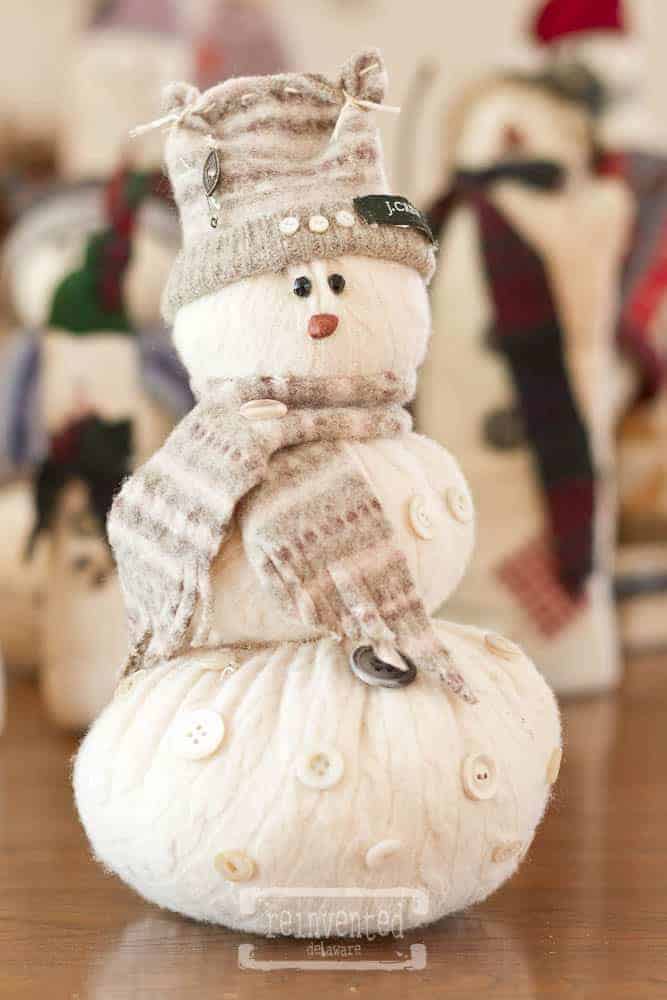 mini tutorial
Do you like the snowman I made this year? I don't have a full tutorial for him, but let me tell you the easy steps. I'm sure you can figure it out!
cut off the sleeve from a thrifted sweater
stitch up the wide end (the shoulder end)
stuff the sleeve from the cuff with poly-fil
tie into three sections making the bottom section fatter
stitch the opening closed (the cuff end)
add a hat and scarf from thrifted sweaters
buttons for the eyes and nose
This snowman is dressed in a similar way that we dressed the wooden snowmen in an Instagram tutorial for the wooden snowmen we made this year for our shop.
Hop over there to watch and use the steps to dress this sweater snowman! Grab a child and make snowmen together!!
Speaking of hand-turned wooden snowmen, we have a couple on our mantle too! Interested in purchasing your own hand-turned wooden snowman? You can check out my online shop! Each one is unique and has its own personality!
**as of this writing in December 2020, there are still some snowmen available in our online shop! The snowmen will be restocked next year!
Let me just say, our snowmen stay out all winter. They're not just for Christmas decor, they also make wonderful winter decor!
more Christmas decor details
Let's move into the dining room and take a closer look at the Christmas decor details!
the buffet
Our buffet was decked out simply.
A gold pine cone from our yard. I sprayed these pine cones over 20 years ago. We lived in a different house then so it is special to still have these pines cones.
Our kids helped to gather them and I'm pretty sure they helped to spray them too 🙂
mistletoe
We've added pine cones from the yard of where we live now. It's a nice mix of the old and the new 🙂
Hubby collected some mistletoe for us this year. He walks in the woods near our home often and came back with this bunch one day. He had to shoot it down because mistletoe grows high in the treetops!
hand built creche
Hubby loves to be in his workshop! If you have been around here long, you know how many amazing things he can produce in that workshop!
Like this hand built creche made from reclaimed barn wood!
Chipping paint, a ladder, and fencing make up the unique little structure. We bought each other the Hestia figurines over a span of several years. They are substantial pieces that our grandkids will be able to play with one day.
For them to grow up knowing that God intends us to be in relationship with Him and to not keep Him at a distance is so important! That is my prayer with this nativity 🙂
Did you notice the children's chairs hanging on the wall above the nativity? They are a great place to hang this strand of handmade bell garland.
woodland critter tree
Our woodland critter tree sits on top of a vintage high chair in the dining room. We filled with little birds and squirrels. As I see more woodland critters over the next years, I will add to this tree 🙂
Some of the birdies didn't have the best hangers so I glued clothespins to their bodies. Now they sit exactly where I want them!
Our local Hobby Lobby was stocked full of these adorable owls! Isn't he the cutest? And that squirrel is just too fun!
creative outlet
A fair amount of my time is spent right here. Watercolor painting is a creative outlet and a way to feed the creativity needed to keep our business fresh.
Want to watch a video of how to paint these robins for yourself?? You can check out this YouTube video. It's a super easy painting and so fun to do!
kitchen Christmas decor
Let's see some of the Christmas decor details in the kitchen!
BTW, look hard into the background and you will see life. What I mean is, we live here and I never want to give the appearance that our home is always perfect. It's not by any means. And I like that.
Tidy is good but if it makes your people uncomfortable, then it's not so good. You find that balance for your home, ok?
Here are my people. As of this writing, we just added one to our group! Little Benjamin arrived this month! He is the perfect little bundle and it will be sooooo good to see him in person!
The Christmas decor is simple on this antique dresser – mostly because I don't want to distract from my people!
3-star general
This snowman came to be during the time our son served in the military. He's a 3-star general with a sweet carrot nose 🙂
We also have one of the first snowmen hubby turned! Don't you love the little stick nose??
An ironstone bowl filled with dried orange slices, pine cones and real cotton sits on top of a hand-turned pedestal. I'm thinking of permanently attaching the pedestal to the ironstone bowl because it's just so cute!! What are your thoughts??
And yes, that brass and copper lantern in the background has one of our price tags on it!! Nothing is safe around here!
Just to the right of that dresser is our front door. This area gets changed up quite a bit. This organ stool had the perfect original chippy paint so I sealed it with General Finishes High Performance in Flat (my fave finish for an authentic vintage finish!) All it needs is a quick reupholstery of the seat.
It was too cute to sit in my workshop so into the house it came. This is the perfect spot for it, don't you think?
snowmen triplets
Triplet snowmen sit in a hand made wood bowl (yes, hubby makes bowls too!!), a little Watermelon Peperomia plant and a little lamp sit together perfectly!
Did you notice the timer for the lamp? Timers are my best friend. Well, except for our Roomba named Hazel. She's really my besty!
Our kitchen island centerpiece is simple and practical. Gathered together in this vintage metal tool caddy are a few oranges, a candle, and the salt and pepper shakers. Just enough Christmas decor for the kitchen island!
Look at the metal tool caddy closely and you will see it has a copper banding on the handle. Tool caddies are so useful and such an easy way to bring the vintage farmhouse look that is also useful!
our cafe
Our cafe is the hub of our morning around here. It sits to the right of the fridge. The last thing we need is a bunch of frills getting in the way of our beloved coffee pot!! Move over and let me get to the coffee!
A hand-painted Christmas card attached to the wall with Washi tape, a small tree from Hobby Lobby, and let's call it a day!
To the left of the fridge is our back entryway. We come into our home from the back door that enters the laundry and pantry area. This spot is just inside the kitchen and is the perfect spot to put shoes on.
A handpainted nativity scene hangs and continues to remind us of the meaning of this season. Even though the exact dates could be off a bit, this season is a good reminder of the birth that happened and the death that followed 33 years later so that we could have life.
Let's always remember that He is the best gift. All we need to do is accept and believe.
The canvas print has all the dates of our birthdays and our wedding day 🙂
Thank you for stopping by for a visit at our home today! We have truly enjoyed having you and sharing our Christmas decor with you 🙂
We want to wish you a very Merry Christmas and a blessed New Year.
join our journey
Join us anytime over on Instagram and Facebook to say hi! We love sharing behind the scenes of many of our projects. Come on over and join us!
Pinterest is a great place to organize your inspiration! Join us on Pinterest where we share even more creative inspiration! Pin any image in this post for future reference!
You can also join our mailing list. Pinky promise, we won't sell your email to anyone! We just want to inspire you to do your own projects by showing you how we do ours!
We'll send you this fun list of ideas to get you started too!
Blessings to you and yours. Thanks so much for your support!