Five Easy Tips for Winter Home Decor
Most of us have all of our Christmas Decor put away and maybe some of us are wondering how to spruce up our homes for winter. If that's you, then you are in the right place! Today I will share with you five easy tips for winter home decor!
Let's get to it!!
Our Homes Can Feel Empty
Christmas and all the beautiful decorations are put away in our home and honestly, things can seem a bit empty. Although, it is refreshing to see our home in its normal state again!
Five Easy Tips for Your Winter Home
rearrange furniture
add touches of white
use twinkle lights
add glassware
include greenery
First Tip: Rearrange Furniture
This is the easiest thing to do and you don't have to make any purchases to do it :). Check out this post to compare some changes we have made with home decor!
The first bit of advice about furniture rearranging is to imagine pieces in different spots than what you are used to. Often we stop 'seeing' the pieces because we are so accustomed to them being in a certain spot in our home. Use fresh eyes as you imagine your furniture in different spots. And then start moving the pieces around!
See this vintage dresser? It was on the other side of our dining area. And before that, it was in our kitchen. And before that you ask?? It was in a bedroom! The point here is to think outside of the box of the normal use of furniture and try it in other locations in your home! Who says all dressers belong in bedrooms!
Here is another example of moving pieces around. This pair of chairs along with the vintage school desk we use as a side table was in front of our living room windows. You can see the previous arrangement here. They were just switched out with the sofa and coffee table that used to be in this spot. I wasn't sure they would look ok here because they are a bit taller than the sofa. This area is in the center of our kitchen, dining and living areas and I didn't want the line of sight hindered.
But I took my own advice and just started moving pieces around and I love how they look in this spot!
The vintage medical lamp moved right along with the pair of chairs. I am crazy about this lamp! We kept it's original finish, cleaned it up and sealed it with a clear poly-acrylic spray.
Moving furniture around is a great way to refresh your home after the holidays and set the stage for winter home decor!
Second Tip: Add Touches of White
The second tip I would like to share is using white or a light neutral color to areas in your home. Here, I use a light ivory colored throw to lighten up the sofa. Our sofa is an olive green and can seem dark especially during the cloudy, dark days of winter. This sofa will be getting a slipcover (soon I hope!)
Remember that dresser? It's all decked out in white and ivory ironstone. The kitchen usually has all of the ironstone displayed on open shelving. I just pulled a few pieces from the stash and added it to the top of the dresser!
Another touch of white for the living area – our handmade snowmen. They help to brighten up the mantle. And it does snow in the winter, right??
Third Tip: Use Twinkle Lights
I know, I know–twinkle lights are for Christmas! Well, not at my house! I love the soft glow they bring especially in the winter months when days are so short. I have had twinkle lights above our kitchen cabinets for the 20+ years we have lived in this home. In fact, when we had the house built, I made sure the electrician included a wall socket in the corner above the wall cabinets. It is controlled by a switch on the backsplash 🙂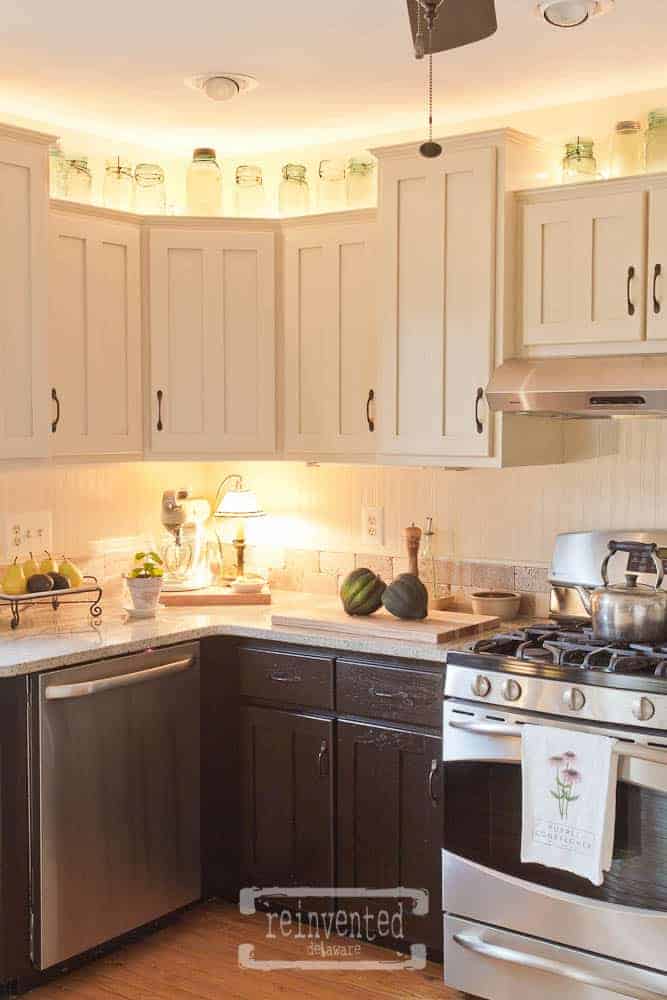 The tiny lights along with the vintage blue Masons look perfect above the cabinets! This is one of my favorite spots in our home 🙂
Here is our large repurposed hunting lodge cabinet with lights, ironstone and vintage glass milk bottles. This corner of our living space can be dark so the lights really brighten the space. BTW, when I say twinkle lights I mean just a strand of tiny Christmas lights. This 100-light strand was half way burned out and instead of trashing them, I decided to use them above this cabinet.
Fourth Tip: Use Glassware
So, this third tip is one of my favorites! Recently, I was reading my Insta-friend's blog, Thistle Key Lane and saw how she is using glassware in her home because of its reflective qualities. Be sure to check out her post about this great winter home decor idea! Michelle and I have some similar ideas for winter decor. Check her post to see what we have in common! Let her know I sent you over in her comments section!
Anyway, I fell in love with the idea and started to scour our home for anything glass. To my surprise, I had more than I realized.
Remember the vintage milk bottles on top of the large cabinet in our dining area? They look perfect with the touches of white I mentioned. I also found a pair of gorgeous Waterford Crystal candle holders my sweet lady gave us when we moved into this home. Along with a vintage glass salad bowl that belonged to my hubby's mom, I think the trio is lovely together. The green pears were perfect for the bowl and the vintage white linen table square brightens up the space.
Final Tip: Add Greenery
Winter can be drab and gray here in Delaware. But making sure I include anything green seems to brings life to the space. After grocery shopping, I couldn't resist the pears, avocados and acorn squash sitting on the counter.
Even this little cypress tree from our Christmas Decor brings a bit of life into our home. The photo doesn't do this adorable little tree justice. Take my word for it, it is adorable! You will also notice I left the berries on the glass candle holder – one of our outdoor bushes is full of red berries during January so it seemed like the right thing to do!
Bringing it all Together!
Take a look at the next couple of images and look for the easy tips for winter home decor that are mentioned in this post. In the living area, I included twinkle lights, ironstone and vintage blue Mason jars on the mantle. As you saw earlier, I also chose to continue to display our collection of handmade snowmen. We can get snow all the way through March and even April here in Delaware, so again, it just seemed right to leave these littles fellas out for the winter.
In the kitchen, the ironstone, live greenery and a couple of snowmen continue the winter theme!
A dried green magnolia wreath, white pillar candles and glass lantern bring a nice touch to this cabinet in the dining area. The lamp keeps the spot nice and bright!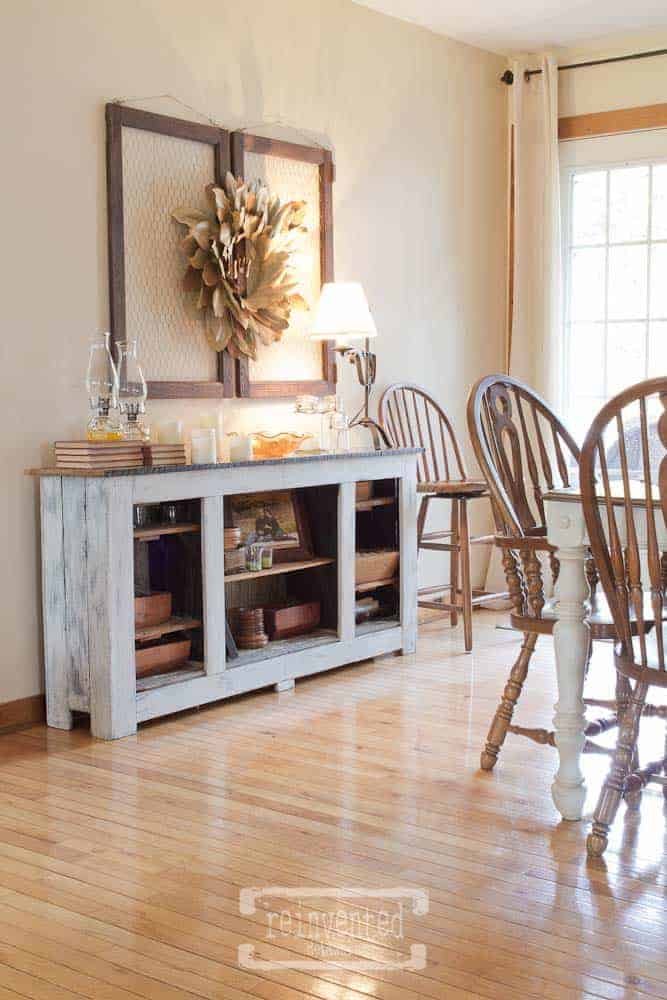 There Ya' Have It!
Well, those are the five easy tips for winter home decor! Thanks so much for stopping by for these ideas. I would love to hear what your thoughts are about them! Which winter home decor tips will you use in your home? Share with me in the comments.
Also, I would love you to follow along on Instagram for more ideas on the fly. Pinterest is a great place to save this post for your reference and follow Reinvented Delaware while you are there!