Oak Sideboard Transformation
Oak. Need I say more? Don't we all just love the grain in oak wood? I know I do. And so does my hubby. In fact, we learned lesson in the art of compromise on this oak sideboard transformation!
oak sideboard | the beginning
Before I jump into the reveal, let me remind you of part one of this oak sideboard transformation! Click that link and hop over to that post to see the process! Be sure to come back here!
learning to compromise
We had to compromise about the transformation of this antique oak sideboard – hubby wanted the oak grain to show and I wanted to add some color to the piece.
This is how two furniture makeover-ists compromise!
Compromise can be a good thing, don't you think?
The opposites on this piece, complement one another. The natural wood grain in the solid oak top and drawer front actually shows up better than when the entire piece was stained dark.
And it's because the painted sections like the legs and drawer frame, help to define the wood sections of this oak sideboard.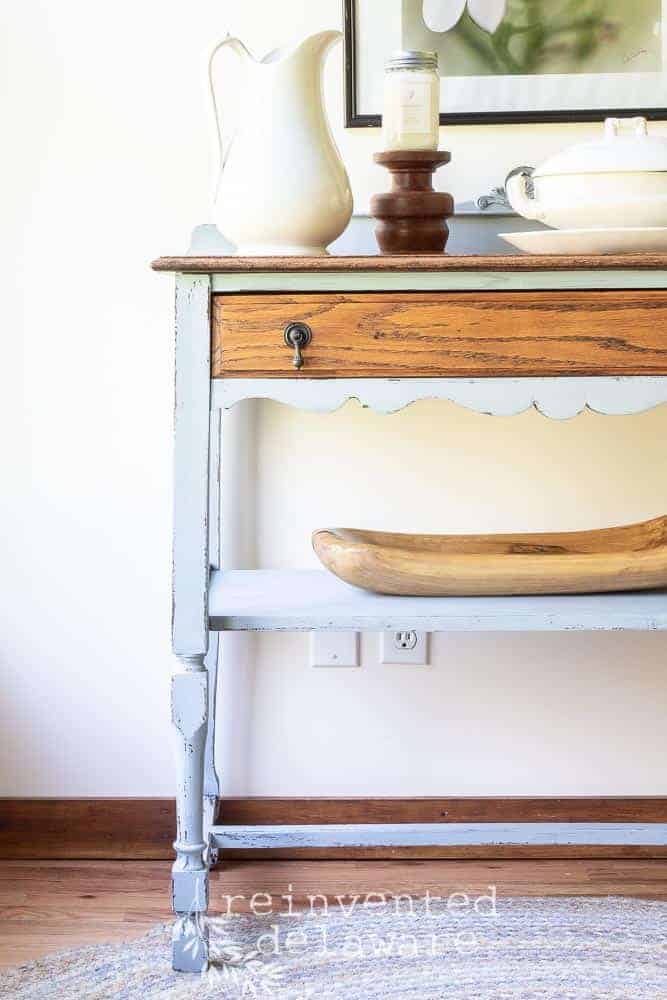 working together
See what I mean?? The wood grain stands out when framed by the painted surfaces!
And the paint shines in its own way because of the contrast of the wood grain!
Win win!!
The painted carved wood detail of this oak sideboard is just another example of how paint and natural wood can live in harmony.
After painting the hand-carved backsplash, I lightly distressed it. This simple step brings out the beauty and detail of the carved wood that solid stain can't show!
A little distressing is a good thing, am I right??
both can shine
The whole piece is an example of contrast and how one extreme like natural wood, can bring out the best in the painted surfaces.
And the opposite is true as well, the contrast of the painted surfaces enhances the beauty of the natural oak.
Neither steals the show.
Instead, they both shine. Together.
The deep grain of the oak can stand alone.
And the painted surfaces are lovely in their own right.
beautiful harmony
But the two together, well, it's just a beautiful thing. Isn't it?
That's what compromise can bring. A beautiful and harmonious marriage of two opposites that can be beautiful when put together.
I think there is a lesson in there. Can you see it?
When two can learn to become one, it's called harmony.
Harmony can bring a depth, a deeper level of beauty.
And that's the perfect finish.
thanks for stopping by!
Thanks so much for stopping by for this antique oak sideboard transformation. I hope you enjoy seeing how compromise is a good thing.
In furniture makeovers and in life.
Now tell me, where and how are you learning to compromise? What areas do you see that the contrast of opposites is beneficial?
Share with us! We can all learn the art of compromise from each other!
join our journey
We would love for you to join our reinventing journey on Instagram and Facebook where we share behind the scenes of many of our projects! Follow along on Pinterest for more inspiring ideas! Feel free to pin any of these images on your own boards!
the finish details
BTW, the oak sideboard was painted in Miss Mustard Seed Milk Paint in Shutter Gray and sealed with two coats of MMS Hemp Oil giving it a natural, old-world finish! You can read about my unconventional way of distressing in this post about a little red school desk!