Desk Makeover Ideas | Before and After
Are you looking for easy desk makeover ideas? Then this diy desk makeover is for you! Let's get started!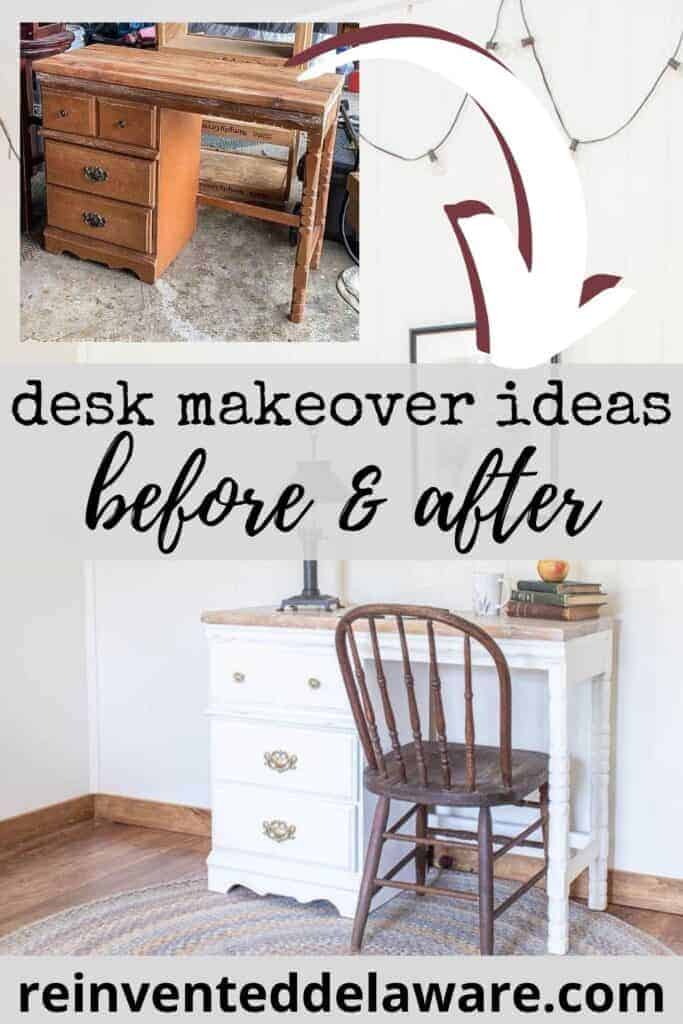 As an Amazon Affiliate (and other companies including Dixie Belle Paint Company), we earn a small commission on products sold through affiliate links. Your purchases through those links help support this blog at no additional cost. In purchasing the supplies we use and recommend via our links, you help to support the free tutorials we offer you and our other readers. Thank you so much! Read my full disclosure here.
trash to treasure desk makeover
We were on our way home from running errands in town and while we were coming down our road, hubby said, "There's a desk at the neighbor's house and it's on the side of the road with a 'free' sign on it. Do you want me to stop?"
My eyes looked in the direction he was pointing towards and then I spotted the 'free' sign. Omgoodness, that word gets me every single time.
Even if I don't really need or want another project on my already-piled-high stack of inventory.
desk makeover ideas
You can probably guess what I said to hubby about stopping the truck!
Yep, it came home with us. And my mind started to think about some desk makeover ideas.
Especially when I saw the shiny, formica top that this 1980's cheapy desk had on it!
Let me just say, it was ugly. Just plain ugly.
Hubby tackled that problem right away by building a reclaimed lumber top like he has so many times before for our projects.
Like this washstand.
what is a good color to paint a desk?
With all the at-home learning and stay-at-home working situations people are in, I thought I would hop on Instagram stories and see if anyone needed a desk. I gave them options to customize this desk makeover and asked them for their ideas.
A few people came back with responses about paint color and they were mostly to stay neutral. So I picked out a gorgeous white called Picket Fence by Fusion.
I have a thing for picket fences.
flashback: laundry room makeover
Earlier this year, I used Fusion Mineral Paint in Casement in our Laundry Room Makeover. Casement has a bit of gray and I wanted more of a true white.
As a side note, you can see how I used Casement in our own home!
You can see all four of the Laundry room makeover posts here. Just click the image to go to the post!
Be sure to check out those posts – you won't believe the difference paint made in our laundry room!
Let's get back to the current project…..
In reality, it was another reason to buy a container of paint. Wink, wink.
how do you revamp an old desk?
Revamping this old desk was pretty straightforward.
The desk had one coat of Zinsser Shellac Based White Primer (after it was cleaned of course!) and then two coats of Fusion Mineral Paint in Picket Fence.
easy whitewash technique
The handbuilt, reclaimed lumber top that hubby built needed to be lightened up a bit in my opinion so I did a white-wash technique with Fusion.
It's an easy technique that I have used before.
First, I watered down some of the paint in a separate container – an approximate 1:1 ratio.
Then I applied it to the top with a brush and immediately wiped off the excess with a blue disposable shop towel. That was just enough to tone down the color giving it a soft white appearance. The gorgeous grain is still visible and I just love that, don't you?
**If you can't build a custom top like this, check your local lumber store for pre-made butcher block style sections of lumber and have it cut to size.
The top needed a top coat because it will get plenty of use so I used General Finishes High-Performance Top Coat in Flat.
The flat finish gives the top a hand-buffed waxed look that is my favorite. It also provides nice protection to the wood surface.

paint the drawer pulls
The drawer pulls were removed and spray painted in Rust-Oleum Pure Gold. They were originally an antique gold that was popular in the '80s and I think this flat gold is more in tune with today's style.
new home for the desk
And here she is all finished! Not bad for a freebie on the side of the road, is it?
The desk has already found a new home. In fact, it is being used at Wilderlove Handmade and Vintage as part of their check-out counter and office space for the new store!
pin for inspiration!
Thanks for stopping by today for these desk makeover ideas! I hope you are inspired the next time you see a roadside freebie. All these pieces usually need is a little love, some scrubbing, and a pretty color of paint and they can continue to be useful!
I would so appreciate it if you would pin any of the images you see in this post! It helps to get my name and business out into the world.
Plus, someone might need some inspiration for their own trash to treasure project!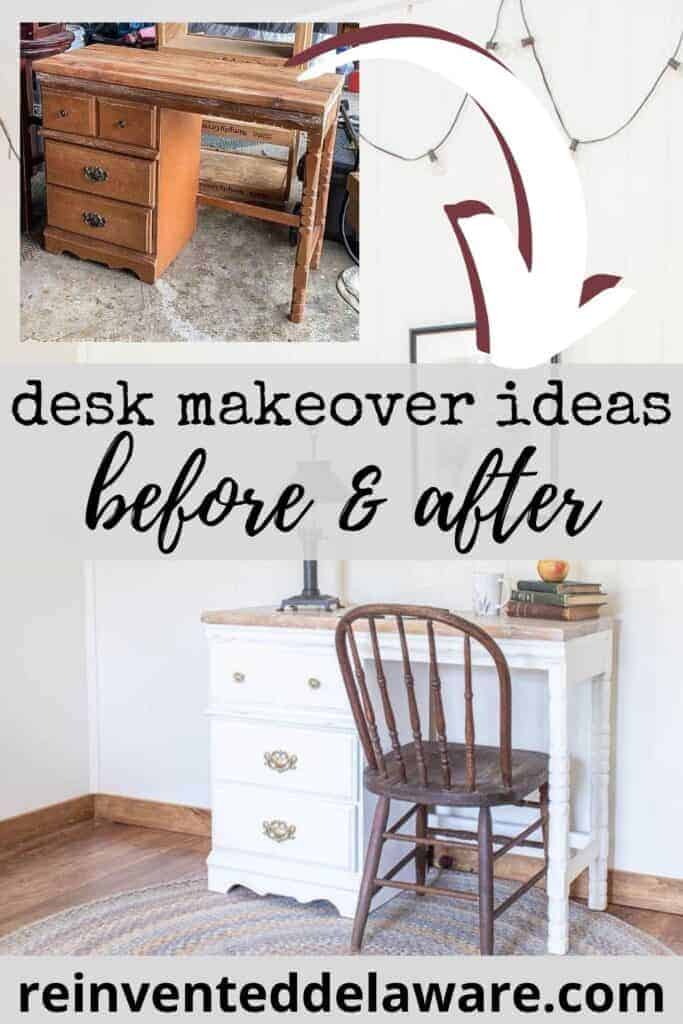 join our journey!
Thanks so much for joining us for this post! Join our journey so you don't miss any fun projects, tutorials, and inspiration we share with you each week! You can follow us on Instagram, Facebook, and YouTube. We share even more inspiration on Pinterest!
Until next time…