Antique Fire Extinguisher | Side Table
Have you ever wondered what you can make from an antique fire extinguisher? Look no further, I've got a fun solution for you!
As an Amazon Affiliate (and other companies including Dixie Belle Paint Company), we earn a small commission on products sold through affiliate links. Your purchases through those links help support this blog at no additional cost. In purchasing the supplies we use and recommend via our links, you help to support the free tutorials we offer you and our other readers. Thank you so much! Read my full disclosure here.

what can I make out of an antique fire extinguisher?
"Are you interested in doing something with an antique fire extinguisher that belongs to my hubby?"
Our client asked me if I could do anything with a special antique that her hubby had.
Can it be cleaned up?
Could we make a table from it?
Can you make this something useable and attractive?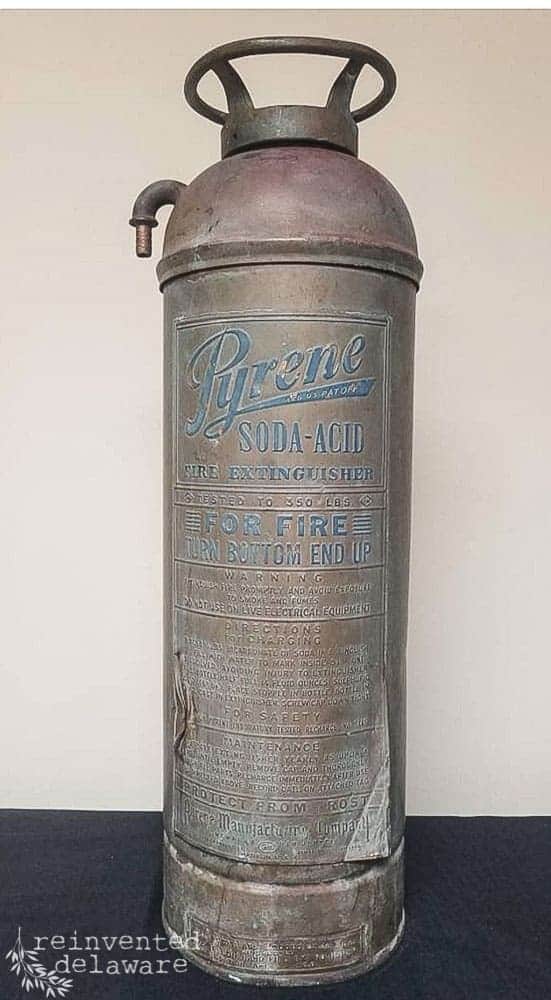 "Of course, we can come up with a plan for this antique fire extinguisher," I told our client!
Really, I wasn't sure how exactly but I knew that we could come up with something brilliant!
how to clean an antique fire extinguisher
The first step was to clean it. I forgot to snap a photo of the before look of this antique fire extinguisher, but you can see it in the image above to get an idea of its condition.
Honestly, it was a bit worse.
Dull. Dirty. Dingy.
You could barely make out the words on the label!
I used Brasso, blue shop towels, and gloved hands to clean it and bring back some of the luster the original copper finish had.
I had to be careful because I didn't want to remove all of the aging and patina that was created over the years.
There were a few spots that were in really bad shape so I used #0000 steel wool to carefully remove the gunk.
what to use for the top of this side table?
So, maybe you are wondering about the tabletop? Where did it come from you ask?
We don't let anything go to waste in our workshop!
We had a couple of barstools piled up in our inventory that were coming apart.
So we finished taking them apart and salvaged the wood seats that were perfectly round. Hubby took them out to his workshop and ran them through the planer several times to remove the old finish (btw, the seat were a hideous cherry red color!)
Once that was done, all that was needed was a couple of coats of General Finishes High Performance in Flat.
All the natural beauty shines through, don't you think?
** The other bar stool seats were put to good use! I'll share that project soon!
how to attach the wood top
The next step was to attach the gorgeous top to the antique fire extinguisher base.
Our local Ace Hardware has a knowledgeable and creative group of employees so I knew I could get an answer from one of them.
After explaining and describing the project to the clerk, he suggested we use this galvanized hanger strap. It is a roll of thin metal about 1/2″ wide that has holes in it. The clerk said I could cut it to the length I needed and then use a couple of screws to secure the fire extinguisher to the underside of the table.
Here, let's take a look at how we attached the base to the underside of the wood top.
Hubby did this part – he measured the length he needed to straddle the handle part of the antique fire extinguisher. Then he screwed in the innermost part of the hanger.
Next, he used another screw in the hole closest to the fire extinguisher handle and tightened it down.
The two screws on each side of the handle held the fire extinguisher close to the wood top. He repeated this four times around the underside of the table.

And it was that simple!
Doesn't it look so good? Our client loved it too! She said it was a gift for her hubby. He needed a small side table to sit next to his favorite chair. Just a place to put a cup of coffee and maybe his current read.
are old fire extinguishers worth anything?
Let me also mention the age of this antique fire extinguisher.
After a bit of Google research, I learned that this type of fire extinguisher was made between the early 1800s-1940. That's a long time, isn't it?
They don't hold a high value but they can be purchased for $75-$150 (currently in 2021.)
The value of this piece is held by the owner and in my opinion, that value doesn't include a dollar sign. She knew her hubby would love it and really, who can put a price on a gift with that kind of thought behind it?
staying teachable and creative
This was a fun project even though we were not exactly sure how we would make it work.
This kind of project helps us to get creative with solutions. I think that's important.
If we always know the answers, then we are never learning. Let's continue to grow and to learn and to find new methods and solutions to our problems, deal?
Good, that's just what I wanted to hear!

Here are a couple of other fun projects you might enjoy:
join our journey
Join our journey as we continue to find new solutions and creative ways to use vintage and antique items like this fire extinguisher.
Thanks so much for joining us for this post! Join our journey so you don't miss any fun projects, tutorials, and inspiration we share with you each week! You can follow us on Instagram, Facebook, and YouTube. We share even more inspiration on Pinterest!
Until next time…