Reupholstered Antique Furniture Ideas
Today, I am sharing some of my favorite reupholstered antique furniture pieces that we have done over the last five years. I hope you enjoy looking back with me!
The following post may contain affiliate links. That means if you click and then buy something, I will make a small commission at no additional cost to you! Thank you for supporting my blog. full disclosure here.
This post is sponsored by Dixie Belle. All opinions are my own!
let's look back
It's always a good idea to look back over your work so that you can see your progress.
I also thought you might enjoy a little story behind each of the pieces I share today. That's one of the things I love about refurbishing, restoring, and reupholstering pieces from the past.
They each have a story 🙂
antique dining set
Let's start with this dining set. It dates to the early 1900s and had been in our friend's home since she was a child. She is currently in her 80s and she remembered times her family spent around this table.
Eating meals together, playing games as a family, having friends and family sit around and share their life stories with one another. She even remembers the homework assignments she did at this table!
reupholstered piano bench
This piano bench was sold with a box-lot of items at an auction. That's where items are grouped together because individual items are not selling on their own. Even though no one else wanted it, I did. I see value in the tossed aside and forgotten 🙂
The upholstery fabric has its own story. Be sure to read this post to find out the story behind the fabric 🙂
re-upholstered antique furniture
This dining set made me take a double-take as we were traveling home from visiting our daughter-in-law and son in Virginia. We had just crossed the state line and there, sitting amongst a huge pile of vintage goodness, was this dining set. The set wouldn't fit in our truck so my hubby and his friend took a ride the next day to pick it up. It was a five-hour trip. No kidding.
You won't believe how bad it looked when they got it back to my workshop. Click this link to find out just how bad it looked!
You might be wondering what tools and supplies I use for these re-upholstered antique furniture projects, I've gathered some links for you here. Shopping via our links helps us to continue to offer you free tutorials and we thank you for that!

reupholstered chair
This beautiful Victorian-style chair was in rough shape when we picked it up from a friend of a friend's house. She was downsizing and moving closer to her son and daughter-in-law's home and she just didn't have the room for it. It broke her heart to get rid of it because it was her grandmother's.
This piece was so old and well-loved…..especially by her cat. I don't have the words to describe what it looked like, you just have to see for yourself. You won't believe the before shots. Seriously, that kitty cat did some serious damage!
Even so, it was one of my favorite re-upholstered antique furniture pieces to date.
reupholstered Victorian settee
This settee holds a special place in my heart because one of our clients wanted it reupholstered for her wedding day! She loved vintage furniture and found this piece not knowing how she would have it restored or who would take on the project.
It was in really bad shape. Really bad.
Like I said earlier, I love that pieces have a history, they have their own story and I love to see their story continue onward.
We had our work cut out with this one and I don't want you to miss any details about it! I wrote a 4-part series to cover all the details: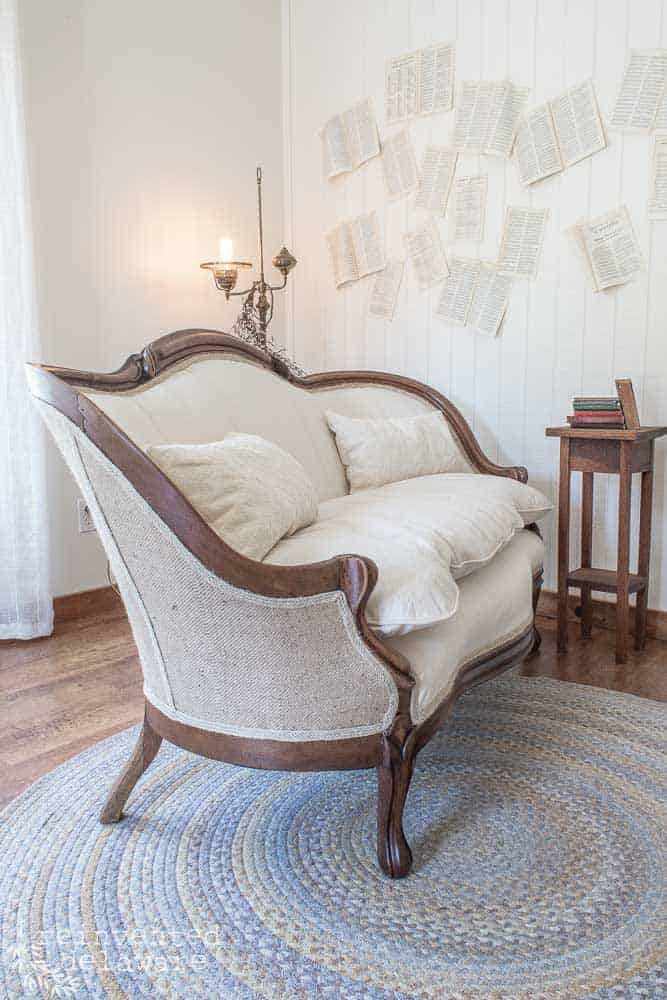 reupholstered side chair
This pair of chairs called my name as soon as I opened the door to our local re-sell shop. The owners of the shop take the time to travel the east coast in search of estate sales and then they bring back their finds to re-sell to us locals who can't travel the east coast on a regular basis.
I have no idea where this pair came from but I can tell you they needed some love and that's exactly what we gave them! We even gave them some special lumbar pillows.
The pair of chairs sold the first week they were in our shop and now they are continuing their journey in someone's home.
reupholstered vanity stool
This sweet vanity stool was given to us by my hubby's co-worker. She wondered if we could do anything with it. Hubby said we'll see what we can do!
My stack of scraps from several projects was piling up and I knew it was time to do something different. so I decided to include bits and pieces from other upholstered pieces into this vanity stool.
What I didn't expect was a couple of ugly remarks that this chair received over on another platform that I won't mention here. I was ok with the negativity because I knew this piece was special and like none other. It had bits and pieces from a variety of projects and even included a handmade doily with an unlikely message for a chair.
Here are both posts that show the process of creating this unique reupholstered vanity chair:
reupholstered Eastlake rocker
These sweet Eastlake lawn rockers were so easy to recover. I think you will like the before and after on this one.
BTW, these rockers are old – over 100 years old! And they fold up for easy storage and mobility. Now they are ready to continue their story!
reupholstered mid-century rocker
This rocker is not over 100 years old but more like 70 years old. It is from the 1950s and the original fabric had seen better days.
We brought it into today's look using a couple of special techniques you will want to know about.
Now, this rocker can serve another family for years to come. Just think of how many babies this rocker has helped (and will continue to help) to go to sleep!
reupholstered Victorian chair
This Victorian beauty is my most recent re-upholstery project. She is a true gem. Even though this chair has some age – it dates back to the late 1800s – the repairs were minimal.
All she needed was some moisturizer for the wood and some pretty new fabric. There is a fun little detail in her story too. You'll find out in the post 🙂
thanks for joining me!
Thanks for joining me today for this look back over some of our re-upholstered antique furniture projects. I hope you are inspired to tackle upholstery projects for your home. Head out to your local thrift stores, estate sales, and even yard sales to find pieces that need a little love so they can continue their story.
If you have any questions, please feel free to ask. You can contact me via the Contact form at the top of this post.
Before you go, let me know which project is your favorite!
Amazon reupholstery tools and supplies
I've also collected several of the tools that we use for our reupholstery projects on our Amazon Storefront. Purchasing these items through our links is no additional cost to you and it helps us to continue to offer our free restoration tutorials to you! And we really appreciate that! Click the link below to head over to our Amazon Storefront:
Reinvented Delaware Amazon Storefront | Upholstery Tools and Supplies
Thanks so much for joining us for this post! Join our journey so you don't miss any fun projects, tutorials, and inspiration we share with you each week! You can follow us on Instagram, Facebook, and YouTube. We share even more inspiration on Pinterest!
here are some of my favorite reupholstery tools and supplies!