The last few weeks have been a whirlwind of activity here at Reinvented Delaware. Custom work has kept us busy as well as opening a second vendor location. I'll talk more about our second location in another post. Today, I want to share a pair of upholstered side chairs with you!
new shopping spot
We found a new shopping spot back in August and came home with a huge haul of vintage goodness. This pair of upholstered side chairs were among the goodies!
Initially, I thought the project would be fairly quick as far as reupholstery goes.
But after pulling off a few layers, I found out that wasn't the case with this lovely pair!
many makeovers
The upholstered side chairs had been reupholstered 3-4 times which meant there was some structural damage. The frame can become damaged when multiple layers of upholstery tack nails are used and then removed a couple of times.
We made the necessary repairs but did so in the evening hours. Photos were not at the top of my list this time! Getting all the repairs completed while my hubby was available was!
Barkly tried his best to help, but he can't stay focused on the task at hand!
All the repairs were made and the chairs were once again structurally sound.
upholstery time!
So, it was on to the upholstery! Again, much of this work happened during the evening hours and there just wasn't enough daylight for photos! Next time I come across upholstered side chairs like this, I promise to work on them in the daytime hours!
Here's a little reminder of the before…..
…and here they are after! The exposed wood was painted in Miss Mustard Seed Milk Paint 'Ironstone' and it chipped beautifully!
new fave fabric
I chose a #12 weight natural cotton duck canvas to reupholster this pair. My blogging buddy, Karen from The Slipcover Maker recommended it. The price is right and the fabric is amazing! It has the look of dropcloth but is much more durable!
If you decide to purchase this canvas, be sure to use the link in her post! She would definitely appreciate it! Let her know Cindy from Reinvented Delaware sent ya'!
I have another project in the works using this canvas so be sure to sign up for my email updates at the end of this post so you don't miss a tutorial!
details
I wanted to add some special detail to the back of the chairs so I used the same canvas and added my own 'grain sack' stripe! I will definitely have to do a tutorial on making your own grain sack-style stripe on canvas. It is super easy and has such nice detail!
I also used my favorite jute trim to highlight the curves and details of the upholstered side chairs! Doesn't it look so good on the back of the chair??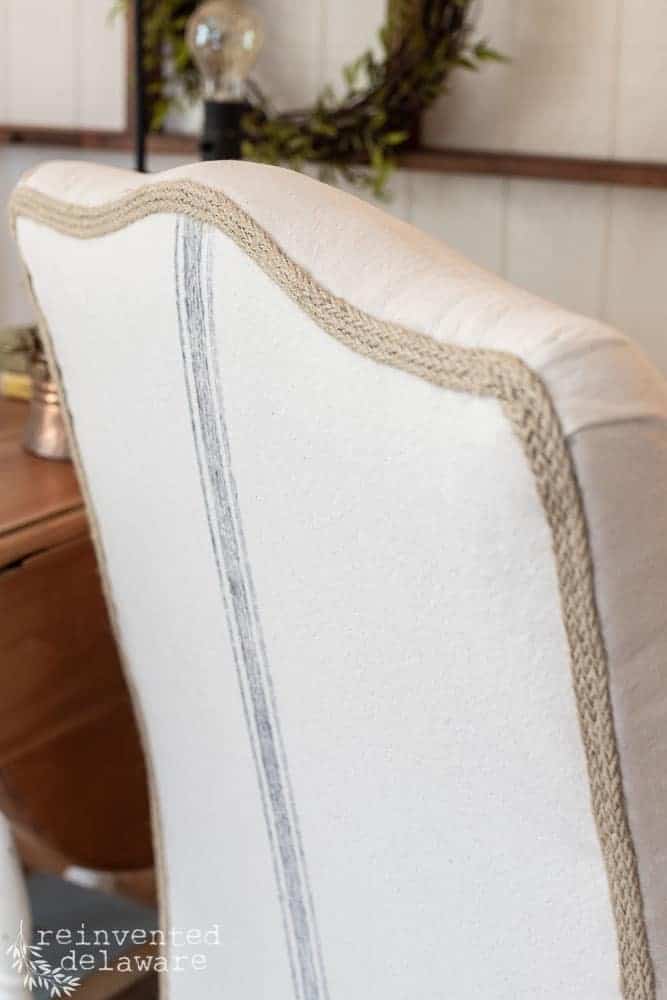 When I made my own grain sack section for the back of the chair, I had some leftovers. The leftover section was just large enough for a long and narrow lumbar pillow.
The pillow covers are removable and the insert is synthetic down-filled. They are sooooo soft and cozy and add just enough support when sitting in the upholstered side chairs!
I used a pleating detail in all the key areas of the chairs. On the back of the arms…
…and on the front corners. I also used the pleat detail on the back corners. Scroll back to the jute trim photo and you will see the detail.
farmhouse style
I am thrilled with the details of these simple farmhouse-style upholstered side chairs. The paint, the natural canvas, the jute trim, and the pillows add just enough interest to the simple lines of this pair of chairs!
And btw, these chairs were among my first pieces in our newest location! I can't wait to share that space with you soon!
Thanks for stopping by today! I hope this post inspires you to tackle your next upholstery project! Let me know in the comments if you plan on tackling an upholstery project of your own!
join our journey!
Join our journey, won't you?? I'll send you our best ideas for reinventing home decor just for signing up!
Follow along on Instagram and Facebook too! We love sharing behind the scenes of many of our reinvented pieces! Feel free to also pin any image in this post to Pinterest for your future reference!
Want more info about our upholstery projects? Here are a couple of posts for you: