How to Reupholster a Chair | Victorian Chair
If you want to know how to reupholster a chair, this series is for you! I will show you step by step how to reupholster a Victorian chair!
As an Amazon Affiliate (and other companies including Dixie Belle Paint Company), we earn a small commission on products sold through affiliate links. Your purchases through those links help support this blog at no additional cost. In purchasing the supplies we use and recommend via our links, you help to support the free tutorials we offer you and our other readers. Thank you so much! Read my full disclosure here.
We have been on what seems like a long journey together with this Victorian chair!! But we are finally nearing the end and I can't wait to show you the results of the hard work of reupholstering this chair! It was sooooo worth it!
how to reupholster a chair step by step:
This is where we left off….
…and this is where we pick up!
YouTube video
In this video, I will show you the steps I used to add batting to the arm sections of the chair. This is an important step in learning how to reupholster a chair. Don't skip it!
I used the same steps to attach the decorative fabric to the chair. Be sure and read the previous posts to see all the techniques!
Adding the gorgeous grain-sack upholstery fabric was a breeze since the base fabric was already attached, The steps to add the upholstery fabric are the same as attaching the underlayer of fabric. You can see more
the reveal of the reupholstered Victorian chair
And here is the end result! This Victorian chair was certainly a challenge to work on but it was worth every bit of the effort I put in! Completing the reupholstery on the chair gives it a fresh new look and will last for years!
lovely curves of the chair
The jute braided trim I chose to cover the upholstery staples enhances the lovely curves of this Victorian chair, don't you think?
Just a bit of hot glue to hold the trim down. I love the texture it adds to the chair! What do you think of the jute trim?
Doesn't it help to frame the chair – especially at the top with all of that gorgeous carved detail??
character and details
The stain was removed by sanding the wood down. I left some of the dark stain in the deep places to help add character to this chair. Not that it needed any help in that department!
The attention to detail that the furniture maker used when this piece was built shows true craftsmanship!
adorable washstand!
Have you noticed the sweet oak washstand next to this reupholstered chair? Be sure to click that link to find out how I gave that washstand a makeover!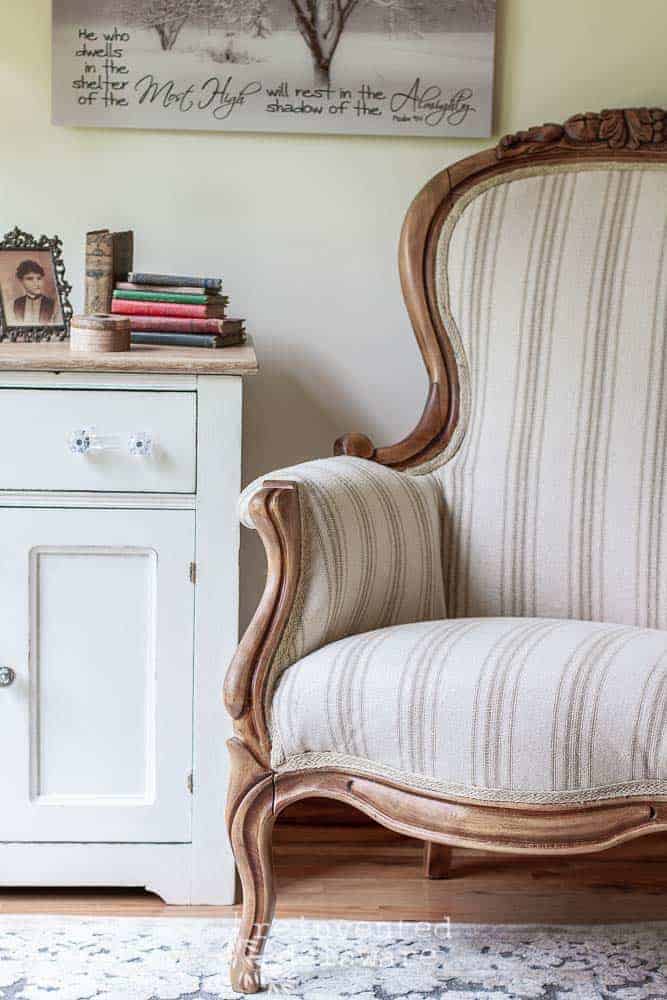 I mean, look at these two go together! A match made in furniture heaven!
gorgeous grain sack
I just cannot get enough of the soft curves of this chair! And the straight lines of the grain-sack fabric are such a nice contrast to the curvy lines of the wood frame. It really is a work of art!
By the way, I purchased the fabric from Sweet Annie Acres, a Michigan-based business. The fabric is of amazing quality and I will certainly purchase from them again. I pre-washed to prevent any shrinkage. I can't wait for my next reupholstery or slipcover project!
the old becomes new
One of the aspects of my job that I love the most is taking a piece and loving on it until it is brought back to life! Honestly, every step of this project was a joy!
Be sure to read each post about this transformation. I have broken the steps down so that you can tackle your own reupholstery project!
FAQ's
If you have any more questions, feel free to ask in the comment below!
How much does it cost to reupholster a chair?
Victorian chair: $50-$80 My chair had been gifted to me by one of my followers
grainsack fabric: approx 4 yards of fabric at $16.99 per yard, total $68
new batting: approx 3 yards of batting, total $18
jute trim: approx 10 yards, total $6 (I purchase a 23 yard roll of the trim at a time, my measurment is approx!)
jute upholstery webbing: 2-3 yards at approx $1 per yard (I purchase this in a large roll also)
furnture wax: $12
How to reupholster a chair summary.
remove original fabic
determine if original batting is in good shape
replace or add additional batting
make any necessary repairs
restore orginal wood with furniture wax
attach upholstery fabric with a pneumatic staple gun
attach jute trim to raw edges of upholstery fabric
Where to purchase a Victorian chair?
I mentioned that my chair was gifted to me by a lady who was downsizing. There are many people downsizing and they are looking to sell some of their antique pieces. Word of mouth is a great way to find and purchase these pieces so tell your friends and family you are on the lookout!
Keep an eye out in your local Facebooks groups and selling periodicals. Our local paper is called The Guide and there are various items listed each week within a 50-75 mile radius of our home.
Auctions and estate sales in your area are also great ways to find unique pieces like this Victorian chair.
What is the best fabric to reupholster a chair in?
The best answer to this question is to look for fabric specifically for upholstery. It is a heavier quality than regular fabric for clothing or quilting. Upholstery weight fabric is stronger and can hold up to the pulling that you must do to get the fabric tight while reupholstering the piece. It also will hold up much better under the use of sitting in the chair.
I chose a reproduction grain sack style fabric that comes in many colors. I love the look of the grain sack but not the cost or genuine grain sack. This fabric is an amazing substitute! It is strong and durable for upholstery projects as well!
I've gathered the supplies I used for this project for you. These are the products I have used time and again on many of our upholstery projects.

join our journey!
Here is a pinnable image for you to save to your Pinterest project boards! While you are there, be sure to follow me! If you have any questions, please feel free to ask in the comments or contact me on social media – Instagram and Facebook! We have fun in stories and would love to chat with you there!
Subscribe to our blog updates for future reinventing projects! You never know what's next on the agenda around here 🙂