Don't you just love a little washstand? They are by far my favorite piece of furniture to makeover! Today, I want to share with you a quick washstand makeover! Let's dive in!
typical washstand
This is a typical washstand. And this is often the orangy-toned stain that washstands were stained in as well.
Not exactly a popular color for today! Let's do something about that!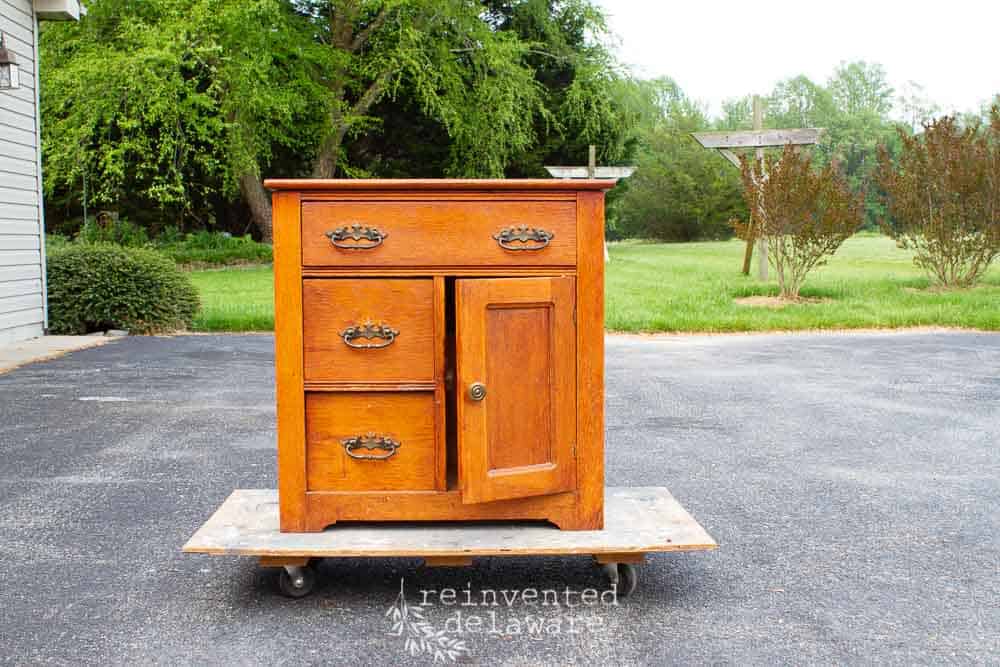 washstand makeover prep work
I gave the washstand a once over with the sander then a good vacuuming. The only repair we needed to make was to add a shelf to the interior area behind the door. Hubby takes care of those repairs and doesn't let me in his workshop to see how. But I am guessing he just cuts a board to fit 🙂 . Don't tell him that I told his secrets!
The drawer handles were not the prettiest either so I removed them and will use them for another project.
Two coats of Zinsser Shellac will prevent bleed-through. This is a common problem with furniture from this era and Shellac usually takes care of that issue!
I knew Miss Mustard Seed Milk Paint in Farmhouse White would look amazing on this simple piece of furniture so I mixed up a batch.
The first coat can look a bit scary but don't worry! The second coat will take care of the scaryness!
failing camera equipment
My camera bit the dust while working on this piece so I am missing a few images of the process. Here are the finishing steps I took for this adorable washstand makeover:
I will do a tutorial showing how I used the General Finishes Winter White Glaze in the future. It was such an easy process – apply with a brush and then wipe off. The white settles in the grain of the oak and lightens the color of the oak just a bit!
details
The drawers each had two holes for the hardware so the glass knobs needed the same. I had a single glass knob for the door in my stash. Doesn't it look perfect with the new glass pulls?
missing lock? no problem!
Washstands often have a lock on the doors. Most times, these locks are missing, or at least part of the locking mechanism is missing.
This oak washstand was missing the lock altogether. Hubby used a little piece of oak that was attached to hold the door shut. Isn't it adorable? Just a simple turn and the door is held tight!
You can see some of the white glazed top in this image. It lightened the wood perfectly and the General Finishes Winter White Glaze settles in the grain perfectly1 . Just another way to add character to this washstand makeover!
A bit of light distressing adds age and character to this piece as well!
makeover the back too!
The backs of vintage furniture shouldn't be overlooked. I sand off any paint that went over the edge when I painted it. Then I sealed it with Miss Mustard Seed Hemp Oil. The wood just soaked up the oil and it gave the wood a rich tone!
so many uses!
Here are a few ideas to use an antique washstand in your home:
a single washstand between two twin beds
a single washstand between two side chairs
two washstands (not matching but similar finishes) on the sides of a bed
a single washstand beside a guest bed
a single washstand in a foyer to hold keys and mail
s single washstand for dress up storage for a little girl
Lots of uses for these little washstands! Do you have anymore ideas for uses? How would you use a washstand in your home? Share with us in the comments below!
glad you stopped by!
Thanks for stopping by for this little washstand makeover! I hope this tutorial was helpful and inspirational! Go out to your local thrift and vintage store and find yourself washstand to makeover!!
Follow along our reinventing journey on Instagram and Facebook. Be sure to subscribe to my blog for more makeovers! And pin this image for future reference 🙂