Restored Side by Side Secretary
Today, I will share with you a custom restoration of a vintage side by side secretary. With a little time and effort, gorgeous pieces like this can be enjoyed for years to come!
we do custom work!
Recently, one of our clients inherited a gorgeous piece of furniture but it was not in the best condition. Actually, it was headed to the trash heap before she got her hands on it!
After saving it from near demolition, she called us to see if we could restore it. She said she wanted it restored to it's original finish and we like to keep our clients happy!
Here is the before. Even though it is not the greatest image (screenshot from IG stories!), you can still see that some repairs and replacements had to be made.
We replaced the missing glass in the door with hardware cloth that had been spray painted with Rustoleum Hammered Finish in Chestnut. You can see my process for that type of repair here.
prepping and hydrating
The wood was a gorgeous oak with deep, rich warm tones but it was really dry. Hydrating the wood was a necessity but first I had to remove the existing finish so that the hemp oil could soak in. My hubby and I determined that it had been finished with amber toned shellac. Sanding with the Dewalt Orbital Sander loaded with 150 grit sandpaper removed the finish. I did go over the whole surface again using the sander loaded with 220 grit sandpaper to smooth the surface.
After a good vacuuming and thorough cleaning, I decided to hydrate the wood with Miss Mustard Seed's Hemp Oil. This is such a great product and each time I use it I love even more! Se how I use it in this post.
Since the piece was sanded so well, the hemp oil just soaked right in. By the way, sanding the detail on the drop down desk was a bear! But it was worth it, don't you think??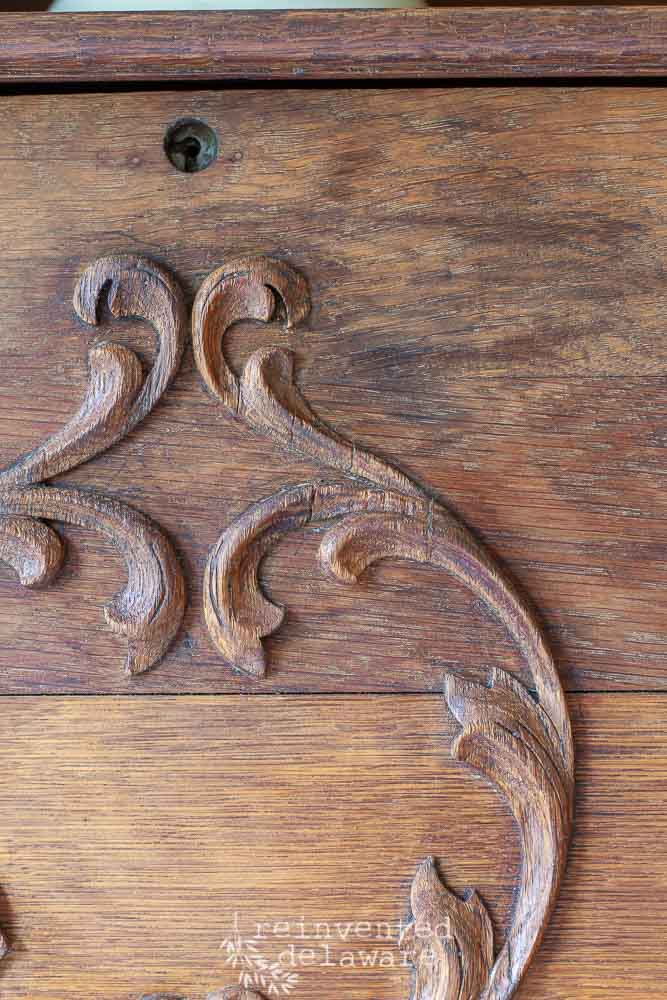 Wood that is very old, like the beautiful oak that this side by side secretary is made of, can be very dry and almost brittle in the sense that the wood is not as resilient as it once was. This piece had sat in an area of the original owners home that was very sunny. That is hard on a piece of furniture.
The Hemp Oil took care of all that dryness!
easy fixes
A few minor repairs included missing hardware. Our client wanted to keep the original hardware, I mean look at how gorgeous it is!! Can you blame her!
An important repair was to fix the door that wouldn't stay closed. The door originally had a lock and key but all the pieces did not come with the side by side.
An easy fix is to use a small piece of hand-carved wood and a screw. We stained the oak piece of wood to match the cabinet and then attached it with a brass screw. If you leave the screw loose enough, the piece of wood can be turned. It is a great way to hold a door shut and maintain the vintage feel to a piece of furniture.
Did you notice how we lined it up with the existing shelf? That helps to make it look like it's always been there. The piece is also the width of the section of the cabinet when it is turned vertical. Hubby out did himself with that detail!
We still had the hole on the door to deal with. The piece that would accommodate the key was missing.
After a bit of digging around in my stash of hardware pieces, I came across this adorable keyhole cover. It was rusted so a good once over with a wire brush cleaned it up nicely! Then I applied a coat of Rub-n-Buff in Grecian Gold.
I think it fits in with the original knobs perfectly!
You might have noticed that the knob was missing on the drop leaf desk in the previous images. It originally would have had a lock and key to secure the contents of the desk area. We searched for one for this cabinet, but were not so lucky finding a replica that would work with the existing lock on the inside of the drop leaf.
The client wanted to keep the original hardware as much as we were able so back to my stash! I found this vintage glass knob and small gold plate to go behind it. I think it ties in with the original gold knobs!
a side by side secretary
Let's take a peak inside the drop leaf desk! But first, see the original lock? That is what we wanted to keep on the piece! Even without a key, it helps to tell the story of this heirloom!
Why is it called a side by side secretary you ask? (Well, maybe you didn't ask but anyway…..) . A secretary as we know the term today, is
an individual who assists with correspondence, keeps records, makes appointments and carry out similar tasks.
So you can see how this piece of furniture would be called by that name. Kinda like our modern day "at home office." Only this one is much prettier!
I love the hardware that helps to hold the drop leaf! I removed it, wire brushed it well and then reattached it to the desk. You can hear it of course, but it makes vintage-y squeaky sound that I love in old furniture!
The organizer is removable. I think it is so cute! Beats a plastic desk organizer any day 😉
in all of her glory!
Isn't she lovely??? I think I could sit here at this side by side secretary for hours and journal! Can't you just imagine the lady of the house sitting down each month to pay the bills and keeping track of their household expenses?? Or maybe taking time to write a real letter to a friend??
Our client is going to use this as a display piece in her home. We know she will get years of enjoyment from this family heirloom!
If you are local to Greenwood, Delaware and need custom work for an heirloom piece you own, just send us an email! cindyatreinventeddelawaredotcom . We would love to help restore your treasures!
Follow along for more restored and reinvented projects on Instagram and Facebook! Pin this and share it with your friends! Pinterest is a great way to save and share ideas!