The Easiest Sweater Stocking for Christmas
This thrifted sweater Christmas stocking is so easy to make! You can whip up one in about an hour of crafting fun! Let's get started!
The following post may contain affiliate links. That means if you click and then buy something, I will make a small commission at no additional cost to you! Thank you for supporting my blog. full disclosure here.
This post is sponsored by Dixie Belle. All opinions are my own!
what can I do with an old sweater?
It's no secret that I love to upcycle thrifted sweaters. Here are a couple of other upcycled sweater projects we have here at Reinvented Delaware. Pop over to see these other projects and then head back here to see this adorable sweater stocking!
You can pick up some amazing sweaters at your local thrift store. It's not uncommon to find brand names like J.Crew or Talbots. Many of the sweaters are natural fibers like wool, cashmere, and lambswool.
This sweater is made from wool, one of my favorite fabrics to work with! And the Northwoods design is perfect for a Christmas stocking!
The supplies for this sweater stocking are simple and except for the thrift store sweaters, you probably have most of the supplies on hand. I will provide links for the common items just in case you need some of the basic supplies.
list of supplies:
thrifted sweater with a Northwoods design (or one you prefer!)
white thrifted sweater with a button-up front
large eye needle
heavy thread
scissors
jute twine
old stocking for the pattern (or draw your own in the size you want!)
design your Christmas stocking
Now, when I say design, I say it very loosely. It's really just a matter of laying out the pattern on the sweater design in a way that looks good to you.
Hold on, did I say 'pattern"? I did! But you can see that my pattern is just a stocking from our Christmas decor. You could draw this pattern on a piece of butcher paper very easily. Just look at the basic shape and draw it out to the size you want.
You could even make small versions of this pattern and create a Christmas stocking garland! Ok, that sounds like another tutorial in the making!
Let's get back to this sweater stocking project before I get carried away!
After I decided where I wanted the sweater design to be placed on the stocking, I cut out around the stocking 'pattern'. You'll notice that I moved the red stocking down a couple of inches from the top. This will allow room for the fold-down cuff we will add in just a bit.
how to sew a handmade stocking
After both the front and the back sections were cut out, I placed the piece's right sides together. The heavy thread and a large eye needle make this simple running stitch go quickly.
I fixed a cup of coffee and then stitched about 1/2″ away from the edge, knotting the thread at the beginning and the end.
If you don't want to stitch this Christmas sweater stocking, you could use hot glue and run a bead along the edge very neatly. As a seamstress, that is not my preference but I'm not going to try to stop you!!
add the top cuff to the stocking
Next, I decided where to place the cuff. The first step is to decide what part of the button-down white sweater I wanted to be exposed as the cuff. I decided that the button-down edge and the bottom edge were perfect. So I cut off those edges at a width of about 4″ and long enough to go all the way around.
Ok, so this next part of this sweater stocking project requires a little bit of thinking. And I mean a little bit.
Be sure to place the cuff inside of the stocking in a manner that when it is folded into a cuff, the seam will be hidden. It's a bit of upside down and backward thinking, so test it out first and then start stitching! You can do it!!
add the hanger to the sweater stocking
The hanger is just a strand of jute twine cut at about 10″ and then looped and knotted. You can see how I make this type of hanger in the post about the painted paper mache star Christmas tree ornaments. They are super cute and you will enjoy the post!
Using the same needle and a bit of heavy thread, stitch the jute loop hanger to the inside of the stocking. This is a handmade type of project, so don't worry about being perfect and neat with your stitching! Just enjoy the process 😊
hang your sweater Christmas stocking
So, what do you think? Super easy and super adorable, don't you think?
You can see in the image below that I added a couple of large white buttons to the cuff. Feel free to add any buttons, beads, or anything else you come up with to the cuff of the stocking!
how to make a thrifted sweater stocking
Let's review the steps:
go shopping and find your thrifted sweaters
design the layout
cut out the stocking shape
right sides together, stitch a running stitch 1/2″ from the edge
attach the contrasting cuff with a running stitch
add the jute loop hanger
add any buttons, beads or any small do-dads from your stash
hang the stocking and enjoy!
easy handmade Christmas stocking
I hope you enjoyed this super easy thrifted sweater Christmas stocking! Making crafts and projects like this adds a special touch to the holiday season. It's a time to slow down and enjoy the season and crafting is one of the best ways to slow down. Invite some friends over, heat up the hot chocolate, and craft away!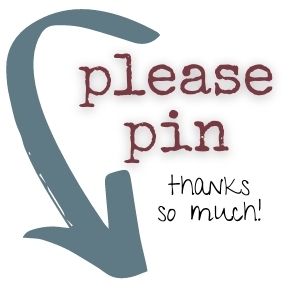 Pin the image below to your home decor and furniture boards! Just click the pin button at the top left corner!
Thanks for joining our journey!
Thanks so much for joining us for this post! Join our journey so you don't miss any fun projects, tutorials, and inspiration we share with you each week! You can follow us on Instagram, Facebook, and YouTube. We share even more inspiration on Pinterest!
Until next time…