Sewing Box Vintage Makeover
Sharing how to give an antique sewing box a vintage makeover using milk paint! This method will give an authentic vintage chippy paint finish!
The following post may contain affiliate links. That means if you click and then buy something, I will make a small commission at no additional cost to you! Thank you for supporting my blog. full disclosure here.
Have you seen these adorable little antique sewing boxes in your local antique and vintage shops? We see them often but the downside of these sweet little pieces is the color. They can be very orange in tone and that just isn't my favorite!
Stay tuned til the end of this post for a video tutorial I made for you! Speaking of the video – I completely forgot to capture still shots of this project so the images below are screenshots from the video. It's not me best work!!
sewing box vintage makeover
A vintage makeover for this little sewing box on legs will drastically change the orange and reddish tones this piece has.
The first step is to vacuum this piece with a shop vac. This is always my first step with any project. It will eliminate any dust, loose dirt, dead bugs, and spiders – yes, all the creepies that are found on antique and vintage furniture pieces.
Plus, it's a great way to go over the piece for any repairs that might be needed.
Let's go over the supplies before I get too far into this easy sewing box vintage makeover project.
list of supplies:
shop vac
microfiber cloths
Zinsser Shellac in Clear
Miss Mustard Seed's Milk Paint (I used Layla's Mint)
fine grit flexible sanding sponge
Miss Mustard Seed's MilkOil Hemp Seed Oil
chip brush
step two: furniture prep cleaning
Now that all of the loose goobers are gone and in the shop vac tank, it's time to clean this piece with soapy water and a microfiber cloth. Microfiber cloths grab the dirt and grime like no other cloth I own! You'll see in the video below what I mean!
After thoroughly cleaning the piece with hot soapy water, rinse out the microfiber cloth and wipe the piece down to remove any soap residue.
step three: how to prevent bleedthrough
Bleedthrough is a furniture refinishers nightmare! It is caused by tannins which are naturally found in wood. Without going into too much scientific detail, the tannins are found in the sap of wood. Even if furniture is very, very old, the tannins can still come through to the surface. They can also 'bleed through' painted surfaces!
It can be very difficult to completely prevent tannins from surfacing but one method I have used on many of our pieces is two coats of clear Shellac. Apply the first coat and allow it to dry completely. Apply the second coat and let it dry overnight.
step four: paint with milk paint
This is always the fun part, don't you think? Applying milk paint to an antique or vintage piece of furniture is just a no-brainer in my opinion. Milk paint is an old-fashioned way of painting so it just makes sense to use it on old and vintage furniture.
Here is a video to show you how I mix milk paint. Just click the button below and you'll see how easy it is to use!
You can choose any color you like – for my sewing box vintage makeover, I chose Layla's Mint. It's a soft green that can read as a neutral. Two coats covered the vintage sewing box perfectly!
Did you know you can use Miss Mustard Seed's Milk Paint on metal? Click HERE to see how!
step five: how to distress painted furniture
See that gorgeous crackling paint finish? That is the result of applying two coats of natural clear Shellac to the piece. We sealed in all of the tannins to prevent bleedthrough and the bonus is this crackly paint finish! It naturally happens when you apply milk paint over Shellac.
When you watch the video, you will see that I also added some distressing using an unconventional tool. It's fun and scary all at the same time!
step six: how to seal milk paint
There are several ways to seal milk paint but for this project, I chose to use Miss Mustard Seed's MilkOil. It is a food safe, natural product that is environmentaly friendly. It's safe to use in your home and that is really important since we live with out furniture!
It's easy to apply – brush on with a chip brush, allow it to soak in, then wipe off the excess with a blue shop towel. It cures completely in 30 days!
Handy tip: Buy Chip Brushes in Bulk!
For around $12 you can have a whole box of chip brushes ready for your next project. Clean them after using and you can get several uses out of one brush!
sewing box vintage makeover
So, what do you think of this vintage makeover for this adorable sewing box? She's such a cutie!
Not many of us sew anymore so let's think of some other uses for this sweet antique:
magazine holder
datebook holder to hold pens, pencils, and markers that you use for your bullet journal (you can see my bullet journal HERE)
add faux flowers for home decor
ipad or laptop storage (drill a small hole in the bottom for charging cords!)
YouTube video
Here is the video for you! I hope you enjoy it! Feel free to leave a comment over there and ask any questions you may have!
more inspiring posts!
Here are a couple of posts using Miss Mustard Seed's Milk Paint in Layla's Mint. You'll see even more colors in the Pine Cone Table Decorations post – you will love the colors!
Click the image to head over to each post!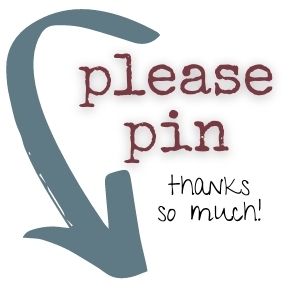 Pin the image below to your home decor and furniture boards! Just click the pin button at the top left corner!
Thanks for joining our journey!
Thanks so much for joining us for this post! Join our journey so you don't miss any of the fun projects, tutorials, and inspiration that we share with you each week! You can follow us on Instagram, Facebook, and YouTube. We share even more inspiration on Pinterest!
Visit my Amazon Storefront!
Click the button below and head over to our online shop on Amazon!