Reupholstered Antique Settee | Part Four
Woohoo for finished projects!! This reupholstered antique settee is finished and I can't wait to share all the gorgeousness with you!
steps to reupholster a settee
Here are the first three posts in this series:
tools & supplies:
attach trim to upholstery
But first, let's add the finishing details to this lovely antique! The trim I chose for this vintage farmhouse style transformation is a braided jute trim. It is fast becoming my favorite look and I can hardly resist putting it on everything I reupholster!
The trim really does look so good with the natural canvas fabric I chose for the settee.
I used hot glue along the long edges in about 3-4″ sections along the staple line and then held it down until it was set. I moved slowly and carefully to hide all the staples and kept the trim neat and tidy!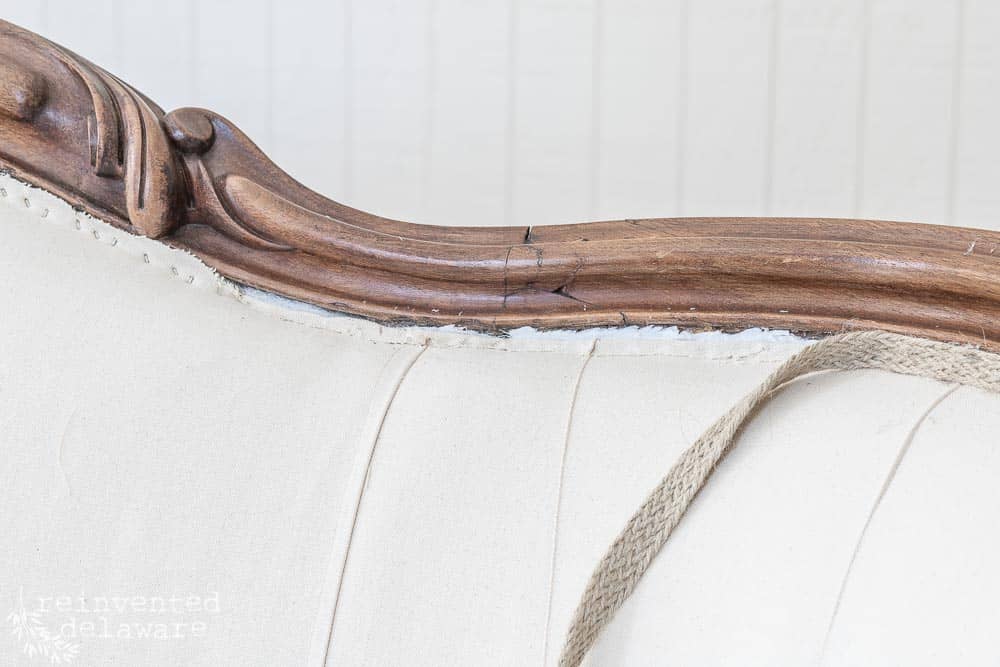 upholstery backing fabric
Ok, so I got a little ahead of myself! I probably should have waited to start applying the trim on the front until after I had the backing on. But I never said I was patient!
This sag-less burlap is so fun to work with! It is much heavier than the burlap you see at the fabric counter of your local Walmart and is so easy to work with. It does put off quite a bit of fibrous burlap dust so if that bothers you, wear a mask! And have your shop vac handy for cleanup!
I cut sections of the burlap to fit the areas of the framing on the settee. You can see what I mean in the image below. Notice also that I allowed plenty of excess. The extra will be cut off after stapling!
Packing tape came in handy to roughly hold the burlap in place while I cut.
I had to make some relief cuts around the curves of the settee. I was careful to think through each cut before actually cutting it. This meant I had fewer mishaps 🙂
Once all the burlap was attached, I continued on with the jute trim.
vintage settee makeover
And here she is! Omgoodness, I just love this reupholstered antique settee, don't you???
antique victorian settee
I pulled out a vintage brass lamp to add to the look of this settee. And the book pages on the wall just added whimsey to the whole vintage scene! What do you think? I kinda like the pages on the wall and would love to find a spot in my home to do this too!
Look how good the dark waxed wood looks next to the burlap!
tea time anyone?
The curves of this settee are just phenomenal! So graceful and lovely, I feel like sitting down for a cup of tea with my pinky in the air!
cushion options
I didn't mention the cushion. Originally, I made a foam cushion with a zipper closure. But after putting it on the reupholstered antique settee, I just didn't think it looked good.
So I did a bit of research. The antique settees that kept coming up in my searches had more of a pillow-type, squishy cushion. That made total sense! They didn't have foam 100 years ago!!
The cushion could also be removed. I like it both ways! We'll let our client decide how she wants to show it off in her home!
Let me know your thoughts!
Well, there ya have it! A gorgeous reupholstered antique settee! I would love to know what you think of it – or even what you think of the book pages! Let me know in the comments!
I hope you enjoyed this series. And if you ever tackle such a big project like this, please let me know! I would love to know that this series was helpful and inspiring to you when tackling your own reinvented projects!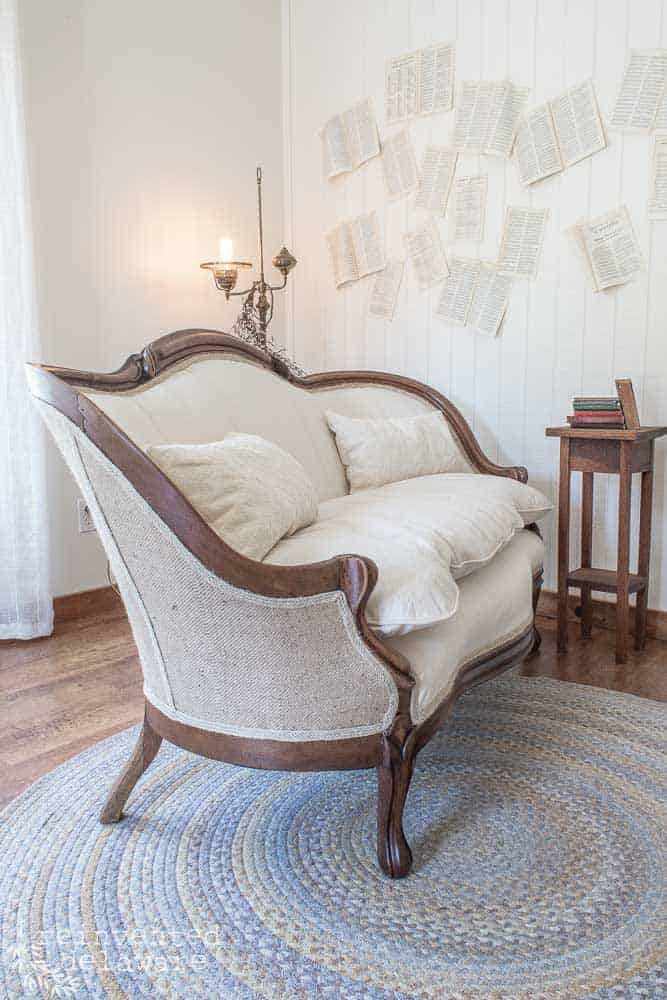 more posts in this series:
join the journey!
Won't you join us on our reinventing journey?? It's easy! Just sign up below and I will send you our tutorials right to your inbox!
follow along on the socials!
You can also join our journey on Instagram and Facebook. And Pinterest is a great way to organize all of your inspiration! Feel free to pin any image in this post so you can find it quickly!
---
Visit my Amazon Storefront!
Click the button below and head over to our online shop on Amazon!